The 10 best pizzerias in Rome

Pizzerias in Rome are just as good as they are in Naples, even though Naples is considered the birthplace of pizza. Roman pizza differs from Neapolitan pizza: the crust is thinner, and also crunchier because of the olive oil in the crust.
Specifics of Italian pizza
Pizza's popularity has long since spread outside of Italy and can be found anywhere in the world. But remember that pizza is regarded with reverence in Italy, so the pizza there and the ways it's served and eaten might be different than how you're used to at home.
Italy has two types of pizza. The first is pizza tonda (round pizza) which is baked in a wood-fired oven. These pizzas are served in pizzerias with table service. The second type is pizza al taglio (pizza slices). These are large rectangular pizzas that are cut into slices and taken to go.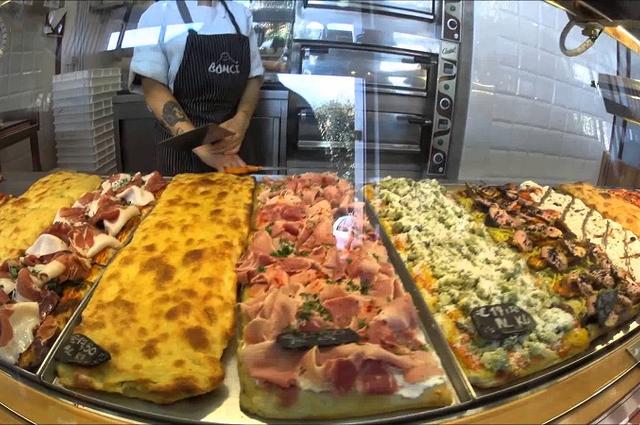 If you order a pizza tonda in an Italian pizzeria, it's customary to order a pizza per person, not for the group, and they'll be sized accordingly. As a rule, these pizzas are served unsliced. You can cut it on your own or roll it up like a crepe.
Don't expect all Italian pizzas to be served with a mountain of parmesan cheese, and they generally won't provide it on the side. This cheese doesn't really melt when heated, so it's not used often, but you can see it in certain types of pizza.
The drink choice depends on you, but people in Italy usually order water or wine with pizza.
And remember, pizza in a pizzeria for Italians is a dish for dinner in a group. If you want pizza for lunch, it would usually be pizza al taglio to go.
Where can I try the best pizza in Rome?
Here are 10 pizzerias in Rome that are each special in their own way. And if you're a big fan of pizza, you can be more than just a pizza taster. You can be a pizza maker! You just need to go to a master class for making Italian pizza in one of the city's pizzerias.
» See more – The best cheap places to eat in Rome
Pizzeria in the city center — Dar Poeta
The pizzeria Dar Poeta is on a small street in Trastevere (Vicolo del Bologna 45). One of the things that makes this place special is that it only uses 100% natural ingredients and naturally-leavened dough without added yeast that is easily digestible. You can choose traditional toppings like salami, mozzarella, and prosciutto, as well as more exotic ones like apples or Grand Marnier liqueur. Dar Poeta's original pizzas include the Sarmonata with salmon, gorgonzola cheese and rucola.
The average check is 12 Euros.
Pizza in a cone — Kono pizza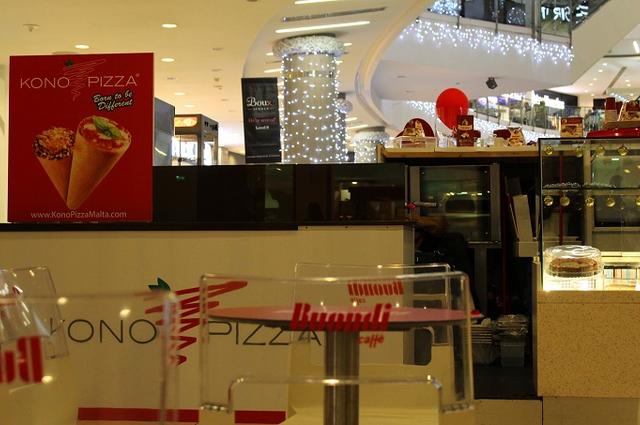 Kono pizza will surprise you not with rare ingredients or a special dough recipe, but with the pizza's shape. It's the most unusual pizza in Rome, and you should definitely give it a try. It's served as a cone full of toppings. The benefits of this shape are clear. It's easy to eat a cone with your hands at the table, or while you're walking, and there are way more toppings on the pizza!
Every pizza at Kono pizza is made from fresh unfrozen ingredients, so you can be sure that Kono pizza is not just convenient and delicious, but good for your health too. The pizzeria isn't far from the Camp dei Fiori square in the center of Rome (Via del Pellegrino 15).
The average check is 12 Euros.
Neapolitan pizza in Rome — Gaudi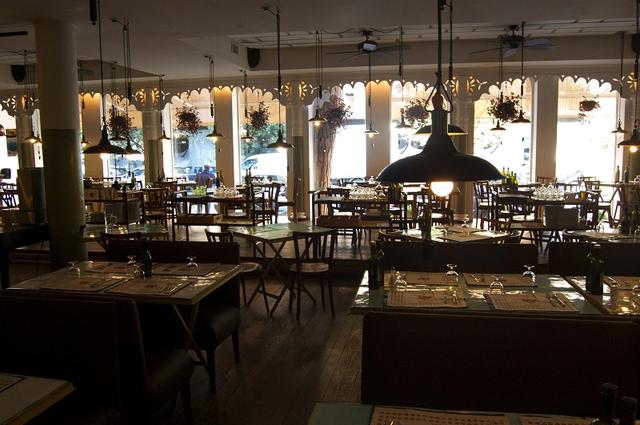 The pizzeria Gaudi isn't off the usual tourist path, in the Villa Borghese region (Via Ruggero Giovannelli 5), but it's worth going a bit out of your way. They make no less than 30 types of pizza here. Gaudi's menu is based on traditional Neapolitan cuisine, so you can try a classic Neapolitan pizza with thick crust and anchovies here.
The average check is 12 Euros.
The family pizzeria — Est Est Est da Ricci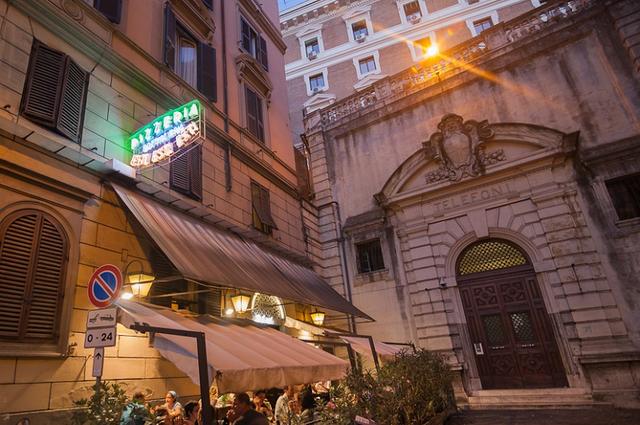 This cozy pizzeria is hidden on a small street that branches off Via Nazionale (Via Genova 32). It opened in 1905 and is still one of Rome's most popular pizzerias. All the pizzas are made in the Neapolitan style with thick crust. However, if you prefer Roman style pizza, you can always ask for thin crust. Despite its status as a family pizzeria, the pizza sizes are fairly small, and many customers like to order two pizzas per person. This lets you try different types of pizzas.
The average check is 10 Euros.
Inexpensive pizza — Formula 1
The pizzeria Formula 1 looks at first glance like a university cafeteria, but that's not surprising, considering how close it is to one of Rome's largest universities. The low prices and excellent tasting fresh pizza attracts everyone, not just students.
Come here if you want to eat well in Rome at cheap prices. Don't be afraid of the modest interior. The perfect prices and quality food compensate for it. The Quattro Formaggi pizza (4 cheese pizza) that is made in Formula 1 is the best pizza in Rome! The pizzeria is a 10-minute walk from Termini station and the National Museum (Via degli Equi 13).
The average check is 10 Euros.
A unique pizza-ghost — Acchiappafantasmi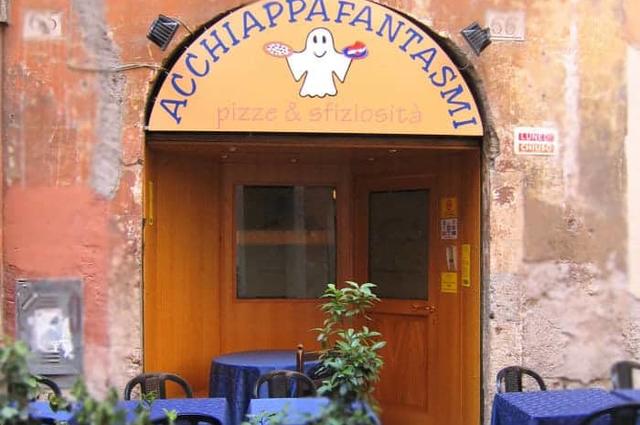 If you're traveling with kids, then the pizzeria Acchiappafantasmi will be one of the most memorable moments of your trip. The pizza in Acchiappafantasmi is delicious and very original since it's made in the shape of a ghost! This is eloquently indicated by the restaurant's name: Acchiappafantasmi means ghost hunters.
You'll find Calabrian cuisine in Acchiappafantasmi, which is very rare in Rome, so you should really try the Calabrian fish pizza.
The pizzeria Acchiappafantasmi is in the Camp dei Fiori region (Via dei Cappellari 66).
The average check is 12 Euros.
The local favorite — La Montecarlo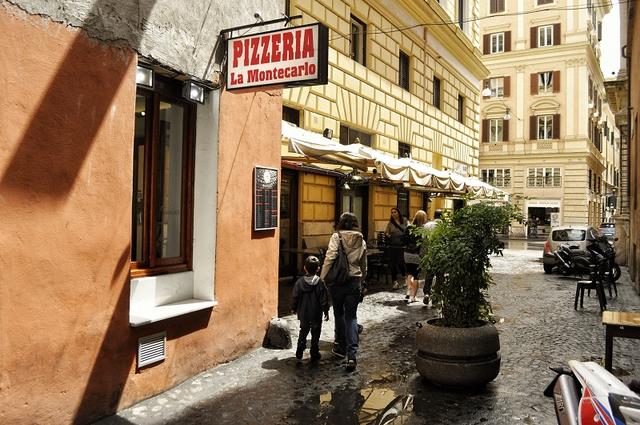 Almost everyone who goes to Rome sooner or later runs into the La Montecarlo pizzeria, which is in a lively region not far from Corso Vittorio Emanuele II and the Navona square (Vicolo Savelli 13). This place is not ideal for a romantic dinner for two, but it is the perfect place for a casual friendly dinner. La Montecarlo is popular among tourists and locals alike, and periodically even has local celebrities dining there. Other than delicious pizza, the place is famous for its generous portions of pasta and homemade desserts.
The average check is 14 Euros.
Pizza and soccer — Trattoria Da Ivo
This classic Roman pizzeria is in the noisy Trastevere region (Via San Francesco a Ripa 158). If you're ready to try an original Roman pizza and aren't afraid of noisy crowds who come here to watch soccer, then Da Ivo is the place you need to go.
Try the classic Margarita, and the Al Prosciutto and Capricosa with anchovies, olives and fried eggs.
The average check is 12 Euros.
Great Neapolitan pizza — Pizza Re
This is another place where you can eat real Neapolitan pizzas. They treat the traditional Neapolitan recipes with respect and follow them religiously. The restaurant owners think that Neapolitan pizza needs more attention and skill than Roman pizzas do. In order to make their delicious, fluffy dough, they need a real master, so making a Neapolitan pizza here isn't just cooking, it's a ceremony.
Pizza Re isn't far from the People's square (Via di Ripetta 14).
The average check is 12 Euros.
A pizzeria for modest people — Da Baffetto
Da Baffetto is a legendary pizzeria that's near the Navona square (Via del Governo Vecchio 114). The second Da Baffetto recently opened near Campo dei Fiori (Piazza del Teatro di Pompeo 18). The clientele is very eclectic, from local students to international celebrities and they don't come for the beautiful interior or superior service. They are united by the desire to eat the best pizza in Rome.
You can choose the pizza's size, and pick toppings from a simple Margarita to a more complex one that has ham, tomatoes, seafood and rucola. They don't turn away anyone in Da Baffetto and space comes at a premium, just like in the famous Roman Hard Rock Cafe, so be ready to be seated with strangers.
The average check is 12 Euros.
Have a delicious trip!
https://voyage10.com/wp-content/webpc-passthru.php?src=https://voyage10.com/wp-content/uploads/2021/04/pizza-5179939_1920.jpg&nocache=1
1285
1920
Alina
https://voyage10.com/wp-content/webpc-passthru.php?src=https://voyage10.com/wp-content/uploads/2022/01/voyage10_logo-2-300x95.png&nocache=1
Alina
2020-03-30 14:42:04
2022-12-24 16:50:58
The 10 best pizzerias in Rome