An audio guide for Paris in English
Many tourists go to Paris, walk around for 2-3 days, look at the Eiffel Tower and other famous buildings, take a few hundred pictures, and go home, all without learning anything about the city, how the people live in it or its history. Have you ever gone somewhere and asked yourself why that place in particular? What makes it special? What stories does it have to tell? These are the questions that Wikipedia can't answer. And you say that you want fresh croissants, unique places and exciting adventures? Then why do you need an audio guide at all? We'll explain.
What's an audio guide?
The quick definition is that it's an inexpensive tour that you can take on your own, at your own pace.
You've probably used audio guides in museums. You go up to a painting, press the button and listen to some basic information about the piece and the artist, and then move on.
Our audio guide isn't as boring, but the main idea is the same. You'll walk around the city and listen to stories, legends and royal rumors. The guide can control itself, so it'll turn on when you get to your destination.
Along with our Paris guide, we have guides for museums as well, including the Louvre. You'll learn a lot more about the art and artists.
And these guides aren't expensive. They're 20 times cheaper than individual tours and 3-4 times cheaper than the cheapest group tour.
Downloading an audio guide is quite easy, just get the app through this link. Then you pick the tour you want, and you can download it at home. Once it's downloaded, it'll work offline, so you don't need internet access while you're walking around. Just put in your headphones and enjoy your walk.
If there are any problems, please write our tech support at paris10ru@gmail.com for assistance.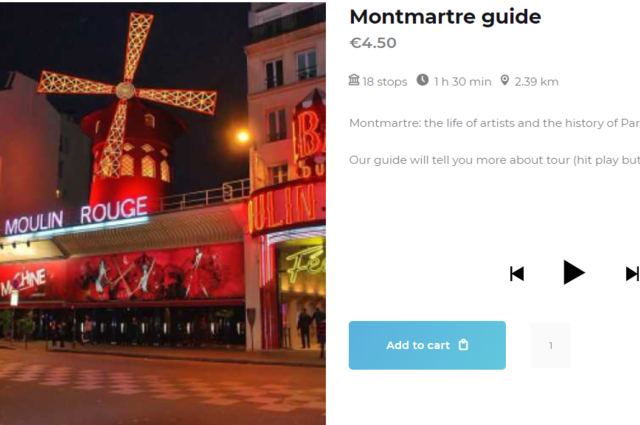 You'll see incredible places with the best views
We have more than 7 years of experience writing articles and leading individual and group tours. We've chosen the most interesting places, unique routes to get to them, and we'll show you Paris from all the most beautiful angles.
And unlike group tours, there won't be a crowd around you, and no straining to hear the guide. Notre-Dame, the Eiffel Tower, the Louvre and Champs Elysees are just for you. No one will get in the way of your pictures and you can just enjoy the sights.
You'll hear incredible stories
We've picked the most interesting and useful stories to share with you. We'll show you Paris as it is, with happy and sad stories, medieval myths and modern urban legends. Our goal is to tell you how Paris became Paris, and not just show you a set of tourist attractions with articles from encyclopedias.
You can always pause our audio guides to go get coffee or go into a museum. We'll wait, unlike an expensive individual tour guide. No one will bother you. Skip the things you aren't interested in, or double back and see your favorite spot again. You're in charge with our audio guide.
You can go where normal tourists don't
We have insider information about destinations that aren't marked on tourist maps but are just as interesting. And all the tours have a theme.
The Louvre tour takes you around the Louvre for two hours and shows you the most important pieces in the museum while telling you the story of the palace and facts from the painters' lives.
» See more – Louvre audio guides in English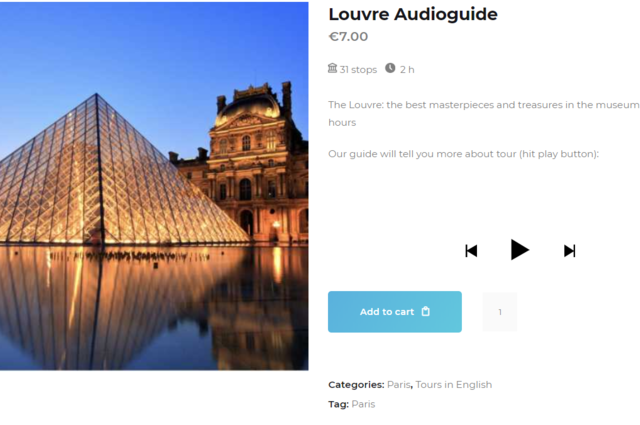 Historical Paris is about how it became a city, its growth, the Middle Ages and the stingy kings.
An interesting tour on Montmartre with the history of the cabaret.
You'll hear legends from locals
All of the tours are written by the site's authors, who live in Paris and have checked real sources. You'll get genuine information from locals, and lots of great tips that will improve your stay, such as the best places to eat at all price points, and where you can get free Wi-Fi, for example.
It's not just a vacation, but self-education
Audio guides are very convenient if you're going to Paris for just a few days. The routes are designed to show you the most important and interesting things. You'll have great photos and souveniers to show off to your friends. But, more importantly, after our tours you'll be full of great stories and facts about Paris that will make you feel like you were there much longer.
But do you have anything about other cities too?
We have tours in the most interesting cities and places in the world. Our audio guides will lead you to the most important places and tell you about museums, monuments and even about local cats and cannibals. We started with Paris and are continuously adding new cities.
Stay with us!
https://voyage10.com/wp-content/webpc-passthru.php?src=https://voyage10.com/wp-content/uploads/2020/03/image_2020_03_19T19_43_20_217Z-2.png&nocache=1
659
1047
Alina
https://voyage10.com/wp-content/webpc-passthru.php?src=https://voyage10.com/wp-content/uploads/2022/01/voyage10_logo-2-300x95.png&nocache=1
Alina
2020-03-19 19:35:09
2022-12-24 14:42:19
An audio guide for Paris in English