What's the RER and how do I use it?

The RER is a part of public transportation in Paris. It's just as important for tourists to know as the metro.
What's the RER?
RER means reseau express regional d'Ile-de-France. It's a regional train network, but it doesn't just go around the region, but around Paris as well, and it intersects with the metro.
The RER is one of the most convenient forms of transport in the city and surrounding region. There are now 257 RER stations in Ile-de-France, and 33 of them are in Paris. The network has 5 lines.
Line A goes through Defense, Star Square, and Lion train station. There are two lines to the east that go to Boissy-Saint-Leger and Chessy (this is where Disneyland is). The lines go through Vincennes and Fontenay-sous-Bois.
Line B runs from southwest to northeast. It goes through the Saint-Michel boulevard and Notre-Dame region, and the North station. It has transfers to lines A and D (Chatelet les Halles) and line C (Saint-Michel Notre-Dame). It goes to Saint-Denis (the station at the stadium of France), the Paris air show and Drancy to the north-east. The line forks, with one line going to Charles de Gaulle and the other to Mitry. The southern line goes to the university town Arcueil, Fontenay-aux-Roses and Saint Remy le Chevreuse. The station Antony connects the metro (Orlyval) with Orly airport.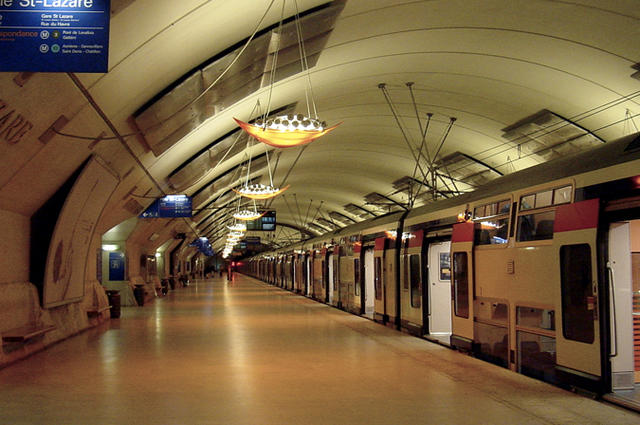 Line C runs from north to south and has many branches and two inner circles. The north route goes to the suburbs Clichy and Neuilly sur Seine, and the last station is Pontoise. It goes along the Seine inside the city, past the Champ de Mars, and has a station near Invalides and the Orsay museum, as well as Austerlitz station. Its southern lines and rings go to Issie, Versailles, Ivry-sur-Seine, Orly airport, Sainte Genevieve des Bois, Dourdan and Etampes.
Line D also runs from north to south, and the south route has two branches. The final southern stations are Melun and Malesherbes. The north route ends at the city Orry and Creil (through Saint-Denis). Line D has stops at the North and Lion train station and transfers to lines A and B at Chatelet les Halles.
Line E runs through northern Paris (Saint Lazarre station) and then to the northeast (Tournan station). One of the branches goes to Gagny to the east. They plan on extending this line.
There are other regional train lines, like H, J and U, but they don't go through the center of Paris and are called Transilien.
Where can I get an RER map?
You can't remember all these station and lines, and you probably still don't know which lines you need to take to get to your destinations. But it's much easier if you add a map. Download the map here.
Where can I buy an RER ticket?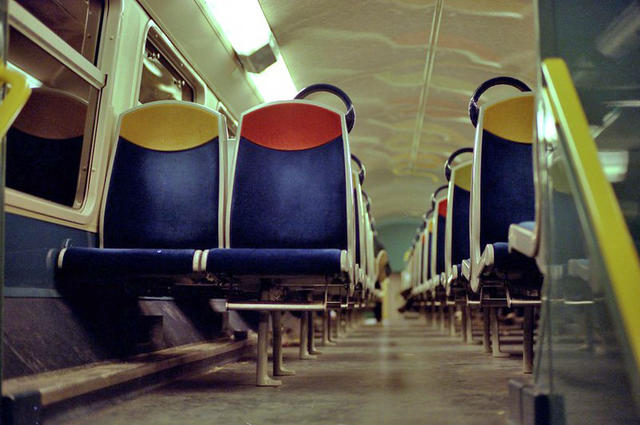 You can get tickets in the same way as metro tickets, but there are some differences. When you buy a metro ticket, it only works in the first RER zone (you can see the zones on the map).
If you're only taking the RER around Paris (zone 1), then don't worry: you can just use a metro ticket. If you need to go to a suburb or airport, then you need to buy a ticket for that zone or Charles de Gaulle airport.
Also! Ticket prices depend on the zone that you want to go to and the specific station in a suburb. There isn't just one price!
How is the RER convenient?
1. It's a regional train that goes to Paris's suburbs.
2. You can easily take the RER to airports, Versailles, Disneyland and other destinations that are outside Paris.
» See more – How to get to Disneyland from Paris
3. The RER and metro are connected with convenient passageways.
4. There's one ticket for the metro and RER in Paris.
5. Sometimes it's just an easier and faster way to move around Paris.
» See more – 10 ways to get to Paris from Charles de Gaulle airport
» See more – How to get from Orly airport to Paris
» See more – How to get to Paris from Beauvais airport?
Is it hard to use the RER?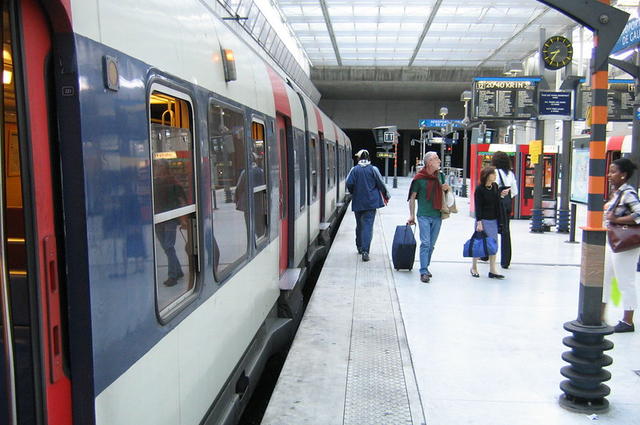 No harder than the metro. However, there are a few peculiarities!
Each RER line has several end stations, sometimes 5, 6 or even 12! Besides that, there are also long and short trains. Some stop at every station and others pass most of them. Finally, the stations in Paris can be confusing. One platform can be used by different RER lines.
There's an easy solution: pay close attention to the signs! First, double-check which direction the train is going. Second, find the closed sign and check again that the next train is going to your station.
Most tourists won't run into these problems. Versailles, Disneyland and Charles de Gaulle are all end stations and you can't ride past them.
What do I need to remember about the RER?
Don't throw away your RER ticket until the end of your ride. There could be ticket checkers at the exits. Even if you aren't afraid of fines for not having a ticket, you still need it. You need a ticket to enter and to exit RER stations. There are turnstiles at the entrances and exits, and they need the same ticket.
Be careful, always look at the signs at the station to be sure of where the train is going and where it's stopping.
Most trains' doors don't open automatically, so you'll need to press a button.
Remember, only buy tickets in machines or at ticket counters. Don't buy tickets from other people.
Good luck on the RER! 
https://voyage10.com/wp-content/webpc-passthru.php?src=https://voyage10.com/wp-content/uploads/2021/04/1280px-Paris_RER_C_pont_Rouelle_01.jpg&nocache=1
853
1280
Alina
https://voyage10.com/wp-content/webpc-passthru.php?src=https://voyage10.com/wp-content/uploads/2022/01/voyage10_logo-2-300x95.png&nocache=1
Alina
2020-03-19 18:53:36
2022-12-24 14:40:01
What's the RER and how do I use it?