Colmar: route, sights, tips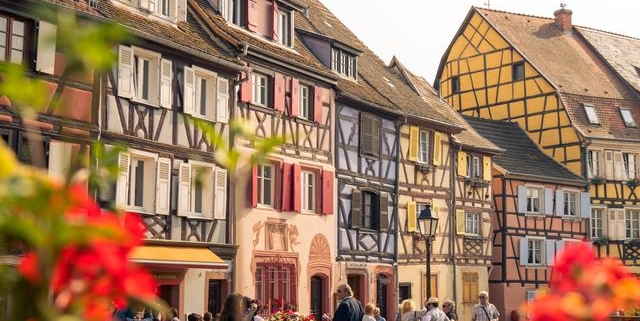 There are many picturesque villages in Alsace, and they're interesting primarily for their architecture. Among the most significant of them is the town of Colmar, 80 km from Strasbourg.
Magnificent examples of early Gothic, Renaissance, Baroque, Classicism, and Art Nouveau have been preserved here. Winding streets in the historic part of the city, canals, colorful building facades and an abundance of decorations (fresh flowers in summer, Christmas-themed décor in winter) make this city look like a holiday card.
You can visit Colmar for a few hours, but it is better to stay here longer, so that you can wander along the quays without hurry, admire the unusual buildings and taste traditional Alsatian cuisine in a restaurant over water.
How to get to Colmar from Paris and Strasbourg

From Strasbourg
You can get to Colmar from Strasbourg in about an hour by car or just over half an hour by train.
The distance between cities can be easily traveled in about an hour on highway A35. For a day trip you can rent a car. In France, car rentals are very simple and widespread. You can choose a car that suits your needs and book it in advance on this site.
The train from Strasbourg to Colmar departs frequently, up to 3 times per hour. The trip takes 35 minutes, and tickets cost an average of 12-15 euros. Do not forget that on the day of departure, tickets for French trains are always more expensive, so buy them in advance on this site.
» See more – How to get from Paris to Strasbourg?
From Paris
The shortest road from Paris to Colmar is the toll highway A4, and it's about 530 km. The drive will take about 6 hours and you'll pay 32 euros. You can order a car for rent at your hotel or the exit from the airport.
There is no direct railway route to Colmar, but you can get a transfer in Strasbourg, Mulhouse or Dijon. On these routes, half of the trip will be on a high-speed train TGV, and the other half on an ordinary train.
Trains on these routes depart from Gare de Lyon or Paris Est every hour. Travel time is from 2:40 to 3:40 hours. Choose the most convenient route for you and [raileurope:link label:book a ticket here].
Sights in Colmar
Here's a small route that will take you to the most outstanding monuments in Colmar. The truth is that the whole city center is incredibly beautiful and you could endlessly wander through its streets, just looking from one beautiful house to another.
If you've arrived in Colmar by train, the first attraction you will see is the railway station, built in 1905 in the German neo-baroque style.
First we suggest you go to the most famous attraction of the city: the Unterlinden Museum. There is a tourist office of Colmar next to the museum, where you can get a free map of the city, buy souvenirs, and get any other information you may need.
From the square in front of the museum, a small tourist train departs on its route. This train will take you along the most picturesque streets in an hour or less. This opportunity will be especially important if you have very little time, you are traveling with children or if you just are not in the mood for a long walk. The cost of the ticket is 7 euros for adults, 4 euros for children 12-18 years old, and 3.50 euros for children 1-12 years old.
The Unterlinden Museum is located in a monastery building. Medieval art objects, including famous Isenheim Altarpiece, painted in XVI century by German artists Nikolaus of Haguenau and Matthias Grünewald, are exhibited inside. The museum is open daily from 09:00 to 18:00, except on Tuesdays. A ticket costs 13 euros, or 8 euros for children from 12 to 18 years old. You can also get an audio guide for 2 euros.
House of Heads, built in 1609, gave a name to the entire street on which it stands. You will immediately understand where it got its name—the whole facade is decorated with figures and masks, 106 in total.
The architecture of the Dominican Church is attributed to the 14th century, but its outstanding altar is now kept in the Unterlinden Museum. Unlike most French churches, entrance to this one is paid (2 euros).
Each house on the Marchands Street is a historical monument and an amazing masterpiece, so take a look at them. Notable buildings among them:
Security House (Corps de garde) was built in 1575. Served as the City Hall, the Palace of Justice, and the market.

Zum Kragen was built in 1558, but the famous corner sculpture was attached to the facade in 1609.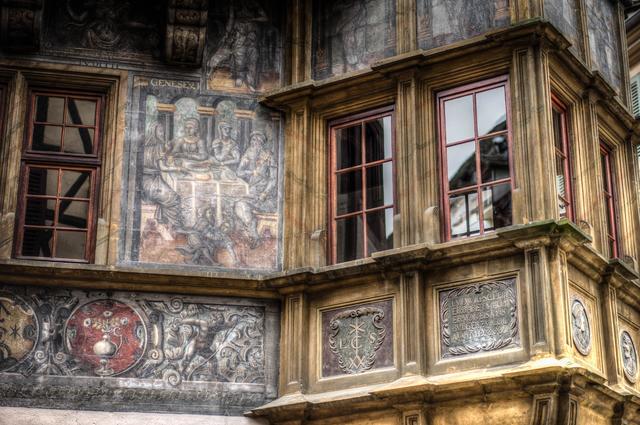 Pfister House (Baker's House) was built in 1537. It was built by a hatter, who got rich on the silver trade. The house got its name from the family, who protected it in the 19th century.

Adolph House (named after the family who lived in it) was built in 1350 and is considered the oldest in Colmar.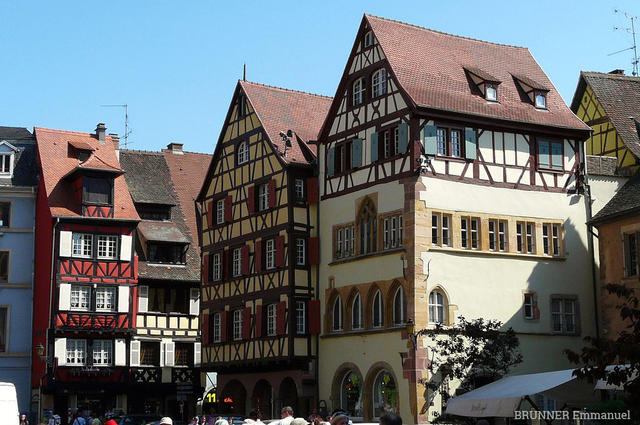 The swan house (Zum Schwan) belonged to the artist Martin Schongauer, whose works are now kept in museums.

The Bartholdy House Museum is the house where the famous sculptor, author of the Statue of Liberty, outstanding fountains and many other works, was really born.
The museum is open from Tuesday to Sunday from 10:00 to 18:00 (closed during lunch from 12:00 to 14:00). It takes only 1 hour to see the museum. The cost of the ticket is 6.70 euros, or 5 euros for a discount ticket, and there is an audio guide (2 euros).
Colmar has its own Statue of Liberty. It is located opposite the local airport. You will definitely see it if you arrive from Strasbourg by car.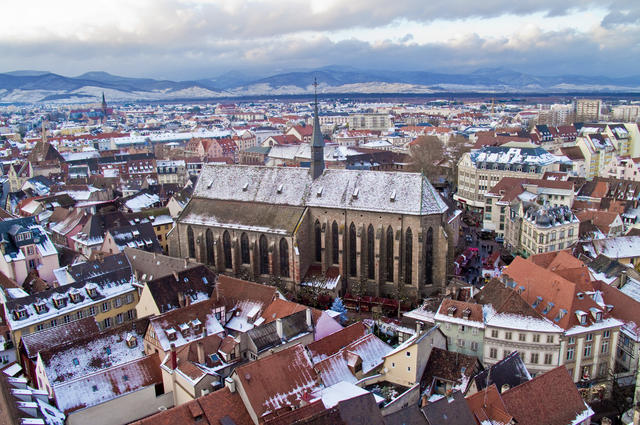 The Church of St. Martin is known for its stained glass windows. Be sure to go inside for at least a few minutes. This is an excellent example of Gothic architecture from the 13th to 14th centuries.
The Church of St. Matthiew was built in the 14th century by the Franciscans. This building has absolutely great acoustics. It hosts concerts during the International Music Festival in Colmar.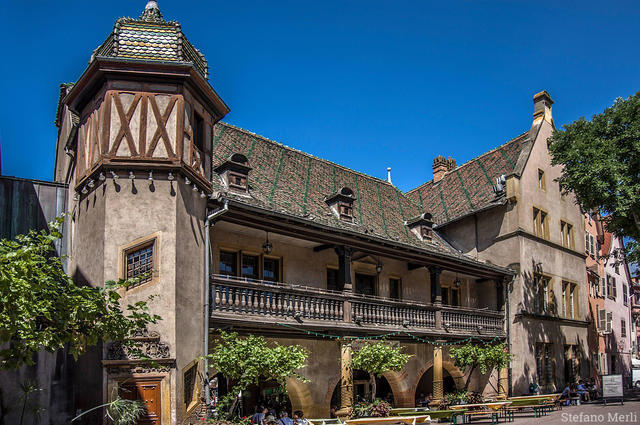 Once upon a time Colmar was one of the 10 free cities of Alsace, printing its own money and taxing imported goods. A reminder of those glorious times is the magnificent building of the Old Customs House, Koifhus, built in the 15th century.
You will pass the old indoor market (built in 1865, it seems almost new), where you can buy all the possible delicacies of Alsace. Then you will come to the iconic area of Colmar on the Quai de la Poissonnerie. This picturesque quarter is called "Little Venice".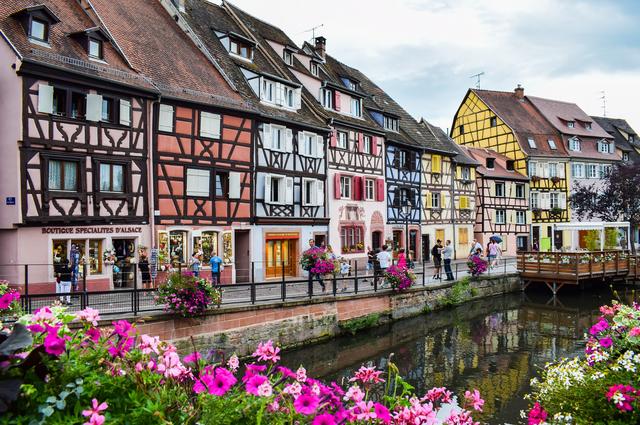 The houses in this area were built in the 18th century, after a powerful fire destroyed the old buildings. In the 20th century half-timbered facades were lovingly restored, and now they delight citizens and tourists.
Don't miss out on the opportunity to go boating on the Losh river!
Colmar events and festivals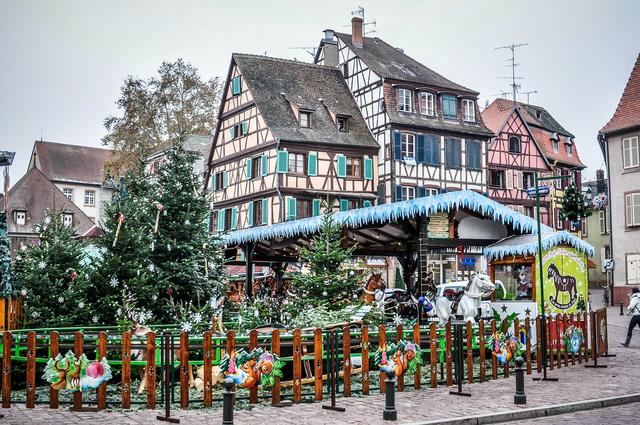 Colmar is a city with a rich festival life. These events are held annually:
Jazz Festival (September);

Colmar Film Festival (October);

International music festival led by Vladimir Spivakov (July);

Alsace Wine Festival, which attracts dozens of wineries and about 250 thousand visitors to the city (August);

traditional Christmas markets (starting in late November).
Colmar is especially good at Christmas time, with its magical atmosphere created by the festive lighting, garlands on trees and houses, and elegant rows of shops with all kinds of products, souvenirs and Christmas decorations.
» See more – 10 ways to celebrate Christmas in Strasbourg
Where and what to eat in Colmar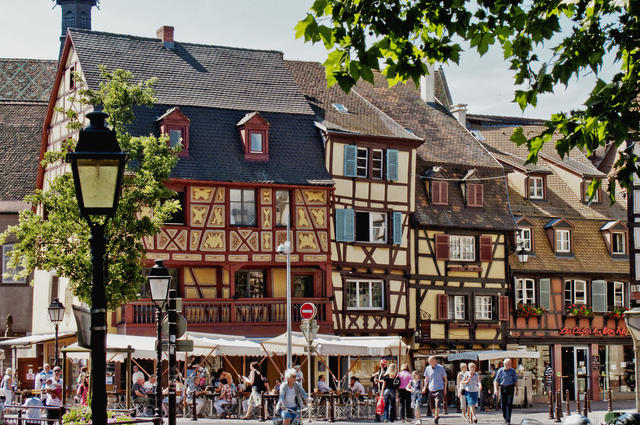 Restaurants in Colmar mainly represent either traditional French cuisine or Alsace cuisine. We recommend that you try:
baekeoffe – stew soaked in white wine,

tarte flambée – Alsace onion pie with bacon, vegetables and cheese,

choucroute – a special preparation of sauerkraut with several types of meat.
Thanks to its special microclimate and minimal precipitation, this area is famous for its excellent white and sparkling wines. They blend harmoniously with local cuisine and are the most popular local souvenir.
High cuisine is available at the Atelier du Peintre (1 rue Schongauer). The restaurant is located in an ancient 15th-century house and has received a Michelin star.

The Bartholdi Restaurant, specializing in fish specialties, is located at 2 Rue des Boulangers.

The best gastronomic facility in town is the JY's Restaurant. It is famous for frequent menu changes, which include not only local, but also exotic dishes. It is distinguised with two Michelin stars.
In search of a budget eatery, don't hesitate to turn from wide streets into small alleys. You may suddenly come across an inexpensive brasserie and cafe. For example, La Cour des Anges is just a few steps away from the Old Customs Office.
Where to stay in Colmar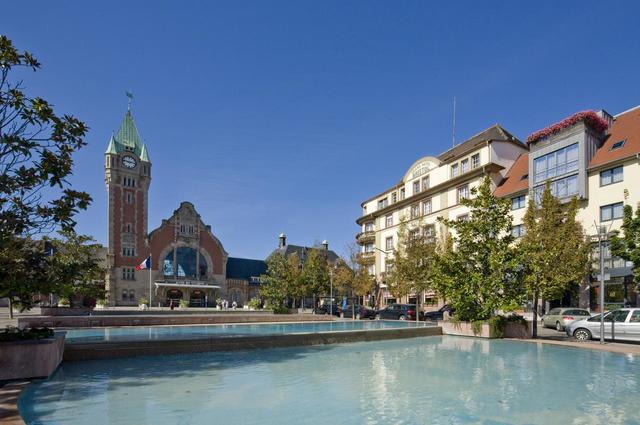 It may seem that in such a small town there is nothing to do for more than one day. But the unique atmosphere of Colmar will surely change your mind. It is important to think about a hotel in advance, especially if you're arriving on the days of some festival or during the Christmas season.
One of the best hotels near the station and the historic center is the four-star Grand Hotel Bristol de Colmar. It is known for its restaurant of high cuisine, Au Rendez Vous de Chasse, and a health center with water procedures.

A good option for a budget holiday can be Brit Hotel Primo, which for a modest fee offers modern rooms and breakfast.

Tourists who prefer small hotels may like the boutique hotel Beauséjour, which has only 14 cozy rooms.
If you like Alsace, we recommend that you go beyond the most famous places and discover the most beautiful villages in the region.
» See more – 10 beautiful villages to visit in Alsace
Have a nice trip!
https://voyage10.com/wp-content/webpc-passthru.php?src=https://voyage10.com/wp-content/uploads/2020/12/patrick-robert-doyle-ZeN3Xq9riRU-unsplash.jpg&nocache=1
425
640
Anna
https://voyage10.com/wp-content/webpc-passthru.php?src=https://voyage10.com/wp-content/uploads/2022/01/voyage10_logo-2-300x95.png&nocache=1
Anna
2020-12-22 11:04:20
2022-12-25 07:44:38
Colmar: route, sights, tips