Everything you need to know about Bordeaux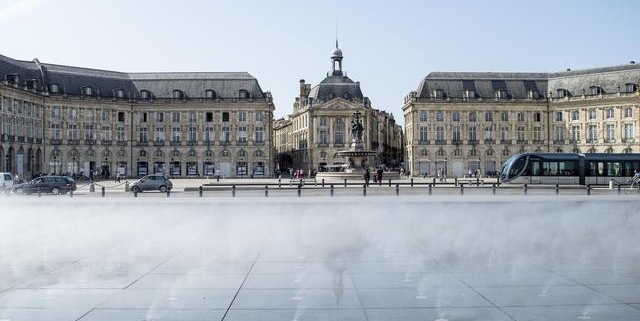 Bordeaux is the capital of the Aquitaine region. It's a city of art, rich history and, of course, wine. It is rich in attractions, like Paris, but calmer and not so crowded with tourists. If your dream is to see the real France, then you should definitely go to Bordeaux!
» READ MORE – 20 French cities worth visiting
The most important historical facts about the city
Bordeaux was founded in the 6th century BC. At that time the city was called Burdigala, and it constantly passed from hand to hand as new conquerors came to the region. It wasn't until the Hundred Years' War, in 1453, when the city finally became part of France.
Winemaking in Bordeaux was developed back in the 1st century AD. Now the city produces 650 million bottles of wine a year.
In the 18th century, Bordeaux prospered through trade with the colonies. The center of the city was transformed, and a new impetus was given to local gastronomy.
In 1813, Bordeaux was the only city in France with 4 theaters, aside from Paris.
From 1870 to 1871, during the Franco-Prussian War, Bordeaux was the capital of France.
3 reasons to visit Bordeaux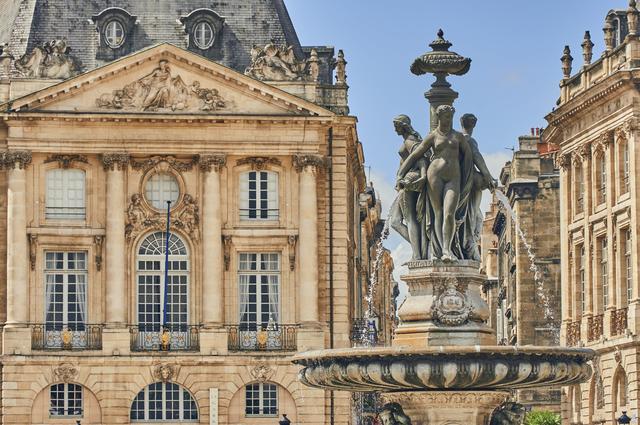 Wine
Admit that you thought that "Bordeaux" was just a type of wine before you found out that it is a city! There are many vineyards waiting for you, the largest wine museum in the world, and tastings of the best wines from France, and maybe the whole of Europe.
The heritage of the 18th century: the Old Town of Bordeaux
This historical destination is not on UNESCO's World Heritage List do not include for nothing. The beauty and architecture of the city must be seen with your own eyes!
Famous delicacies
Here you will taste oysters of Arcachon, white mushrooms from Bordeaux, duck breasts and foie gras, lamb Poyac, entrecôtes in wine by a special recipe, lampreys and pibale. Bordeaux is the city of famous chefs and gastrofestivals!
When to go to Bordeaux
The city welcomes its guests daily and year-round. But if you plan your trip in advance, you can choose to arrive in time for a festival! We have prepared an approximate calendar of cultural events in Bordeaux for every taste. Each year the dates may be changed, so check the website for the events for specific dates.
March — for fans of holidays and carnivals:
"Carnival of two coasts" in early March;
Folk festivities "Foire aux plaisirs" during the first 3 weeks of the month.
April  for fans of short films there is a "Festival coupé court".
May — for fans of wine, jazz and gastronomy:
International Wine and Spirits Festival "Vinexpo";
Jazz festival in Saint-Emilion, 47 km from Bordeaux;
Amateur gastronomic festival "Fête de la Morue" where in addition to gastronomic pleasures you will find a sea of fun: theatrical performances, concerts, exhibitions, games and competitions, culinary workshops and tastings (late May – early June).
June — for fans of folklore, wine, music and gastronomy:
Folklore festival "Chahuts"
The "Fête le Vin" (wine festival) was held in Bordeaux in even-numbered years for 4 days from Thursday to Sunday in late June. Due to the pandemic in 2020, the holiday was postponed to 2021, and then it will probably continue to be held on the odd-numbered years. Check the website to be sure;
"Fête le Fleuve" (river festival) — music, water competitions, an exhibition of various vessels and delicious outdoor food;
Festival "Les Épicuriales" — affordable high cuisine and culinary shows from the best chefs (two weeks at the end of June).
July and August — for fans of street dancing and choreography:
dancing on the quays;
three-day international music festival "Reggae Sun Ska" is held in early August, 60 km from Bordeaux.
September — for fans of music, dancing and holidays:
"Days of European Cultural Heritage" in the middle of the month – musical parades, dance performances in the main streets of the city, musical concerts in churches and unusual thematic exhibitions in museums;
"Médoc Marathon" — parades, festivities and gastronomic program: tasting of oysters, steaks, ham and wine. Pre-registration is required for participation in the festival.
October — an international festival of women's cinema is held for movie lovers.
November — the holiday of Beaujolais Nouveau is celebrated on the third Thursday. And though Beaujolais wine itself is not produced in Bordeaux, the holiday does not go uncelebrated in the wine region.
December — for fans of European Christmas fairs.
Don't worry too much about the weather — we recommend choosing the festivals you find most attractive. But don't forget that spring and summer are the high season. If you do not want to be among crowds of tourists, choose the autumn months for a comfortable trip.
How to get to Bordeaux
Now there are direct flights from many European cities to Bordeaux, but it may be more affordable to get a transfer in Paris. It is very easy to get to Bordeaux from the capital. You can get there by train, bus, car and airplane.
Airplane
There are regular flights from Paris to Bordeaux, from low-costers to famous airlines. The flight time is about 1 hour 15 minutes. Tickets without luggage can be bought from 10 euros. Pay attention to the airport of departure, because traveling from one airport to another in Paris will take a long time.
Train
There are many high-speed trains every day from morning to evening that depart from the station Montparnasse in Paris. There are 2 types of trains, and the OUIGO is cheaper than the more comfortable TGV INOUI.
A ride on a high-speed train will take just over two hours. Tickets can be purchased from 16 euros when buying in advance. There is a convenient service for the online booking of railway tickets.
Bus
If you have patience, you can get to Bordeaux by bus. It is a less expensive option than the train. On the way you will have to spend from 7 to 10 hours, and the cost of tickets may vary from 9 to 50 euros. Tickets for your dates can be [flixbus:link label:found here].
Car
You can rent a car and take a mini-journey around France. On the way you can see Orleans and several castles of the Loire Valley. There is some romance in this, but there are also disadvantages. The distance between Bordeaux and Paris is 560 km, and the trip will take about 6 hours. Most roads in France have tolls, so you should think in advance about the tradeoff of cost and convenience when deciding whether to rent a car. You can choose a class of car and find out the cost by clicking here.
Transportation from the airport
Bordeaux Mérignac Airport is located just 12 km from the city. There are a few ways to get there: by bus 30'Direct, bus Liane 1+, or by cab.
City bus Liane 1+
Goes to the Saint-Jean railway station. A ticket can be purchased from a vending machine at the bus stop and from the driver. Approximate travel time is 60 minutes.
The cost: 1.7 euros, or free with a City Pass card. Buy City Pass in advance by clicking on the link.
Bus Express 30'Direct
Goes to the Saint-Jean station. The trip only takes 30 minutes, because 30'Direct does not stop anywhere. Cost: a full fare is 8 euros, or for people under 27 and older than 60, 7 euros, luggage free.
Cab
A cab for two people to Saint-Jean station will cost 63 euros. Order a transfer at this link in advance or find an official taxi service in the airport.
Public transport in Bordeaux
All the main sights of Bordeaux are in relative proximity to each other. The city gives you a choice: if you want to walk, you certainly can, since everything is close by; if you want to travel fast and comfortably, Bordeaux has a wonderful and affordable public transport system!
There are 79 bus lines, 4 streetcar lines and a river tram at your service. You can also travel around the city by bike — you'll find rental stations everywhere.
Buses
They go daily from 5:00 to 1:00. They go every 10-15 minutes in rush hour, at other times – less often.
Routes connect living areas and the city center, but it is better to stay in a hotel in the center and avoid long journeys from the outskirts of the city. We'll help you decide where to stay with a description of the districts below, and you can book a hotel here.
Streetcars
The city's street cars operate daily from 5:00 to 1:00. This is the fastest, most regular and practical means of transport. They go through the very center of the city, to all the famous places, and the railway station.
River streetcar
The river streetcar works all week: from Monday to Friday from 7:00 to 19:30, and on weekends and holidays from 8:45 to 20:00.
The main attractions are located on one bank of the Garonne, but no one will forbid you from simply riding a river streetcar for the excitement! You can also combine the pleasant trip with a learning experience and book a real river excursion with a guide or an audio guide. You can book a cruise here.
Bikes
Bicycles in France are public transport. They are easily accessible all around the city, and Bordeaux is equipped with special bicycle lanes. Being outside in warm weather is much more pleasant than crowding into a bus.
The cost of a subscription for a day is 1.7 euros, which includes an unlimited number of 30-minute trips. If you use one bike for more than half an hour, you will have to pay an extra 2 euros per hour. The cost of a weekly subscription is 7.7 euros, and the conditions are the same.
At each bicycle rental station there is an instruction manual. You can pay with Visa or Master Card. A huge plus of bicycles: you are not tied to transport timing.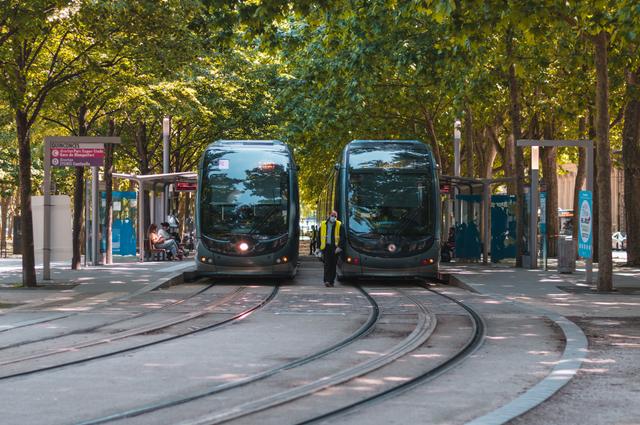 Where to buy tickets
There is one ticket for all types of transport. It is valid for one hour, starting from the moment you first use it, so you can transfer to any transport an unlimited number of times within 60 minutes. Transport is free for children under 5 years of age.
Tickets can be purchased at special vending machines at stops, from the driver (for just one trip) and at sales offices between 7:00 and 19:00 on weekdays at these addresses: 9 Place Gambetta; Parc relais de la Buttinière; 38-40 Allée de Munich and at Saint-Jean Station.
Ticket prices

| | |
| --- | --- |
| 1 trip | 1,7 € |
| 2 trips | 3 € |
| 10 trips | 13,70 € |
| 24-hour travel pass | 5 € |
| Weekly travel | 14,20 € |
| Evening pass(between 19:00 and 7:00) | 2.60 € |
Ticket BAT3, for the river tram with the right to change to a tram or bus within one hour – 3 € one trip, 4 € 2 trips. Sold only on board the river tram.
City Pass, a tourist discount card that combines transport pass, free entrance to 20+ museums, a ticket to the City of Wine until 12:00 (in the afternoon you will have to pay an extra 5 €), a free tour of the Old Town and discounts on vineyards and river cruises. You can order this useful card at this link.
How to pick a hotel in Bordeaux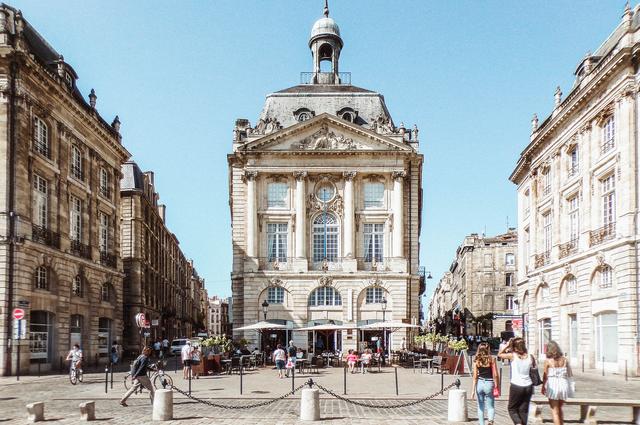 A bad hotel, an uncomfortable location, or a bad neighborhood can lead to a bad trip. Make sure you study the map and choose wisely.
Old Town
All of Bordeaux's most important attractions are located in or very close to the Old Town. So choosing a hotel in this part of the city is the best solution to avoid wasting time or being stuck in rush hour traffic. And who would refuse to stay right in the middle of a World Heritage site? But there are also disadvantages: prices can be quite high and there are some unfortunate places, such as Victory Square (place de Victoire), where local youth often throw parties with alcohol.
Western District
The western district is ideal for those who are not ready to spend money on a hotel in the historical center. The western district of Bordeaux is a prestigious and quiet area with many parks. The negative is that you will have to get to the center by transport. Click here to check out hotels in the west.
Southern district
This is a convenient and peaceful neighborhood. A bus from Liane 1+ airport passes through it, the most popular food market in the city is located here, and the area is filled with university buildings and residential buildings. Another plus is its proximity to the local zoo. The downside – just like the western district – is that the main attractions can be only reached by transport.
Book a hotel in South Bordeaux
Where shouldn't you settle down?
In choosing your accommodation it is best to bypass the Bordeaux Saint-Jean railway station – accommodation here is inexpensive, and it's just a couple of kilometres from the center, but it's not the safest area.. It's also not worth settling on the east bank of the river — it's not a good location for travelers.
A 3-star hotel for two people in the city center will cost from 100 €/day, and in a good area outside the center, from 55 €/day.
What to eat in Bordeaux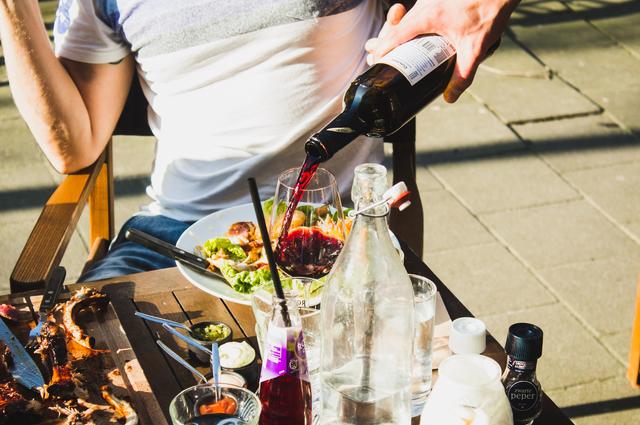 France is an entire gastronomic and wine paradise. But apart from the general splendor, there are also regional specialties. There's good reason that Bordeaux is loved by famous chefs. Be sure to try at least a few dishes from the list:
lamprey – a lamprey in red wine;
pibale – crispy fried eels;
foie-gras;
huitres du bassin d'Arcachon – oysters from Arcachon;
entrecôte à Bordeaux – steak with shallots, onions and herbs in wine;
agneau de Pauillac – lamb;
Bouchon de Bordeaux – cakes in the form of wine cork. They are two types: traditional and with different flavors (sometimes with the addition of alcohol);
Cannelés – vanilla biscuits with a crispy caramel crust and rum flavor.
Where to eat
Cafes and restaurants are excellent in Bordeaux — you'll find better only in Paris. There are eight Michelin-starred restaurants in Bordeaux. But don't worry, not all restaurants are expensive. There are also budget cafes with excellent cuisine.
The easiest way to find a place to eat and taste the local delicacies is to go to the historic center of Bordeaux. There is no need to go far from the important sights. In general, there are several areas where most restaurants are concentrated:
Parliamentary Square (Place du Parlement)
Rue Saint-Rémi Square
Place Saint-Pierre
Via Fosse (Rue des Faussets)
If you want to save money and not eat in the tourist heart of the city, pay attention to Victory Square (Place de la Victoire).
The average restaurant receipt depends on your preferences and the restaurant itself:
in local pancakeries (creperie) – from 10 euros per person;
in restaurants – from 18 euros per person.
A few tips for dining in Bordeaux, and France in general:
Most of the restaurants have menus on the street so that everyone can look at them in advance and price them.
In the restaurants, look at a complex lunch (menu) and a meal of the day. It is cheaper than just ordering from the menu (la carte).
All chain supermarkets in France sell ready-made food in sealed packages: sandwiches, salads, casseroles and other ready-made dishes. There are often tables and microwave ovens there as well. Such a lunch will cost you 2.5-6 euros. Have a picnic in the open air!
What to see in Bordeaux
Wherever you go in the historical center of Bordeaux or its surroundings, it will be beautiful! If you are a fan of traditional tours and like to ask questions, book a walk with guide and enjoy the views of the city along with fascinating stories. Whether you go on a tour or just explore on your own, these places definitely shouldn't be skipped.
Place de la Bourse
The Bourse square is one of the most famous and iconic places in the capital of Aquitaine. Now it houses the famous sight of Bordeaux, the Water Mirror Fountain (Le Miroir d'eau). It is the largest reflecting pool in the world, occupying almost 3500 square meters. Every 30 minutes the area is filled with a thin layer of water. Depending on the weather, sometimes a fog rises above the pool.
Basilique Saint-Michel
The construction of the basilica occured during the 14th-16th centuries. Its main feature is the tallest bell tower in southern France, with 22 bells. Be sure to ascend it to admire the panorama of Bordeaux.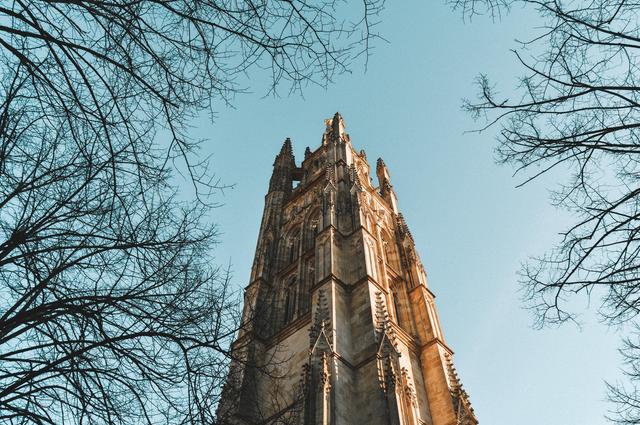 Saint-André Cathedral and Pey Berland Bell Tower
The first stone of this famous cathedral was laid in the early 11th century. The wedding ceremony of Louis VII and Eleanor Aquitaine took place here.
You can admire the view of Bordeaux if you climb 233 steps (66 meters) in the freestanding bell tower of Pey Berland. You will also see the statue of Our Lady of Aquitaine and a bell weighing eight tons!
Museum "City of Wine" (La Cité du Vin)
You can't come to Bordeaux and not visit the City of Wine! The building itself is shaped like a decanter. The museum exposition is 3000 sq. m. of thematic sections all related to wine. The study of the complete process of wine production ends with a tasting with a view of the city!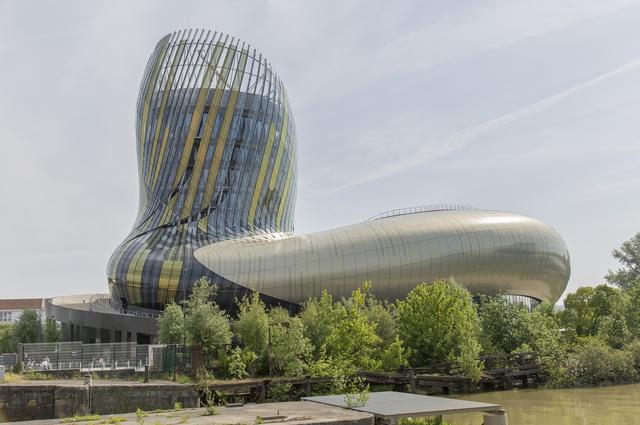 Stone Bridge (Pont de Pierre)
Until 1822, it was only possible to get across Garonne by boat. But when Napoleon had to bring an entire army across, a bridge with 17 arched spans (by the number of letters in the name of the Emperor) was built.
Every evening, the bridge is beautifully illuminated by spotlights all around the perimeter.
Cailhau Gate (Porte Cailhau)
In the 15th century, the Cailhau Gate was the main entrance to the city and led to the Parliament Palace. Built at the turn of the century, this monument combines the Middle Ages, the Renaissance, defense and decorative elements.
The Grand-Théâtre de Bordeaux
This building has a neoclassical facade, with 12 Corinthian-style columns and 12 statues of goddesses and muses. The interior is decorated in blue, white and gold, with marble staircases and painted ceilings in this temple of light and art.
Place des Quinconces
The Quinconces Square is more like a park. Under the greenery hides one of the largest squares in Europe and a huge transport hub for the city. The fountain with a 50-meter column is the famous monument to Girondins.
The Big Bell (Grosse cloche de Bordeaux)
Previously, the bell tower was a prison and the bell was rung to warn of fires and storms or to call people to arms. Now the bell can be heard 18 times a year: at 12:00 every first Sunday of the month, and at 11:00 on January 1, May 1, May 8, July 14, August 28 and November 11.
Finally, in Bordeaux, you'll also find wonderful parks for a change of atmosphere and a great place to enjoy a picnic.
How to save on admission costs
The average cost of tickets to museums is 5-20 euros. Entrance to the cathedrals, churches, basilicas is free, and voluntary donations are welcome.
Tip #1: entrance to all Bordeaux museums is free every first Sunday of the month (except during July and August). Be prepared for long lines!
Tip #2: with a Bordeaux City Pass card, admission to most museums is free, and you'll get discounts on cruises and excursions.
What to bring home from Bordeaux
Wine, wine and more wine!
It would be a real crime not to bring a couple of bottles of wine home for yourself and as gifts. In France you'll find a large selection of wines of different volumes, from 250 ml to 3 liters. Choosing a wine can be tricky, so it is best to turn to an experienced sommelier in Bordeaux wine stores: "Maison du Vin", "L'Intendant" or "The Wine of Bordeaux".
Cheeses
What else would you pair with the wine? Look for real cheeses in the Fromagerie shops or in the "Marche des Quais" Sunday market. Sometimes sellers offer vacuum packaging for transportation, so take advantage of this offer. Cheeses can't be transported in carry-on luggage at all, and you don't want a specific flavor infusing your suitcase.
Bouchon de Bordeaux — cakes in the form of wine caps
These are sold in boxes or packages for different quantities of cakes. Visit the popular "Baillardran" sweets store in the heart of Bordeaux.
Chocolate
Chocolate in France is definitely worth your attention! If you see a "Chocolatier" sign, run for a box of delicious and original sweets as a gift for your loved ones.
Where to go for presents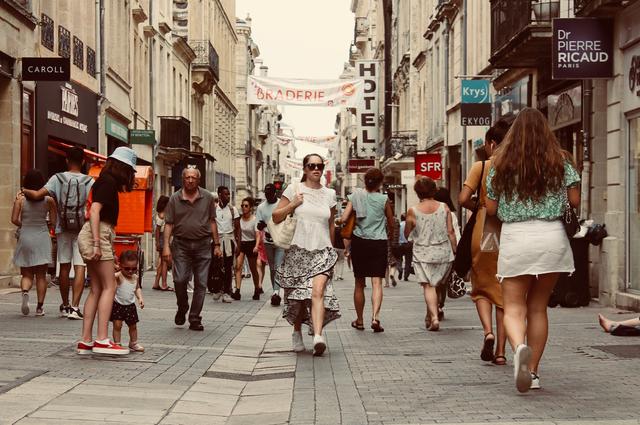 All kinds of souvenirs and gift sets are available in the Bordeaux Shop. This is a convenient option in case there is little time for shopping.
Be sure to take a walk along Rue Sainte Catherine. It is the longest pedestrian street in the world, and the whole street is packed with stores and boutiques. If you are looking for inexpensive gifts, start your journey down this street from Victoria Square.
Traditional French shopping can be done at the place des Grands-Hommes. Many shopping streets start from here. You will find expensive branded watch stores, jewelry stores, clothing stores, and expensive cosmetics and perfumes.
The best way to pay
As throughout Europe, the euro is the currency used in France. You can pay by card or with cash. But keep in mind that in stores, restaurants and bars you can often only use your card when you buy more than a certain amount, which may be from 5 to 20 euros. It is best to carry small bills so that there are no problems with change.
Where to exchange money
In Bordeaux, there are places to exchange currency, but it's usually most convenient to get euros before you travel. If you are not sure about the exact amount you'll need, have a bank card with which you can withdraw euros from an ATM if necessary (your bank may apply fees).
Safety in Bordeaux
Bordeaux is generally a very peaceful and safe city. Do not walk around the train station at night, do not openly carry valuable items, jewelry, expensive electronic equipment and large sums of money, travel with copies of documents (instead of originals), and everything will be fine.
If you are in trouble, contact the nearest police office (commissariat de police) immediately to draw up an application. This is the only way you will be able to receive insurance payments.
Phone numbers in an emergency situation:
112 – emergency operational service number
17 – police
15 – emergency medical care
18 – fire department
We hope you'll not need this numbers. ))
Have a nice trip to the wine city!
https://voyage10.com/wp-content/webpc-passthru.php?src=https://voyage10.com/wp-content/uploads/2021/01/bordeaux-2204130_1920.jpg&nocache=1
425
640
Anna
https://voyage10.com/wp-content/webpc-passthru.php?src=https://voyage10.com/wp-content/uploads/2022/01/voyage10_logo-2-300x95.png&nocache=1
Anna
2021-01-09 16:29:33
2023-01-22 13:16:49
Everything you need to know about Bordeaux