How to get to Paris from Beauvais airport?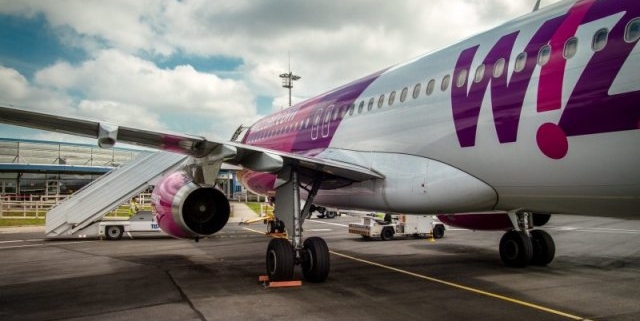 Beauvais is not the most convenient airport in Paris, but inexpensive airfare consistently draws dozens and hundreds of budget travelers to it. Here are all the ways to get from Paris-Beauvais Tillé airport to the city center.
Let's just say that the easiest way to get there is by bus. They run frequently and the stop is right at the exit of the airport. On the spot, tickets to Paris cost €18 and you have to wait in line, at this link you can buy a ticket in advance and for €16,90.
What you need to know about Beauvais airport
There are three airports in or near Paris: the international airport, Charles de Gaulle, a regional airport, L'aeroport de Paris-Orly, And the one farthest from the city, Beauvais. This is where the cheapest air companies are based. It's 90 km from the center of Paris in Picardie. The main airline here is Ryanair, but there are others as well.
Getting to this airport can be quite a long, uncomfortable and expensive trip. Taking a transfer taxi is cheaper, if there's more than three people in your group. You can book a cab from Beauvais to your hotel at this link.
You should know that Beauvais airport is closed from 23:30 to 6:00, so you can't spend the night inside. If you can't reach Paris, use this link to see nearby hotels.
Paris Beauvais-Tille Airport: book hotel in
From Beauvais airport to Paris by car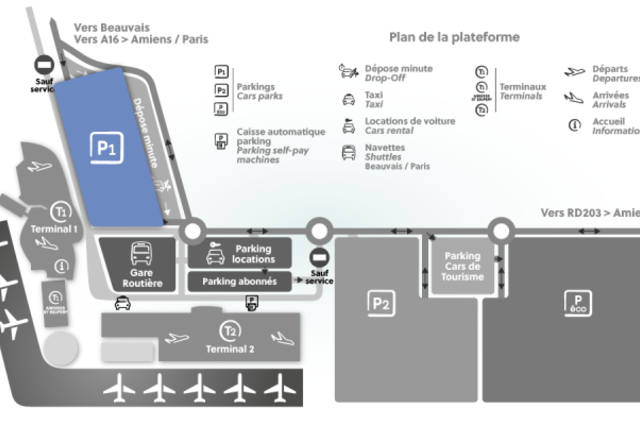 It will take you an hour on the A16 to get to Paris from the Beauvais airport. You can get a rental car before your trip and the car will be waiting for you at the airport when you land. You can also rent one at the airport.
You can also take a taxi from the airport right to your hotel in Paris. The cost starts at 105 Euros during the day or 125 at night. It's about an hour and a half drive. You can order a taxi using this link. Your driver will meet you at the airport and take you to the hotel.
From Beauvais airport to Paris by bus
The bus Navette Beauvais connects the airport to the Paris metro station Porte Maillot. You'll find a busstop on the airport map, between the first and second terminals.
This bus is exclusively for air passengers. It runs every day, about 15-30 minutes after a plane lands. You can also take it back to the airport from Paris. Buses leave Paris three hours before a flight. The first bus leaves Paris three hours before the first flight in the morning. The time varies, but it's usually at 5:35-5:40.
You can buy tickets at the bus station at a counter or a machine. We recommend buying a ticket in advance: it'll be cheaper and quicker. There's usually a queue of passengers at the counter. The ticket costs 16.90 € online and 18 € at the counter.
From the airport via Beauvais city to Paris by train
Finally, you can also take a bus to the city Beauvais. Bus #6 runs on a schedule from 7:30 to 19:50. The cost of the ticket is 1 €. The easiest way to get to the Beauvais train station from the airport is a taxi. It normally costs 13 € but is 16 € on Sunday and holidays. It takes 15 minutes.  The city has hotels, shops and a train station.
You need the TER (Train Express Regional) train from Beauvais train station to the Gare du Nord (the metro Gare du Nord and RER Magenta). The train runs from 6:30 am to 20:00 pm. It leaves every 30-90 minutes. A ticket costs 14,50 €. The trip to Paris takes 1 hour and 15 minutes.
Please note that the train station is in the city Beauvais, not the airport!
Getting from the Beauvais airport to Paris isn't easy, but the flights there are the cheapest.
We recommend our audio guide of Paris that has the most interesting tours from local guides! Download them on your smartphone and save money, while knowing you'll have access to the best tours.
Enjoy your trip!
» See more – What's the RER and how do I use it?
Read these articles in other languages: lotniska Beauvais, luchthaven Beauvais, аэропорт Бове
https://voyage10.com/wp-content/webpc-passthru.php?src=https://voyage10.com/wp-content/uploads/2020/02/wing-flying-fly-airport-travel-airplane-520923-pxhere.com__1.jpg&nocache=1
425
640
Alina
https://voyage10.com/wp-content/webpc-passthru.php?src=https://voyage10.com/wp-content/uploads/2022/01/voyage10_logo-2-300x95.png&nocache=1
Alina
2020-02-11 17:17:03
2023-03-03 11:56:28
How to get to Paris from Beauvais airport?