5 Places to Avoid Staying as a Tourist in Paris

Daxis / Flickr / CC-BY-ND 2.0
Not too long ago I saw an ad for "a romantic hotel" that was "not far from Montmartre." This hotel was actually two metro stations away from Montmartre, across from station Chapelle (line 2), in the center of one of the most dangerous parts of Paris: near the Gare de Nord.
Tourists who don't know Paris might accidentally pick this hotel, and at the very least, it will ruin their impression of the city! Below you will find the most dangerous districts of Paris that aren't worth staying in as a tourist. There's either criminal activity, or it's too far from and inconvenient to get to the main tourist sites.
First, we just want to make it clear that Paris in general is a pretty safe city.
But for tourists, we'll list the criminal statistics. You could be in an unfortunate situation like having your purse or phone stolen. But the chances of assault, rape or other similar crimes are close to zero. If you don't try to fight, no one is going to hit you.
This article will describe the places that are either very noisy or uncomfortable and unpleasant to stay in. Like any other city, Paris has good and bad neighborhoods. This article is about the bad ones.
» READ MORE – WHERE TO STAY IN PARIS. A COMPLETE GUIDE TO ALL NEIGHBORHOODS
Briefly about the good areas
Let's start by quckly listing the safest and nicest districts to stay in as a tourist in Paris. Our list here is based on the price to quality relationship of the hotels. The best districts for tourists are the 2nd, 4th, 5th, 6th, 7th, 8th, and 9th.
6th arr., Paris: book hotel in
Districts that are further from the center, but still safe, and cheaper, are the 13th, 14th and 15th. Click on the district number and you'll see the best hotels and apartments in the given region.
14th arr., Paris: book hotel in
You can look at the map of Paris to understand where the region is; usually the regions are named after the metro stations.
We describe each district of Paris in detail and where to choose a hotel in the article "Paris districts. Where's the best place for a tourist to stay?"
Now we'll talk about the dangerous parts of the city.
The North and East stations and "Arabic district" of Paris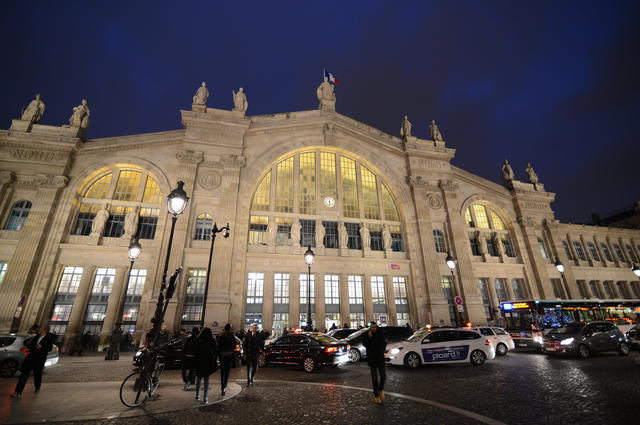 Gare du Nord and Gare de l'Est are around the north and east stations, and it's considered one of the most dangerous parts of the city. It's considered an Indian neighborhood, and refugees from African and Arabian countries live there. The region is fairly close to the city center.
In general, the north station is one of the largest transport centers in Europe. Three RER lines go through it, and two of them go to the suburb Saint-Denis, which is considered the most dangerous suburb of Paris.
We are against racism, and don't think a person's nationality has anything to do with criminal inclinations. But there are stereotypes that immigrants make up a large part of the city's danger. These regions are sometimes called "Arabic" or "Black." In reality, people of various nationalities and religions live there, but they live fairly poorly.
The 20th district and Saint-Denis are in these regions. Saint-Denis has the stadium Stade-de-France. Metro stations that it's a good idea to avoid are Stalingrad, Chapelle, and Gare du Nord (line 2) and Gare de l'Est (line 5).
To be fair, hotels on the square in front of the Gare de l'Est are comfortable enough for tourists. It's close to the center and a step from the train.
The 11th and 20th districts
These districts have the metro stations Belleville, Couronne, and Menilmontant. Belleville is the heart of the Chinese neighborhood and goes right into the Arabian bazaar. A boulevard starts on one side of the station with Chinese call girls, and the other side has a bazaar where they trade stolen goods. If you stay here, you'll ruin your impression of Paris!
There aren't many hotels in the region, and the ones that are offer suspiciously low prices, so not many people end up staying here by mistake.
Paris's outskirts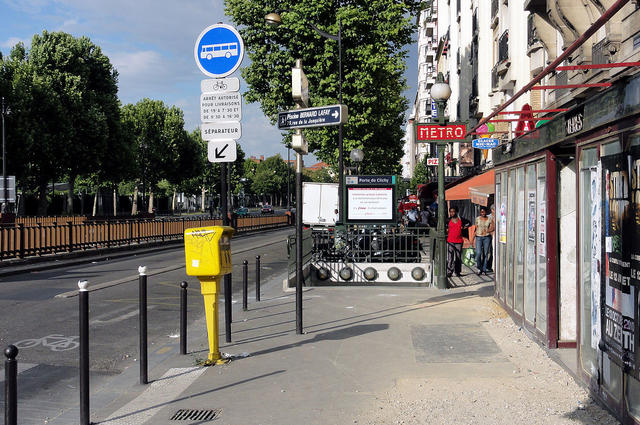 In general, avoid all hotels next to metro stations that are located on the border of Paris and suburbs that start with "Porte de". Clignancourt and Clichy are also dangerous parts of Paris where the crime level is fairly high. Places starting with "Porte de" are fairly quiet places, but they're more residental and not good for tourists. They're quite far from the city center. The only exception to this rule is Porte Maillot, which is halfway from the Arc de Triomph to Defense.
The outer regions aren't dangerous, they're just inconvenient. On the other hand, the hotels are cheaper than in the center, so if you're visiting on a very limited budget and don't mind longer transit times into the city, it's not the worst choice. However, avoid the northern regions.
The 18th and 19th districts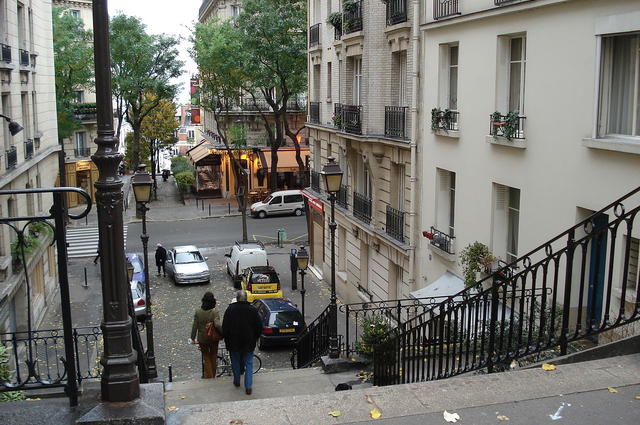 The regions that run along Saint-Martin Canal and La Villette are the 18th and 19th districts. These places used to be considered as bad as the north station. But thanks to the Paris local government, the region has become more popular. Now rich and poor live side by side. Hotels here are cheap for two reasons: they are far from the main tourist sites and there isn't good public transport. There are only two metro lines, and you'll have to change lines when you travel. One positive is that the city of science and industry in La Villette is nearby.
The red-light district in Paris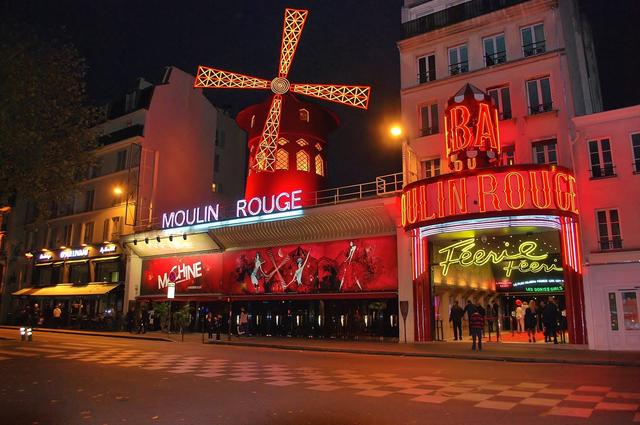 Montmartre, and more specifically, Place Pigalle, aren't the best place for tourists to stay. First, Pigalle is a red-light district. Second, Montmartre is a huge hill with a ton of stairs and a maze of streets. It's a fairly inconvenient place to stay, considering the difficult geography and lack of public transport (there are just two metro stations and one bus). And finally, if you don't know Paris, it's easy to make a mistake navigating the streets in this area and choosing a hotel in a convenient location. Montmartre isn't just the base of Sacre-Coeur. Your hotel could be close to the north station or far from tourist attractions.
Don't worry if your hotel is near Moulin Rouge or on Place Pigalle. The place is pretty cool! Among the Sexodrome and many sex shops there are a ton of shops and restaurants. However, don't go toward the north station or to the north of Paris to Cliniacour.
By the Eiffel Tower
We wouldn't recommend booking a hotel that's described as being "across from the Eiffel Tower." That's because it's far from the other tourist sites in Paris and there isn't much public transport nearby. In the districts above, there aren't any tourist buses, and there are here, so it's not the worst choice, but there are better options. You can see tickets for tourist buses here.
Don't forget about safety basics. They say that pickpockets and purse snatchers are seen more often in the good parts of Paris. Tourists relax and enjoy the view, and that's when their wallet is stolen. Especially popular places for pickpockets are the Louvre and Eiffel Tower.
Remember that the real Paris is different than the Paris in movies or pictures in magazines. Some places in Paris are really inconvenient for tourists specifically. They can be far away, or there isn't transport, or there aren't any tourist sites nearby. But the locals, not tourists, happily live, work, and study in their city.
Enjoy your Paris trip!
https://voyage10.com/wp-content/webpc-passthru.php?src=https://voyage10.com/wp-content/uploads/2020/02/10651415723_66ab62aa2b_k-1.jpg&nocache=1
1367
2048
Alina
https://voyage10.com/wp-content/webpc-passthru.php?src=https://voyage10.com/wp-content/uploads/2022/01/voyage10_logo-2-300x95.png&nocache=1
Alina
2020-02-12 17:08:57
2022-12-24 14:29:12
5 Places to Avoid Staying as a Tourist in Paris