10 beautiful cities in France just one hour away from Paris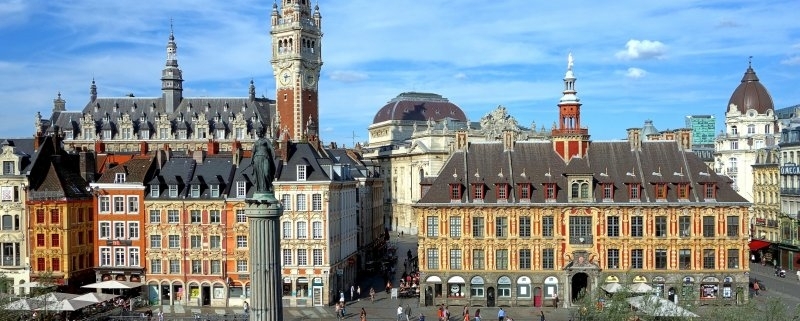 If you want to see how the French really live, it's worth going to other beautiful French cities too, and not just Paris. Even if you're staying in Paris and paid for a hotel for the whole trip, you can easily take a train to other beautiful cities in less than a couple of hours and spend a day exploring them.
Which French cities can you get to from Paris in one day?
Rouen
Rouen is 135 km from Paris: an 80-minute train ride or two-hour car ride. It's worth going to Rouen to see the old city's architecture, visit some of the many tourist sites and try the delicious Norman food. In just a day you'll be able to see the giant Rouen Cathedral, walk about the old market where Joan of Arc was executed in the 15th century, enjoy the beautifully designed Judicial Palace, look at impressionist paintings in the art museum and have lunch in one of the city's restaurants. If you want to stay here for longer, you can find hotels here.
The train leaves Paris at the Saint Lazare station.
Train tickets for Paris-Rouen-Paris cost about 20 Euros and are best bought in advance.
Reims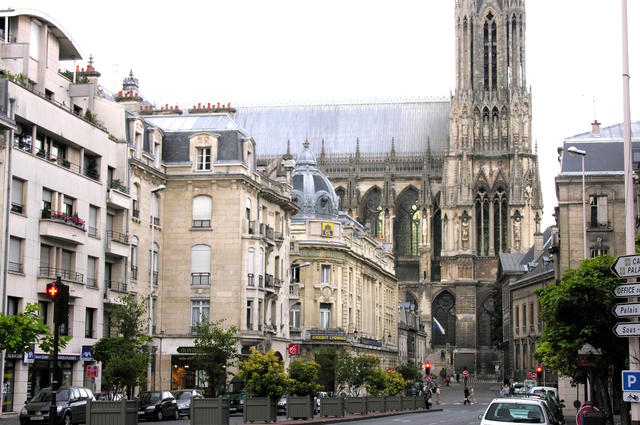 You can take the TGV train from Paris to Reims in just 45 minutes. It's the most important city in the Champagne province, and many champagne producers have their headquarters in Reims. So if you've always wanted to look at the Widow Cliquot cellar, you need to visit this city. Other than the sparkling drink, Reims is praised for its tourist sites like its cathedral where French kings were crowned, the ancient palace of Tau, and the basilica and the museum of Saint Remigius. The city also has many bars and restaurants, and the local chocolate shops sell special pink cookies that go well with the local pink champagne, as well as fresh croquignoles, marzipan, and cakes whose recipes haven't changed since the Middle Ages. If you don't want to worry about drinking too much and not knowing where to stay, rent an apartment in advance. You can find some here.
Trains leave Paris from the Paris Gare de l'Est station.
Ticket prices for Paris-Reims-Paris cost from 35 to 80 Euros, with the cheap tickets only being sold for 90 days before the trip.
Provins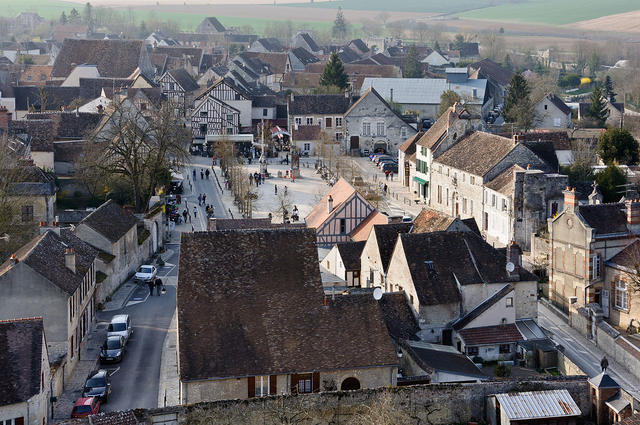 Provins is an old city in Champagne that's only 80 km from Paris. It's a real fairy tale city that's on a hill with large, thick and strong walls. There's a medieval fair every June. It usually lasts two days, so if you want to really participate, look for an inexpensive hotel.
You can get there on tourist buses that run from the start of April to the end of October (the tour lasts a whole day from 9 'til 6). You can also take standard buses, and there's a train from Paris Gare de l'Est. An adult ticket costs 12 Euros.
Amiens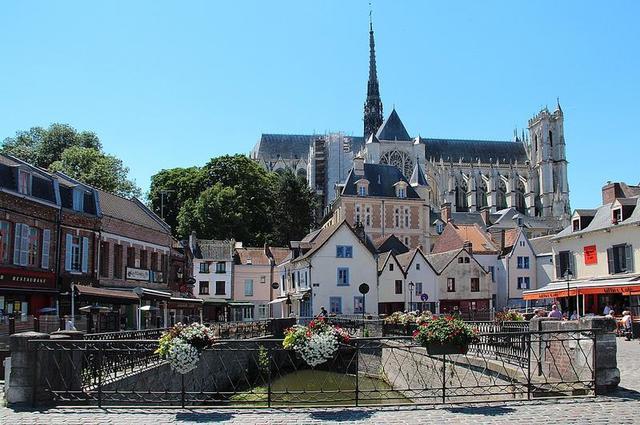 Amiens is in the north of France on the Somme river. It's the capital of historical Picardy. You can get there on a train in 65 minutes. Amiens seriously suffered during both world wars, but many sites have been restored. The city has an ornate cathedral, a beautiful 17th-century chapel and a Saint-Germain church from the 15th century. The locals like to walk along the banks on warm summer days. You'll find local dishes in the restaurants like foie gras, Picardian sausage, fresh seafood from the Bay of the Somme, aromatic cheeses and pies with cream. Jules Verne lived in Amiens, and the city has a museum for him. This city is great for a brief trip if you like to see the real, simple north of France and if one day in Amiens isn't enough, here you can look for places to stay.
The train leaves from Paris Gare du Nord.
Tickets for Paris-Amiens-Paris cost 20 Euros if you buy them early.
Lille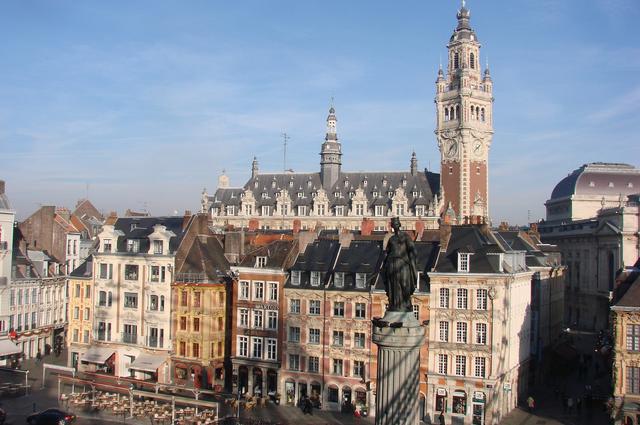 Another northern French city is Lille, which isn't far from the Belgian border. Ghent and Bruges are a rock's throw away, and you can get there on the TGV train from Paris in about 69 minutes. Lille is a very young, dynamically growing city and there are plenty of tourist sites in the city. If you're planning to go to Lille, you have to walk around the square for General de Gaulle, buy a vintage poster or comic from the market in the inner courtyard of the Old Exchange, drink coffee or eat ice cream while sitting on the opera theater steps, look at the rich collection of famous French and Italian painters' works in the palace-museum of fine arts, and finally, you absolutely must go to one of the restaurants with local food on the Rue de Gand and try something with the famous, smelly, Lille cheese. And if you love mussels and are planning to go to Paris at the start of September, don't miss your chance to visit the Braderie market in Lille. If you're staying overnight, find a place to stay here, and this link will show you interesting tours of the city.
The train leaves from Paris Gare du Nord.
Tickets for Paris-Lille-Paris cost from 45 to 100 Euros with the cheap tickets only being sold for 90 days before the trip.
Orleans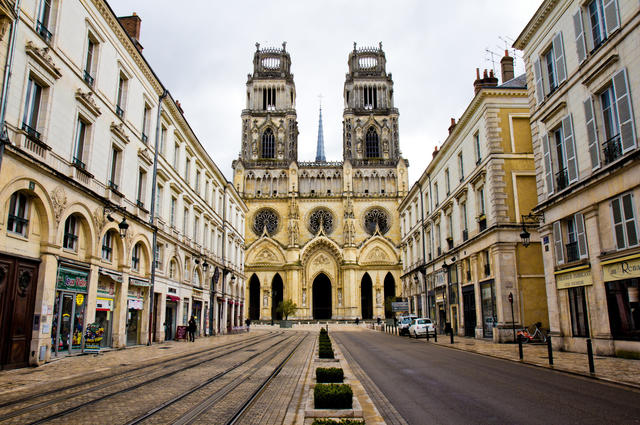 Orleans is in the middle of France and is an ideal place to start from if you want to see the Loire castles, but the city itself is also worth seeing. The train ride is about 70-90 minutes, depending on the type of train. Orleans is a beautiful medieval city with rich history. This is where Joan of Arc's military career started and many of the city's sites are connected to her. The Saint-Crois cathedral that was built in the 14th century, Joan of Arc's home where the young girl spent a few days after freeing the city, and the bridge of George V that has an excellent view of the city and Loire river are all worth seeing. But the biggest tourist attraction in Orleans is the local food! Here you can try boar or rabbit, order a pie with pig liver, try a huge assortment of local cheeses and many types of white wine. One day in Orleans is never enough, so think about booking a hotel to spend a couple days there.
The train leaves Paris from the Paris Austerlitz station.
Tickets cost 20-25 Euros.
Blois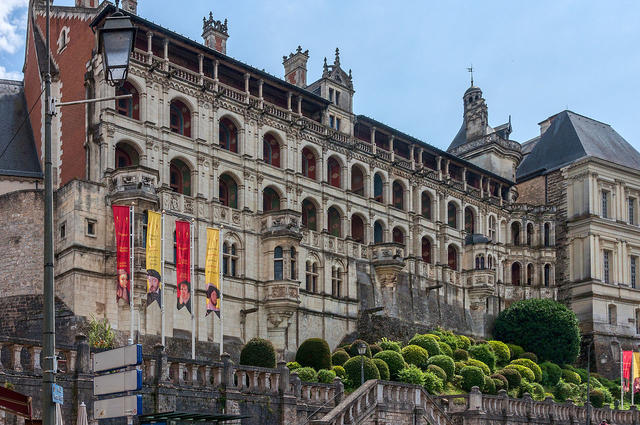 Blois is a beautiful small city in the Loire valley not far from many of the castles. If you want to immerse yourself in the medieval atmosphere, with narrow, winding streets, you just need to take a trip about hour and 40 minutes away from Paris. Blois has a castle of the same name that was a real luxurious royal palace and is open to visitors all year. The city regularly has musical events and from April to September there are light and sound shows in the castle. If you want to go to a show, be sure to get a place to stay well in advance since it's very difficult to find a cheap place during the events.
The train leaves Paris from the Paris Austerlitz station.
The tickets for Paris-Blois-Paris cost 20 Euros if you buy them early.
Chartres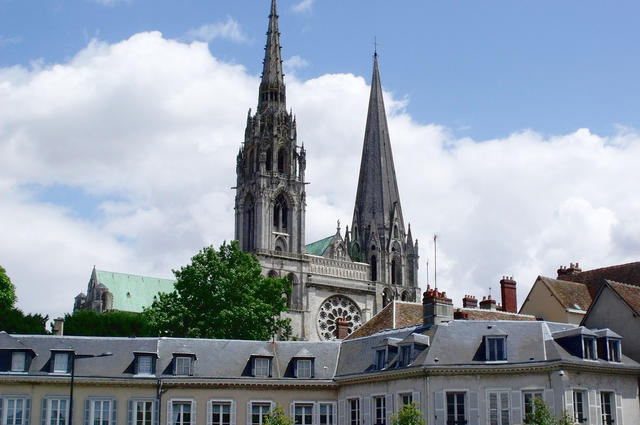 Chartres is 96 km from Paris, just a 60-75 minute train ride. This old city on the Eure river is famous for its cathedral, which is a monument to Gothic architecture and is on the UNESCO list of world heritage sites. This church is interesting because it didn't suffer during the world wars and kept its old unique stained-glass windows which are called the glass Bible. You can find a place to stay in Chartres here.
The train leaves Paris from the Paris Montparnasse station.
Tickets for Paris-Chartres-Paris cost 32 Euros on weekdays and 16 on weekends.
Versailles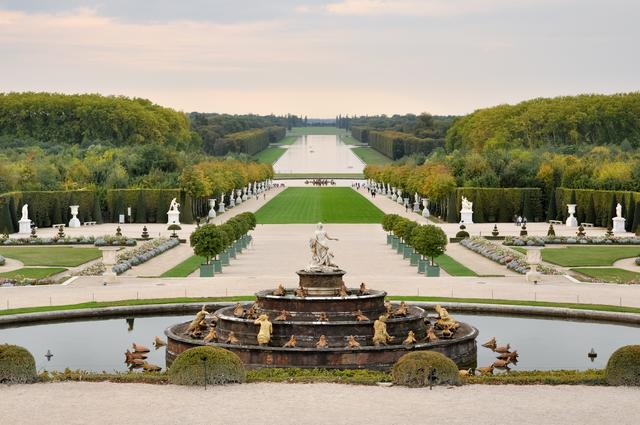 Parc et chateau de Versailles is the most famous palace-park in France and was built for the Sun King Louis XIV. Even if you don't love palaces, you have to find time to visit the park of Versailles. The park has musical fountains from April until the end of October, and in the evening on Saturdays from mid June to mid September there's a musical night show with unique lighting and fireworks. It's best to buy tickets to Versailles in advance here, and if you want to get to know the palace and park with an experienced guide, you can order a tour here.
Versailles is about 20 km from Paris and you can get there on tourist bus-shuttles, or with a 40-minute train ride on the RER C. If you don't have a travel card, an adult ticket costs 4 Euros and a child ticket is 2.
Chantilly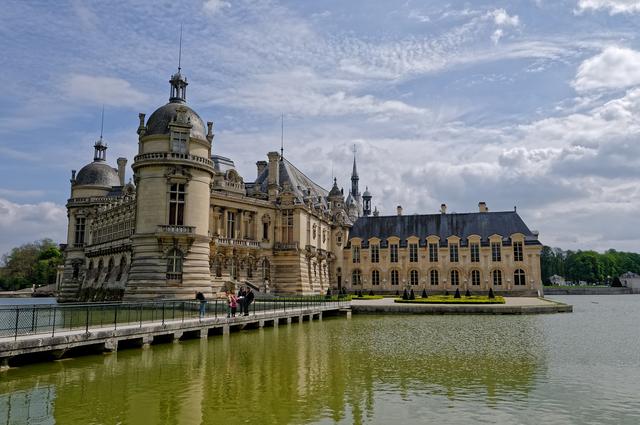 Chantilly is 40 km to the north of Paris and only 30 minutes away by train. The city is on the Oise River, and is most famous for its castle of the same name, with a beautiful palace complex completely surrounded by water. The palace has a rich art gallery, museum Conde, that has paintings by Botticelli and Raphael. Every June there are horse races in the city, and there are always a lot of horses wandering in the fields and local woods. And, of course, Chantilly is famous for its whipped cream, which is said to be the tastiest cream in France. You have to try a dessert with local strawberries and "cream Chantilly." If you want to stay in the city for a couple days, you can find a good hotel here.
The train leaves from Paris Gare du Nord.
Tickets for Paris-Chantilly-Paris cost 18 Euros on weekdays and 9 on weekends.
Learn more about beautiful and multifaceted France! And you can walk around Paris with our audioguides that you can't miss!
https://voyage10.com/wp-content/webpc-passthru.php?src=https://voyage10.com/wp-content/uploads/2020/02/5-Lille_vue_gd_place.jpg&nocache=1
545
800
Alina
https://voyage10.com/wp-content/webpc-passthru.php?src=https://voyage10.com/wp-content/uploads/2022/01/voyage10_logo-2-300x95.png&nocache=1
Alina
2020-02-26 20:02:38
2022-12-24 14:32:15
10 beautiful cities in France just one hour away from Paris