10 delicious dishes to try in Provence

Jonathan Ybema / Unsplash
Food in Provence has a natural and rich flavor. Knowledgeable gourmands will immediately notice that Provencal dishes has more in common with Italian dishes than with typical French ones. Their unique quality comes from the use of a lot of vegetables and various spices, which make the dishes light and appetizing. Do not miss the opportunity to visit the gastronomic tour in Nice.
Le Tian Provencal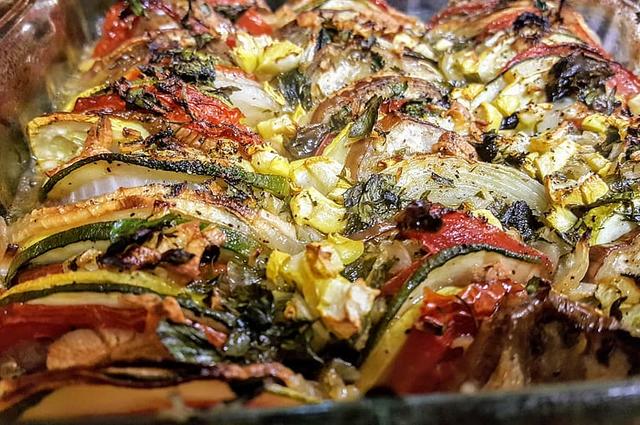 Le Tian Provencal is a type of ratatouille but is much easier to make. The vegetables are cut into slices and then baked in an oven. Tian is made from tomatoes, onions, eggplant, squash, and sweet peppers, with Provencal herbs added in. Its name is connected to a special dish, a large, round clay pot that is traditionally used in Provence when preparing vegetables. Tian is often served as a side with other Provencal dishes, but can also be eaten as a main dish. It's a great option for a light lunch or dinner.
Tapenade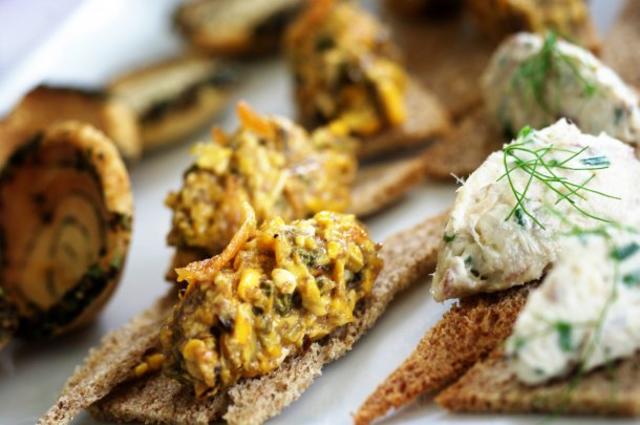 Tapenade is a puree made from green or black olives. The olives are ground with a mortar and pestle, along with capers, anchovies and garlic. You can find similar dishes in various Mediterranean cultures, but tapenade is a Provencal creation. The thick olive puree was created by Marseilles chef Meynier, and his recipe spread after it was published in "Provencal cuisine" by Jean-Baptiste Reboul in the early 20th century. This dish has an extremely full flavor, so you can eat it by just spreading it on a piece of toast. Tapenade is also often served with meat, fish, or a salad.
» See more – Ten places to visit in Provence
Aioli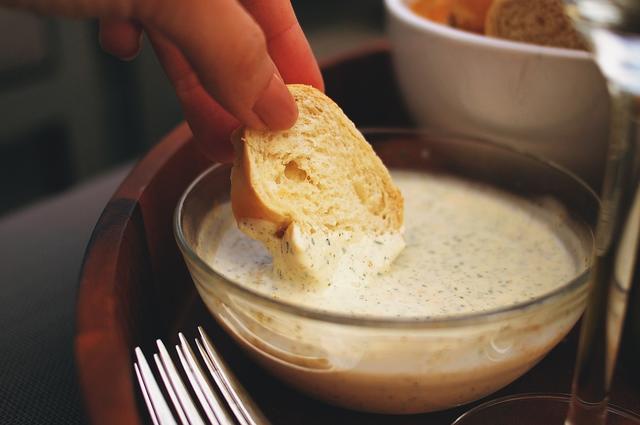 Aioli is an appetizing garlic sauce. It's made quite simply. You just need to grind a large amount of garlic with a mortar and pestle, and then gradually add olive oil to the garlic. The aioli sauce on its own isn't very impressive until you try it painted on dishes called Aioli Provençal complete or aioli garni. It's an assortment of vegetables, fish, and eggs with the aioli sauce in the middle. All the ingredients are coated in the sauce and then eaten. It's a popular option for a Friday lunch in Provence, especially with a nice rose wine.
Montelimar Nougat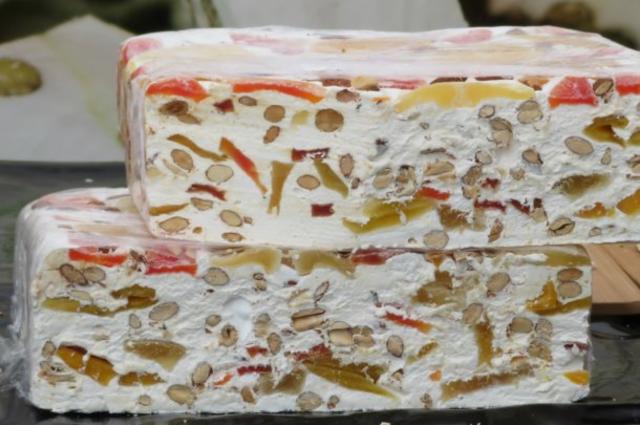 Normal nougat appeared in Provence in the middle ages, and they say the recipe was brought to Marseilles by Greeks. Then in the 17th century, a new unique nougat recipe appeared that used almonds instead of Greek nuts. This real Provencal dessert is called Montelimar Nougat, in honor of the city known for its almond trees. To make Montelimar Nougat, you need almonds, sugar, lavender honey, egg whites, vanilla, and pistachios.
Omelette aux truffes
Many gourmands say the best fall dish in Provence is the omelette aux truffes (omelette with truffles). It's hard to argue with that assessment. Fall is truffle season, so if you're in Provence then, be sure to try this delicacy in its best form. There are many ways to serve truffles: with olive oil, in a salad or with an entree, but the best option is considered to be with eggs. There are some tricks to making an omelette with truffles. The truffles are cleaned and soaked in water with the eggs the day before, so the eggs absorb the mushrooms' aroma. Then on the next day, the truffles are sliced and mixed into the eggs, and the omelette is cooked in olive oil.
Bouillabaisse
Bouillabaisse may be the most famous Provencal dish thanks to its spread outside of southern France. The tradition of making Bouillabaisse, a thick fish soup, began in Marseilles, a fishing city. The best soup is still made there. According to the classic recipe, you need at least three different fish for this dish. The spices are also significant. You can't imagine bouillabaisse without Provencal herbs, garlic, onion, and tomatoes that provide that real "Provencal" flavor to the soup. Another important ingredient is the rouille that is rubbed on bread and served with the soup. Rouille is made from oil, breadcrumbs, garlic, and chili peppers.
» See more – 10 activities to do in Marseille
Daube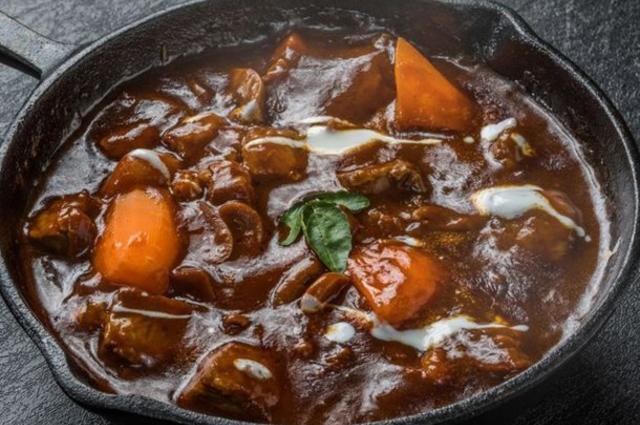 Originally, daube was a dish eaten by the poor, but now this stew is a popular dish in southern France, especially in the winter. Daube isn't an easy dish, and there's a special way to make it. First, a real stew can only be made in a daubière. It's a special red-clay Provencal pot with two handles and a narrow mouth that you can barely fit your hand through. The ingredients are placed inside this pot in layers: good meat (usually beef, sometimes lamb), then vegetables and finally Provencal herbs. You can use any vegetables, but onions, carrots, and tomatoes are common and popular herbs and spices are cloves, fennel, garlic, and a bit of cinnamon. The main difference between daube and a normal stew is that all the ingredients are soaked in wine (red for beef and white for lamb or veal) and marinated for several hours. The stew should be held in an oven or over an open flame for at least 3-4 hours. Then it's served with homemade polenta or gnocchi.
Les pieds-paquets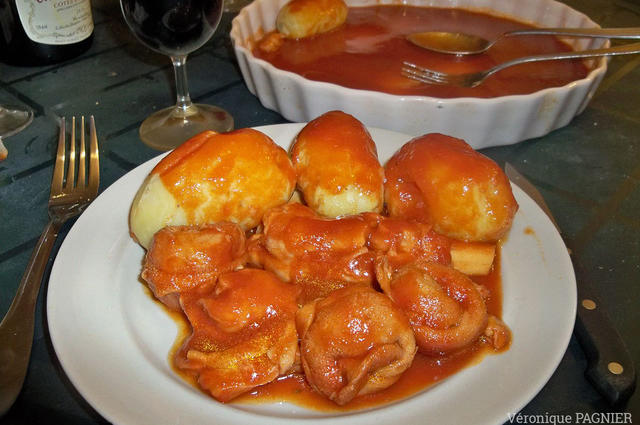 Les pieds paquets or lambs' feet is often made for large events or family holidays. The name means "feet and packages" which is a clear description of the dish. It's made from lambs' feet and tripe bags with bacon, parsley, and garlic. The feet and tripe bags are stewed in a thick sauce made with olive oil, vegetables and spices along with red wine and water. The dish needs to stew for at least 8 hours on a low flame. Before serving, the meat is removed from the feet and placed with the tripe on a large dish, and the sauce is poured over it. Les pieds paquets are usually served with boiled potatoes.
La soupe au pistou
La soupe au pistou was created by inventive Provencal cooks in order to use the natural Provencal vegetables to their fullest. Various vegetables, beans, peas, olive oil and a bit of pasta are used in making this soup. You can make this soup with broth or water. The original recipe uses water to highlight the flavor of the vegetables as much as possible. The secret of this soup is adding pistou sauce, the French cousin of the famous Italian pesto sauce. Pistou is made from basil, olive oil, tomatoes, garlic, and parmesan.
Petit farcis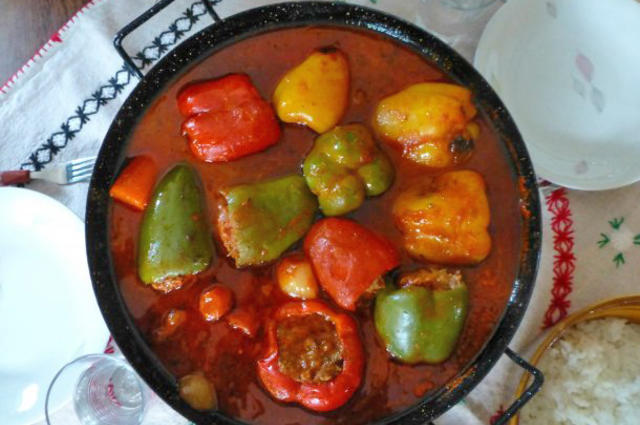 Petit farcis, or ground vegetables, is a typical Provencal dish that is served as an entree or an appetizer. Tomatoes, squash, peppers, onions, and eggplant are used to make this dish in Provence. The vegetables are mixed with ground meat, rice or breadcrumbs, and a vegetable puree with Provencal herbs. The whole thing is then baked in an oven. Mozzarella or goat cheese may be added when served.
Have a delicious vacation in Provence!
https://voyage10.com/wp-content/webpc-passthru.php?src=https://voyage10.com/wp-content/uploads/2020/08/jonathan-ybema-r8A-FTlLY3c-unsplash.jpg&nocache=1
1440
1920
Anna
https://voyage10.com/wp-content/webpc-passthru.php?src=https://voyage10.com/wp-content/uploads/2022/01/voyage10_logo-2-300x95.png&nocache=1
Anna
2020-08-22 09:51:57
2023-03-22 10:33:56
10 delicious dishes to try in Provence