How to get to Disneyland from Paris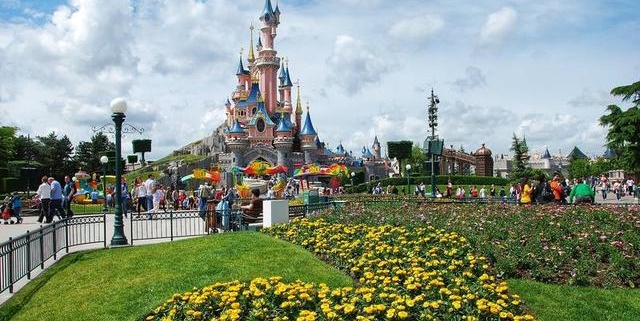 So you've booked your tickets for Paris Disneyland! Mickey Mouse, Snow White and Winnie the Pooh are waiting for you, but how will you get there? The easiest way is taking a taxi (you can order one with this link), and we have some further advice on how to get there cheaper.
If you haven't booked tickets to Disneyland yet, do so at this link. They are only available online.
Getting to Disneyland on the metro
The metro is the easiest (and cheapest) way to get to the amusement park. Actually, it's not really the metro, but the suburban RER train. These trains go through Paris, connecting to various suburbs. You need line A towards Marne-la-Vallee/Chessy. You can get on in Paris at the la Defense, Opera, Chatelet and Nation stations. Once you're on the train, just ride to the end station Marne-la-Vallee/Chessy. It's like the line is made just for Disneyland.
Both parks are just 100 steps from the station. The first park, Disneyland, is what people think of first, with Sleeping Beauty's castle and rides for kids and adults. The second park, Walt Disney Studios, is a space of Pixar and Marvel characters. The last RER train leaves Disneyland to Paris at 00:20.
Ticket price: €5, passes are valid up to zone 5.
You can easily get from that station to the local hotels or to Disney Village.
Disneyland Paris: book hotel in
Some hotels are near RER station Val d'Europe, where is a mall and aquarium.
Val d'Europe RER Station: book hotel in
How to buy an RER ticket to Disneyland
How to buy a ticket to get to Disneyland at a machine in the metro? You can find these machines in every metro station. You'll buy a ticket from Paris to Disneyland and get on the RER train from the metro.
Ok, you've found the machine.
Choose a language and press the buy tickets button (the first point on the menu).
The third ticket from the top on this screen (highlighted) goes to Disneyland. Choose it.
Next, choose the number of tickets you need.
Confirm your choice.
Pay for it with coins or a card.
Getting to Disneyland on a bus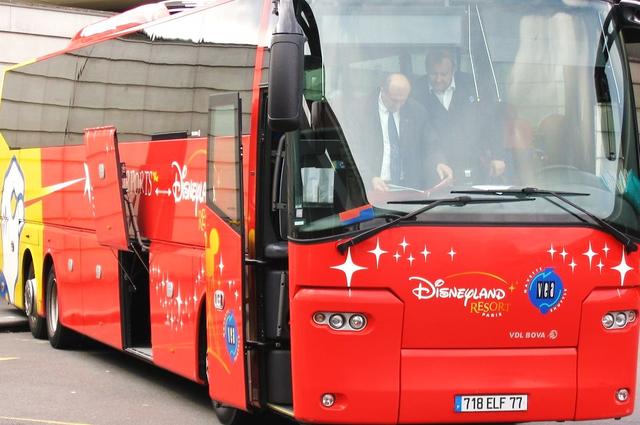 Disneyland Paris Express
You don't have to think about how to get to Disneyland if you book a ticket that includes both the bus and the ticket to enter both parks. You save time and money, as the total cost of the tickets can come out cheaper. You can buy tickets with transfers on the official website or through these links.
Choose these four places for boarding in Paris: Gare du Nord, Opéra, Eiffel Tower, Châtelet. The reservation link is here.
Is it more convenient to go from the village of Bercy in the 12th arrondissement? Then take advantage of this offer.
Leave Disneyland in the evening
The last RER train is specifically set up to accommodate all Disneyland visitors. But sometimes you need to leave the park later. Very conveniently, there is a night bus Noctilien for this. The stop is opposite the RER station Marne-la-Vallée – Chessy, and the bus goes to Gare de Lyon in Paris. The bus runs at night, from 0:30.
» READ MORE – Paris Disneyland: where to stay?
Getting to Disneyland on a taxi
If you're traveling with kids, then the best way to get to the park might be to take a taxi. A taxi from Paris to Disneyland starts at €68, but it'll pick you up at your hotel and take you to directly to the park's gates. Also, it's comfortable to take a taxi right from the airport if you decide to spend a few days at Disneyland and stay at its hotels.
Getting to Disneyland from Charles de Gaulle airport
Shuttle from the airport
Why make a circle through town when you can get to Disneyland directly from the airport. The Magical Shuttle links Paris airports to Disneyland Park. Ride time: 45 minutes, price: €23 for adults, €10 for children. Book your bus ticket here.
This bus will take you to Disney Village and to the hotels near the Val d'Europe in Serris. Choose a suitable hotel in Serris here.
On the TGV train
The fastest way to Disneyland is to take the TGV high-speed train. The train station is in terminal 2, you must take a ticket to the station Marne la Vallée-Chessy. You can take any train going in a southerly direction. They go quite often. Approximately every 10 minutes, or even more often.
One way 2nd class tickets cost from €19 (price may change). Overpaying for a 1st class ticket in this case makes no sense, because the travel time is not more than 10 minutes.
By taxi
It is possible to take a taxi from CDG airport to Disneyland. Book a cab by using this link.
Summary: From Paris, the cheapest way to go to Disneyland is to take the RER. However, the easiest and most convenient way is to buy a ticket that includes both the ride and entrance to the Disneyland park.
Have a nice trip!
https://voyage10.com/wp-content/webpc-passthru.php?src=https://voyage10.com/wp-content/uploads/2021/08/disneyland-3653617_1920.jpg&nocache=1
425
640
Alina
https://voyage10.com/wp-content/webpc-passthru.php?src=https://voyage10.com/wp-content/uploads/2022/01/voyage10_logo-2-300x95.png&nocache=1
Alina
2020-01-30 10:01:06
2023-02-07 06:22:42
How to get to Disneyland from Paris