How to get to Disneyland from Paris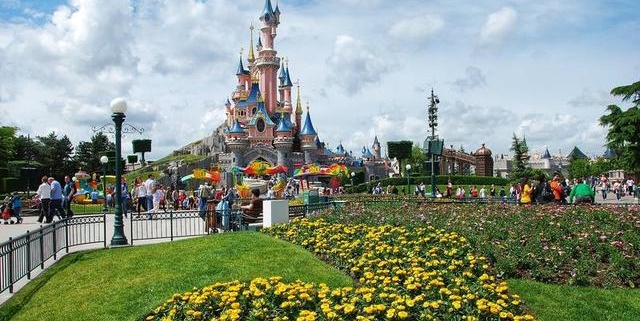 So you've booked your tickets for Paris Disneyland! Mickey Mouse, Snow White and Winnie the Pooh are waiting for you, but how will you get there? The easiest way is taking a taxi (you can order one with this link), and we have some further advice on how to get there cheaper.
Getting to Disneyland on the metro
The metro is the easiest (and cheapest) way to get to the amusement park. Actually, it's not really the metro, but the suburban RER train. These trains go through Paris, connecting to various suburbs. You need line A towards Marne-la-Vallee/Chessy. You can get on in Paris at the la Defense, Opera, Chatelet and Nation stations. Once you're on the train, just ride to the end station Marne-la-Vallee/Chessy. It's like the line is made just for Disneyland. Both parks are just 100 steps from the station. The first park, Disneyland, is what people think of first, with Sleeping Beauty's castle and rides for kids and adults. The second park, Walt Disney Studios, is a bit more for adults and has more intense rides. The last RER train leaves Disneyland to Paris at 12:20.
You can take a train from that station to the local hotels or to Disney Village.
Disneyland Paris: book hotel in
Some hotels are near RER station Val d'Europe, which has a mall and aquarium.
Val d'Europe RER Station: book hotel in
How to buy an RER ticket to Disneyland
How to buy a ticket to get to Disneyland at a machine in the metro? You can find these machines in every metro station. You'll buy a ticket from Paris to Disneyland and get on the RER train from the metro.
Ok, you've found the machine.
Choose a language and press the buy tickets button (the first point on the menu).
The third ticket from the top on this screen (highlighted) goes to Disneyland. Choose it.
Next, choose the number of tickets you need.
Confirm your choice.
Pay for it with coins or a card.
Getting to Disneyland on a bus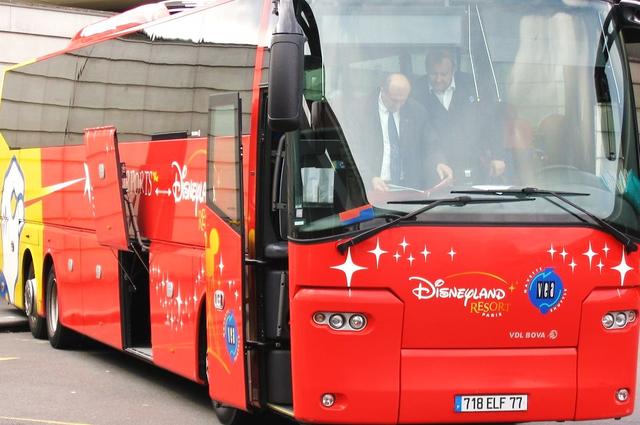 There are a few options to get to Disneyland via bus.
First, many companies organize bus tours to Disneyland. With their help you can get to Disneyland from the center of Paris. The bus stop is on Pyramid street (district 1), across from the Louvre and near the statue of Joan of Arc. The price includes the tour cost and an entrance ticket, 116 Euros for an adult and 104 for a child.
Bus tour tickets can be purchased here. Remember, this ticket includes a trip from Paris to Disneyland and back. It will take you from your hotel and you don't need to worry about navigating the Paris train system.
Second, you can go to Disneyland right from the airport. This is a great option if you're staying at the park. The Shuttle val d'Europe Airports (VEA) provides a connection between the Charles de Gaulle airport, hotels and Disneyland park. It's a 45 minute trip, and costs 23 Euros for adults or 10 for kids. The same shuttle, Val d'Europe Airports, connects the Paris-Orly airport with a few hotels and Disneyland for that same price.
Finally, there's a night bus, Noctilien, which is convenient if you need to go to the Leon station in Paris. The station is at RER station Marne-la-Vallee/Chessy across from the train station. The bus runs at night at 12:30.
Disneyland Paris Express
The park offers services similiar to Cityrama and other tour companies. It's a combined ticket that includes a bus and an entrance ticket to both parks. In this case, there are two conveniences when you choose this option. First, there are four places to catch the bus in Paris, near the metro stations Gare du Nord, Opera, Madeleine, and Chatelet. Second, you'll save time and money since the general ticket price may be cheaper. You can buy a ticket with a transfer on the official website or here.
Getting to Disneyland on a taxi
If you're traveling with kids, then the best way to get to the park might be to take a taxi. A taxi from Paris to Disneyland starts at 68 Euros, but it'll pick you up at your hotel and take you to directly to the park's gates. Also, it's comfortable to take a taxi right from the airport if you decide to spend a few days at Disneyland and stay at their hotels.
Getting to Disneyland from Charles de Gaulle airport
As we wrote above, you can take a bus. But you can also take a taxi or a train to Disneyland from the airport. You can see taxis by using this link.
Finally, remember, the cheapest way to get to Disneyland is on the RER, if you buy tickets in advance and use the special sale Francilien. If you buy tickets to Disneyland there, or in Paris, it might be cheaper to buy a bus tour.
However, the easiest and most comfortable way to get to the park is to buy a ticket that includes a train and park entrance.
Have a nice trip!
https://voyage10.com/wp-content/webpc-passthru.php?src=https://voyage10.com/wp-content/uploads/2021/08/disneyland-3653617_1920.jpg&nocache=1
425
640
Alina
https://voyage10.com/wp-content/webpc-passthru.php?src=https://voyage10.com/wp-content/uploads/2022/01/voyage10_logo-2-300x95.png&nocache=1
Alina
2020-01-30 10:01:06
2022-01-03 16:57:34
How to get to Disneyland from Paris