An independent car trip around Normandy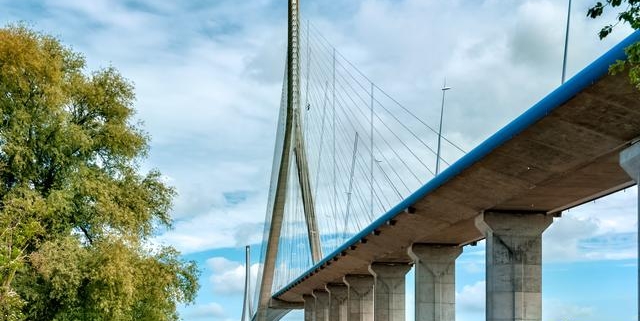 Normandy is one of the most beautiful areas in France.
It's a great tourist destination, with so much to see and do.
Купите билет
It has amazing nature, medieval cities, picturesque villages, casinos, luxury destinations, cider, and Calvados. There's so much to see here! This region has a problem, however. If you want to see everything that Normandy has to offer, public transport won't work. You'll waste a lot of money and only see 2 or 3 cities in the region. You either need to book a tour (look here for offers from Paris) or make your own tour with a rental car. We'll tell you about the second option. You'll be able to see more of the region this way.
Renting a car in France
Renting a car is France is pretty standard. There are no specific quirks. We've written about the process in detail in a separate article. We currently only recommend this website where you can easily rent a car.
In this article, we'll be outlining a slow trip around Normandy that lasts about a week. If you want, you can do it in 3 or 4 days. The table has the whole route with the highways, distances, gas costs and toll roads in it. If you don't have as much time, simply choose what's most interesting to you.
Day 1. Rouen
We suggest starting your trip in Paris. You can rent a car from the Charles-de-Gaulle or Orly airports, or in Paris itself.
We suggest spending your first day in Normandy's capital Rouen. The city is famous for its gigantic cathedral. Claude Monet depicted it some 30 times under various lighting conditions, and it is the place where Joan of Arc was burned in the city (the site is preserved). The city is full of medieval architecture, and introduces you to Normandy with its camembert, crepes, cider, and oysters. You can find all this in Rouen.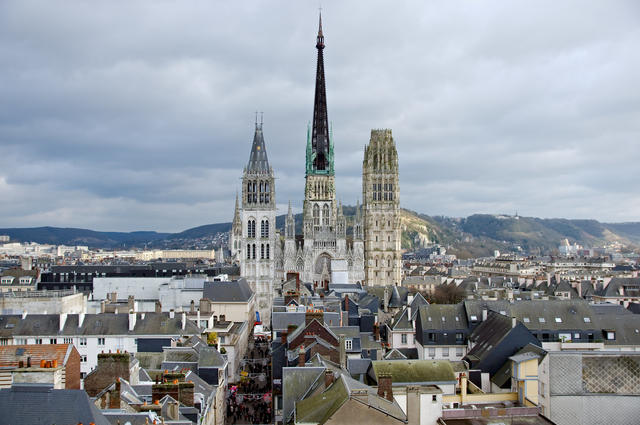 It's worth visiting the fine art museum, especially if you like impressionism. Many impressionists lived in Normandy and naturally they drew and painted their surroundings. Those places later became popular, and you'll read more about them below. The museum is useful both from an artistic perspective and a geographic one.
Rouen is about 140 km from Paris. On the way you can stop at the garden-museum of Claude Monet in Giverny. This is where he painted his famous lily pads, and now Giverny is a pilgrimage site for his fans. You can also go to the great artist's village on a separate tour, where you'll be given an audio guide. The trip is organized right from Paris and you can find more information and book it here.
We recommend spending your first night in Rouen. You can go to a restaurant or bar that evening, enjoy the night shows in the cathedral or walk along the Seine. There are many hotels that have parking for their guests. You can find the best hotel offerings in Rouen through this link.
Day 2. Dieppe, Etretat
Let's move on. The small city Dieppe is next. It's the first city on our route along the Channel. Ships used to go to New France, modern Canada, from here. It's a port city with many seafood restaurants, a long beach, and a medieval castle on the clifftop. There's plenty to see! Dieppe is 82 km from Rouen.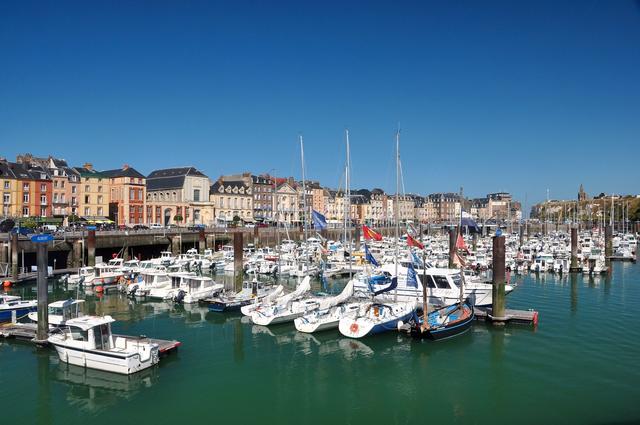 Next, after lunch, we're going to Etretat. This small town is famous for its nature. It has sharp cliffs, green meadows, and a surprisingly-colored sea. The Etretat beach is very pleasant, but there are tons of tourists. Many artists have tried to draw the rocks' surprising shapes in their works.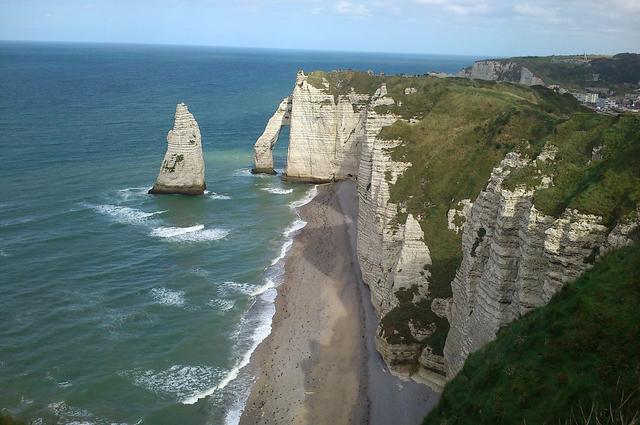 It's 84 km from Dieppe to Etretat. Along the way, you can stop at one of France's most beautiful villages, Veules les Roses. It's on the banks of the country's smallest river. There are many half-timber buildings and factories here. If you need a bite to eat, you can get a dozen fresh oysters on the central square.
Keep in mind that in the summer, especially on the weekends, a lot of Parisians go to Normandy. It'll be hard to find parking in the city center if it's warm (the parking is often free). Sometimes you'll have to leave your car 1-2 km from the city center.
You'll have the same problem with hotels. It's best to book one in advance. On day two, we suggest staying in Etretat. There aren't many hotels, but they're quite cozy.
Day 3. Honfleur, Deauville, Trouville
The next morning, it's just a 47 km drive to the small port town Honfleur. On your way, you'll cross one of the world's most famous bridges, the bridge of Normandy (it's the suspension bridge on the 500 Euro bill). Who hasn't drawn this town!
It many be the most quintessentially Norman place on the trip. The small port, the yachts, the architecture, and the delicious food all showcase the best of what Normandy has to offer, and they're all part of the city's success.
But let's continue on. Another 20 km to the south, you'll find two cities, Deauville and Trouville, on opposite sides of a river. Trouville is a coastal village. The name means city-hole, but that name is far from the truth. You'll be hard pressed to find a more colorful town in France. Deauville is famous for its casino, beach, and horse races. Both towns say they have the best beach. Decide for yourself!
This is where we'll spend the night. If you want to feel luxurious, stay in Deauville. If you prefer more modest accommodations, go to Trouville.
Trouville-sur-Mer: book hotel in
Day 4. Caen
Go to Deauville's beach in the morning, weather permitting (it's not usually rainy), and then go on to Caen. Just don't mix it up with Cannes: they're two very different cities. Unfortunately, Caen isn't on the French Riviera. But it is an excellent city with a huge medieval castle that's one of the biggest in Western Europe. It was built by William the Conqueror, the Norman who conquered England. No one was able to do it after him. He was buried here until the French Revolution.
Caen is 42 km from Deauville. On your way, you can stop at Cabourg, where there are festivals, beaches, a casino, horse racecourse and a Grand Hotel. Spend the night in Caen. You can find a hotel here.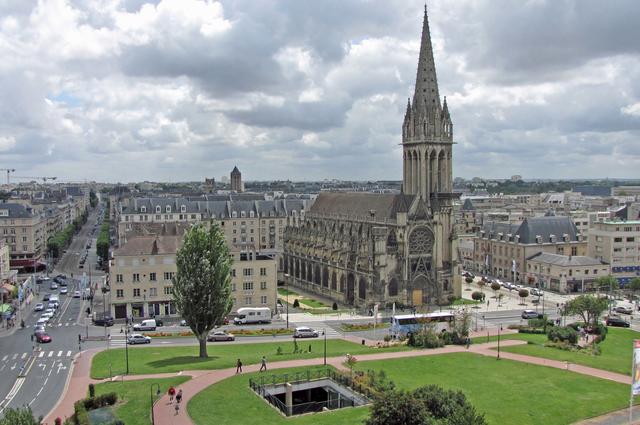 Picturesque and welcoming region of Normandy once was stage for one of the most dramatic events of WW2 – "Operation Overlord", allied landing in France on 6 June 1944. While we in Caen, you can visit Caen Memorial Center – quite interesting museum, telling story about events of D-day. Collection includes both individual items and uniforms of soldiers of both sides and some serious military hardware – like authentic British "Typhoon" fighter-bomber.
If you seriously interested in history or want pay homage to one of your ancestors participating in events, then it's definitely worth it to make short car trip from Caen to north-west, towards five D-day landing beaches and key monuments.
While there is a lot to see here (and in this article we obviously can't cover them all), here is list of most principal locations:
Sword beach – British landing with participation of Free France forces. Here also located Atlantic Wall Museum, located in authentic 6-story defensive bunker.
Juno beach – Canadian landing, now featuring series of interactive exhibits and live historical presentations.
Gold beach – British landing. Points of interest: artillery battery at Longues-sur-Mer and remains of allied portable harbors at Arromanches.
Omaha beach – most well-known spot of entire Overlord operation, US landing, once scene of fierce fighting.  This is also location of American Cemetery with almost 10.000 of graves of soldiers who lost their lives in Normandy and Garden of Missing.
Utah beach – US landing, also museum of Landing located here with collection of unique artifacts and B-26 bomber.
Memorial Museum of the Battle of Normandy located in ancient town of Bayeux, great collection, including tanks. Also, there is great opportunity to see famous Bayeux tapestry, one of the most prizes artifacts of medieval history.
Day 5. Mont Saint-Michel
Next we're going to Mont Saint-Michel, one of the most famous tourist destinations in France, second only to the Eiffel Tower. It's a rocky island-abbey. A real medieval city has been preserved on this small spot of land. During high tide, it separates from the continent and becomes an inaccessible island.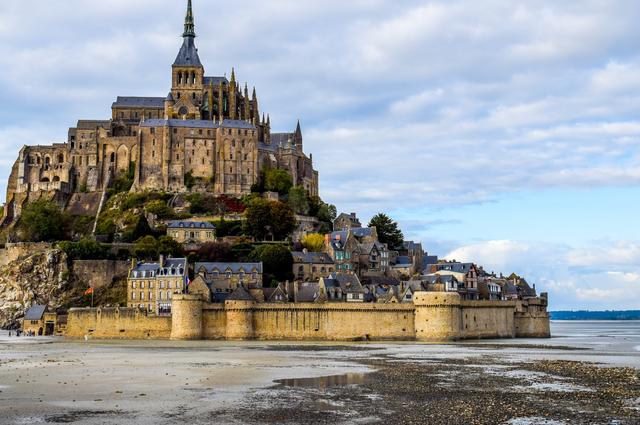 It's also famous for its lamb delicacies. The sheep here graze on tidal puddles and their meat is naturally salty. There's no parking on the island, but you can leave your car in the town La Caserne and walk to the island.
You can get tickets for the old fortress and book a self-tour here.
It's 124 km from Caen to Mont Saint-Michel. The island is the best place to spend the night. The old defensive gates close at night and you'll be under the full moon among the 41 local residents in a real medieval town separated by the tide. It's an amazing experience.
Le Mont Saint Michel: book hotel in
Day 6. Saint Malo
On day 6, we will leave Normandy and head to Brittany. It's 48 km from Mont Saint-Michel to Saint Malo. If you're looking for a place to have a romantic moment, you won't find anywhere better than Saint Malo. And since we're already in Brittany, it's time to try various crepes with various fillings!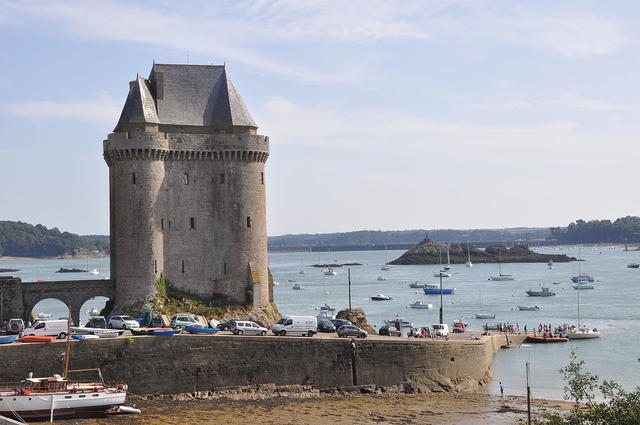 Relax and enjoy the sea, Brittany, and France. Tomorrow morning we're going back to Paris!
it's 368 km to Paris from here, about a 5.5-hour drive. Overall, you'll drive about 1000 km and use about 100 liters of gas on this trip, but your enjoyment will equal a mountain like Mont Saint-Michel in size.
Leave a comment about your trip and have a good one! 
https://voyage10.com/wp-content/webpc-passthru.php?src=https://voyage10.com/wp-content/uploads/2021/08/andre-ouellet-rj8XKSc-wCA-unsplash-1.jpg&nocache=1
425
640
Alina
https://voyage10.com/wp-content/webpc-passthru.php?src=https://voyage10.com/wp-content/uploads/2022/01/voyage10_logo-2-300x95.png&nocache=1
Alina
2020-06-29 14:24:29
2022-12-24 17:04:47
An independent car trip around Normandy