The non-touristy French Riviera: a living fairy tale ​​​​​​​

Today we'll tell you about some mesmerizing, mystical places in the French Riviera that are mostly unknown to tourists. There are wild beaches, amazing views, offbeat routes, and unique destinations that are worth visiting even if it's your first trip to this area!
It is possible to travel by public transport, but travelling by car is more convenient. You can choose a car for rent right here.
» See more – Advice for renting a car in France
Sainte Agnes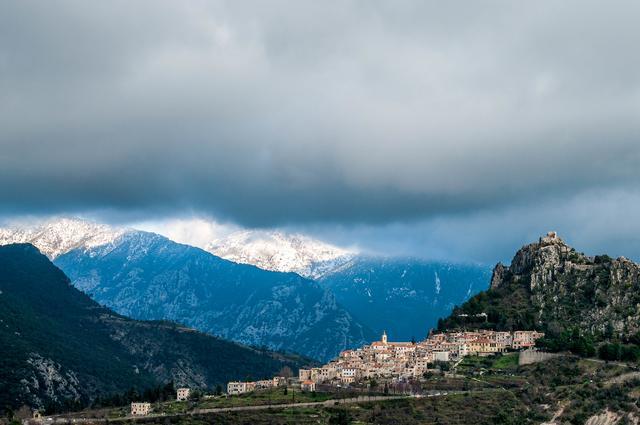 This small Provencal village sits on a hill near Menton. Thanks to its mountainous location, it has an amazing view of the French Riviera. According to legend, Princess Agnes decided to hide from a strong storm in a nearby grotto. When she came out dry and unharmed after the rain, she ordered a chapel to be built there by her patron saint. That's where the name Sainte Agnes comes from.
The medieval village had a defensive fort on the French-Italian border. Today this place is quite attractive, with its narrow cobblestone streets, captivating view of the coast and the warm, sunny climate all creating an authentic Provencal experience. Once a year in July there is a lavender festival and the whole town drinks in the tender, pleasant aroma of the symbol of southern France.
You can get to Sainte Agnes on the 10 bus from Menton, and you can get to Menton by train from Nice.
St Paul de Vence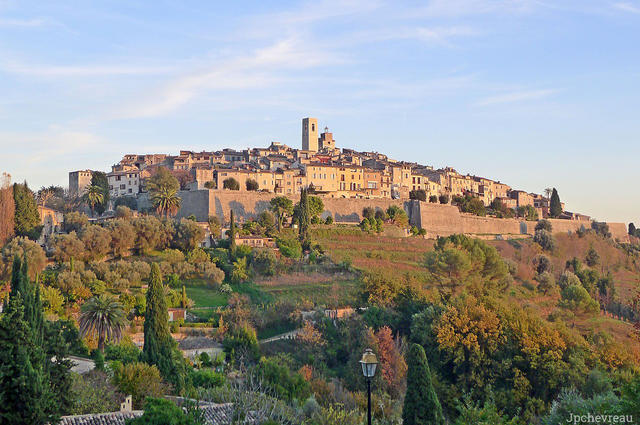 St Paul de Vence stands on a rocky cliff, surrounded by fortress walls. This picturesque village was built by order of King Francis I. It's certainly one of the most beautiful places in Provence. The measured lifestyle and unbelievable nature inspired many famous artists, writers, and poets, And several of them eventually settled here. This is where Marc Chagall is buried.
You can really feel the Mediterranean lifestyle in Saint Paul de Vence, with its narrow streets, green veiled buildings, cicada chirping and staggering view of the French Riviera! St Paul de Vence is a real mix of beauty and peace that everyone should visit. You can get there on the 400 bus from Nice in about an hour.
You can also take a group tour with a guide, like this one, or this one.
Sentier Des Ocres, Roussillon

There's a really fantastic miracle of nature in the village of Rusillon. The Sentier Des Ocres gets its name from the unusually colored ground that's a result of mixed oxidized iron and sand. You'll see paths with surprising colors, from bright yellow to deep purple. It's a real adventure for children: everyone gets to feel like an astronaut on Jupiter! Tickets cost 3 euros and are free for children under 10. It's worth visiting the official tourist center in Cannes.
The Palais de Bulles in Cannes
The famous futuristic villa by Pierre Cardin was built in the 1980's and is reminiscent of a spaceship, or perhaps a fantastic home for hobbits. The construction of this spherical miracle was helmed by Hungarian architect Antti Lovag. The villa looks like a streamlined structure with a complex system of grottos and caves. Getting to the Palais Bulles isn't easy, so it's worth going to the official tourist center in Cannes that sometimes organizes tours to this wonderful place!
Broves, "the village of ghosts"
This phantom village is to the northeast of Var. It was a commune that was ordered to be destroyed on August 4, 1970, when the creation of a new military complex (Canjuers) was announced. The village residents had to leave their homes and move to a new place that was built in neighboring Seillans. You'll feel unusual things when you visit this village!
Naturally, this list isn't exhaustive. The French Riviera is so diverse and colorful that anyone can find their own "secret" spot hidden from tourists.
We wish you an excellent vacation and new, exciting experiences!
https://voyage10.com/wp-content/webpc-passthru.php?src=https://voyage10.com/wp-content/uploads/2021/04/ocher-rocks-1595563_1920.jpg&nocache=1
1280
1920
Anna
https://voyage10.com/wp-content/webpc-passthru.php?src=https://voyage10.com/wp-content/uploads/2022/01/voyage10_logo-2-300x95.png&nocache=1
Anna
2020-08-20 11:13:57
2022-12-24 17:20:43
The non-touristy French Riviera: a living fairy tale ​​​​​​​