One day in Nantes: a quick city tour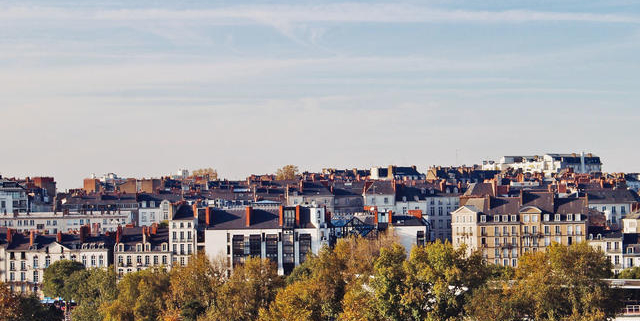 Nantes is a city with a rich past, a bright present and a promising future. It's a great place to start a fascinating resort journey along the Atlantic coast (spoiler: there are many beautiful beaches). But you should start by visiting the capital of Brittany itself.
Even if you have only one day in Nantes, you can see a lot of what it has to offer. A great route is here in front of you. Have a nice walk!
» READ MORE – 20 French cities worth visiting
Where to have breakfast in Nantes
Start your morning in Nantes with a sophisticated breakfast in a historic Art Nouveau restaurant, La Cigale. You will find this place in house 4 on Place Graslin, next to the theater. The atmospheric place has been popular among gourmets and aesthetes since the end of the 19th century. The food in the historical monument is sure to satisfy — all these years the best chefs have kept the quality at a high level.
A breakfast of fresh pastries (croissants, toasts) with local berry confitures, freshly squeezed orange juice, and coffee or hot chocolate will cost you 16 euros.
For early birds, breakfast is available starting at 7:45. We advise you not to delay your morning meal so that you can spend a busy day in the capital of ancient Breton.
Castle of the Dukes of Brittany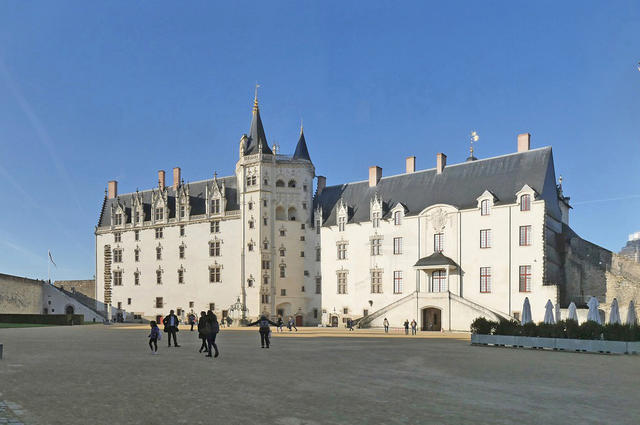 In the medieval quarter of Bouffais you will discover a 15th century jewel: a fortified fortress that served as the residence of the State of Brittany's powerful rulers. The majestic castle is a living witness of Nantes's glorious history.
These walls remember the birth of the Duchess Anne of Brittany, who was destined to become Queen of France twice. It is to her that the castle owes its bright colors: carvings, high windows and balustrades. During the long five centuries of history, the Château managed to house a prison, barracks and the royal apartments. Now, the majestic construction is included on the list of historical monuments.
What to see in the castle
Walk around the gallery of fortifications and enjoy the wonderful views of the medieval city and the territory adjacent to the castle. If you wish, visit one of the seven towers that have survived since the 15th century.
A walk around the inner yard of the Chateau will also bring a lot of pleasure: take a look at carved facades, architectural elements, statues of gargoyles, and, next to them, the figure of Anne of Brittany. Be sure to go inside the castle to admire the carefully recreated interiors and walk around the historic museum's halls.
It will take you at least one and a half hours to visit the Chateau. A walk through the castle territory is free of charge, but an independent tour inside the castle will cost you 8 euros, or 12 euros with a guide. It's just 5 euros for young people from 18 to 25 years old. Children up to 18 years gain free entry. You can buy tickets in advance or get Nantes City Card Pass.
Cathedral of St. Peter and Paul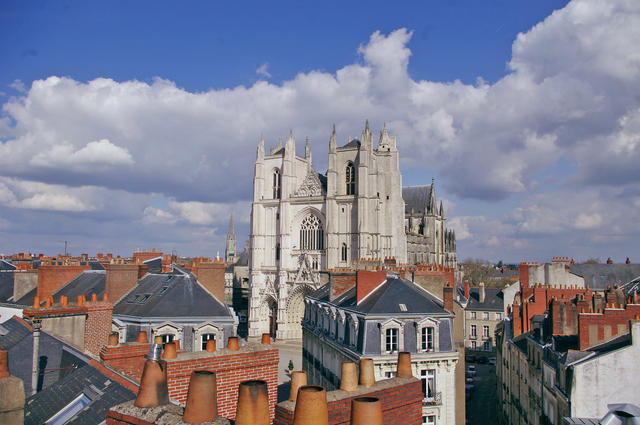 The snow-white building of this Gothic cathedral is built of local stone, mined on the banks of the Loire river. This historical church took over four centuries to be built. And in 2020, it suffered another disaster. The interior and the pipe organ were damaged by a fire, and the cathedral is currently closed for repairs.
The saddest thing is that with the closing of the church you can't admire the gravestones of Francis II, the last ruler of Brittany, and his wife Margaret of Foix. The burial stones, made in 1502 on the order of their daughter Anne of Brittany, have been recognized as a masterpiece of Renaissance sculpture.
Basilica of St. Nicholas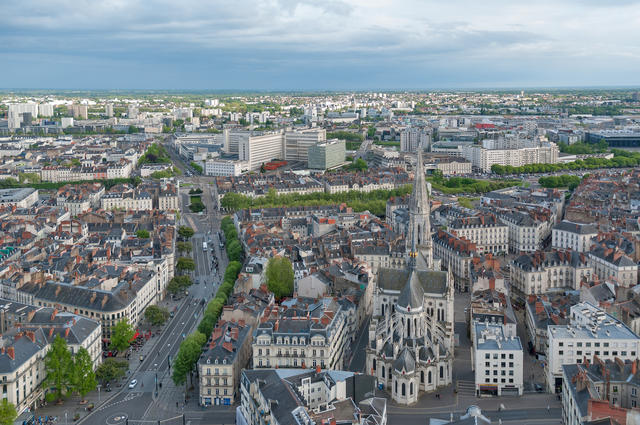 The Neo-Gothic basilica of St. Nicholas, the same age as the Cathedral of St. Peter and Paul, was completed in the late 19th century. Be sure to go inside to admire the interior, stained-glass windows, and statues. If you are lucky, you will hear a pipe organ. On some sculptures, you can still see the traces of destruction caused by World War II bombings.
Where to have lunch in Nantes
Do not forget that in France, lunch is only served from 12:00 to 14:00. To avoid looking foolish, and more importantly, missing out on a nice meal, do not delay with your choice of restaurant. For lunch we offer a number of establishments with authentic French cuisine:
Crêperie Mam'zelle Breizh is an inexpensive option that offers stunningly delicious traditional pancakes made from buckwheat flour, which are called galettes. Moreover, the service and originality of dishes will surely surprise you. These pancakes are served with various fillings, from sweet to salty.
Maison Grimaud is a classic French restaurant that offers both traditional and vegetarian dishes. You can get a nourishing and inexpensive meal not far from the Dukes of Brittany Castle.
Jargus is a quiet place with large choice of dishes for a hearty lunch. In addition, you will be surprised by the non-standard serving dishes: not plates, but glass vessels.
Be sure to try the local crepes or galettes — the highlight of local cuisine. Local seafood is also worthy of attention, as Nantes is not far from the ocean. Read more about Breton cuisine in our special article.
Jules Verne Museum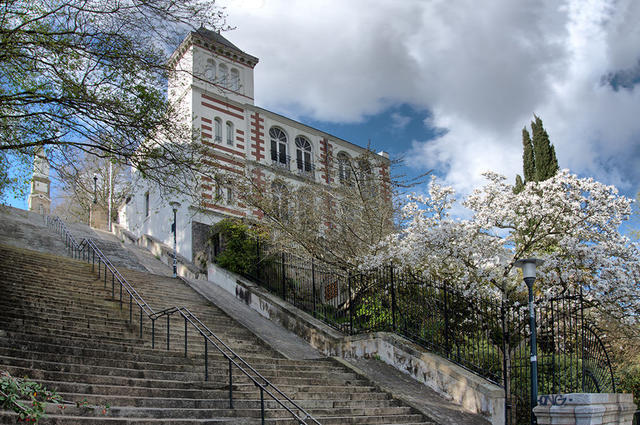 Nantes is the birthplace of the world famous fiction writer. Jules Verne was born here in 1828. The townspeople immortalized the memory of the famous countryman in a small, but very informative museum. And though it is not a real writer's house, the museum's founders did their best to give it authenticity.
Situated in a picturesque place on the Loire's embankment, the complex keeps valuable exhibits about Jules Verne's life and work. There are also manuscripts, valuable copies of books and models of scenery for theatrical performances. Young visitors will be entertained in the museum by displays where they can enter writer's fantasy world.
Address: Rue de l'Hermitage
Ticket price: 3 euros for adults, 1.5 euros for young people 18-26 years old, and free for children under 18.
The Machines of the Isle of Nantes
The best embodiment of Jules Verne's surrealistic ideas is rightly considered this grand idea of François Delarozière and Pierre Orefice. On the place of former Nantes shipyards, it is as if the world of mechanical beings in the steampunk style came down from the pages of books. Ride a huge 12-meter elephant made of wood, iron and leather, control giant birds, and ride one of the sea monsters on the Marine Worlds Carousel. It's a memorable experience you don't want to miss!
Address: Boulevard Léon Bureau
The cost of one attraction: 8.50 euros (children 4-17 and students — 6.90 euros), when buying two attractions you'll get a discount of 1.60 euros on the second.
The Fine Arts Museum of Nantes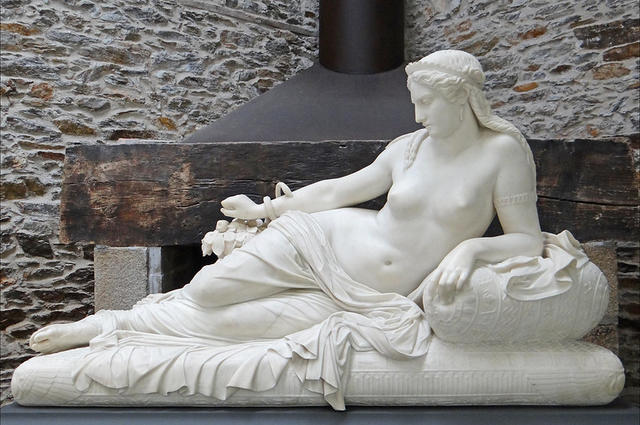 If you are traveling without children and you are not interested in rides, you will have a couple of hours to visit an art museum. Despite its provincial location, the Fine Arts Museum of Nantes is one of the six largest galleries in France, and its collection contains of more than 10,000 valuable items. In addition to the famous canvases of Courbet, Renoir, Monet, Picasso, Chagall, you will find an abundance of sculptures, drawings, engravings and masterpieces of modern thought.
Address: Rue Georges Clemenceau
Opening hours: from 10:00 to 19:00 every day except Tuesdays, on Thursday until 21:00.
Ticket price: adults — 8 euros, children — 6 euros
Botanical Garden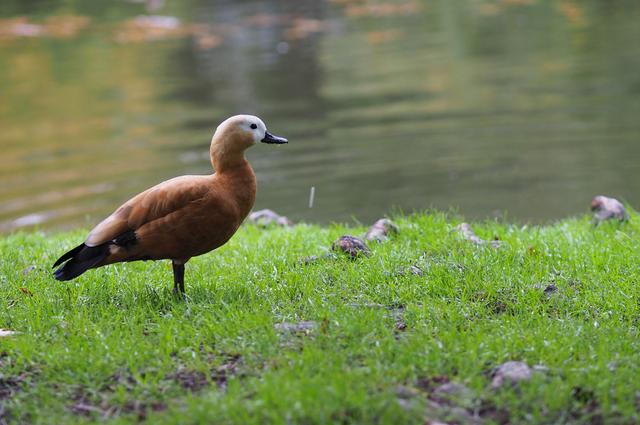 Take a stroll among the rich vegetation of the Botanical Garden, which has thousands of species of plants and birds. It's the perfect conclusion of a busy day in Nantes. It's easy to say that it is one of the four best botanical gardens in France. Here you will find camellias and magnolias, mulberry and tulip trees, Japanese maples and sequoias. Ponds, fountains and greenhouses from the 19th century give harmony to the park. In general, since 2013, Nantes has the title of "green capital" and is considered one of the most green cities in Europe.
Address: Rue Stanislas Baudry
Where to have dinner in Nantes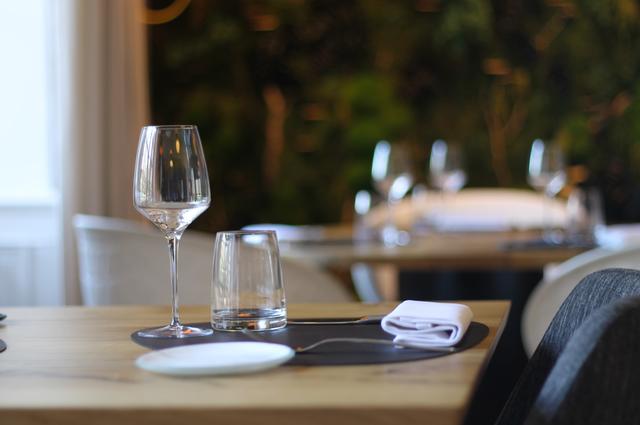 We recommend relaxing in one of the restaurants in the central part of the city and once again admiring the surrounding historical buildings.
You can have a high-quality and atmospheric dinner in any of these restaurants:
La Cantine du Curé — just a step away from the Church of the Holy Cross (Église Sainte-Croix), with an abundance of fish and seafood dishes, for which Nantes cuisine is famous, at very reasonable prices.
Le Pilori — what could be better than having dinner on the open terrace of a cafe surrounded by ancient buildings? A hearty and budget-friendly dinner here will be provided to you if there are vacant seats.
Bistro Régent Nantes is a nice restaurant with traditional French cuisine and cozy modern interior. One main dish with a side costs 13.90 euros.
Le Falstaff is a tasty, nourishing and affordable option as well.
Nantes is an amazingly versatile city, combining ancient history and ultramodern innovations. Even one day in the original capital of the Duchy of Brittany will forever be etched into your memory.
Have a nice trip!
https://voyage10.com/wp-content/webpc-passthru.php?src=https://voyage10.com/wp-content/uploads/2021/06/louis-morault-w861xqdG5Yk-unsplash_0.jpg&nocache=1
425
640
Anna
https://voyage10.com/wp-content/webpc-passthru.php?src=https://voyage10.com/wp-content/uploads/2022/01/voyage10_logo-2-300x95.png&nocache=1
Anna
2021-06-21 20:37:15
2023-01-22 12:15:19
One day in Nantes: a quick city tour