The most famous cabaret in Paris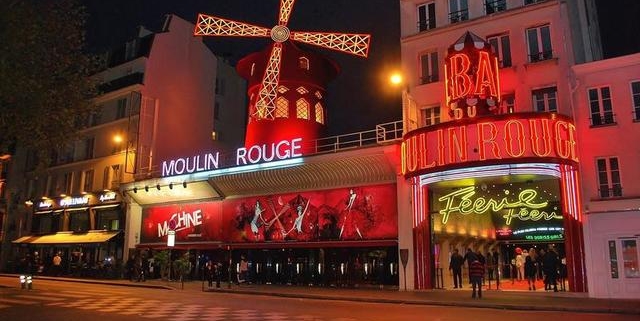 The cabaret in Paris is as famous as the Eiffel Tower. A trip to Paris isn't complete without visiting one of their enchanting shows. The most famous cabaret  houses are the Moulin Rouge, Le Lido and Le Crazy Horse. The oldest cabaret, Paradis Latin, has recently reopened. These are four unique facilities, each with their own zest. Choose yours!
Moulin Rouge Cabaret
Moulin Rouge does not need advertising. For many, this place is Paris. It's the first cabaret of Paris, the birthplace of the cancan, a place of entertainment for the Impressionists. The shows at Moulin Rouge are the most classical, with lush skirts and even pantaloons, and usually accompanied by songs performed by the actresses themselves. You can also often see ballet performances, and sometimes even shows with animals.
[youtube:https://youtu.be/HcJjdseb2bk]
This cabaret attracts hundreds of tourists every day. Therefore, you should buy a ticket in advance. Choose a ticket that includes champagne, since nowhere it's as appropriate as with a fiery show. There's a reason that Moulin Rouge is the biggest consumer of champagne in the world.
You can book a ticket on the Moulin Rouge official website or at this link. The cost of a show and dinner starts from 160 euros, or you can just watch the show for 99 euros. We recommend considering combined offers as well: tickets for a show at Moulin Rouge along with a cruise on the Seine are slightly cheaper than purchasing tickets to both separately.
You should not forget about the dress code! If you come in beach or sports wear, you will not be allowed in. Perhaps the Prince of Wales himself booked a table next to you, and here you are in flip-flops, sneackers, shorts or something like that.
Coming with children is up to you. The French will let in a child over 6 years old. But will the kid be interested?
Where is the Moulin Rouge? In the red light district, of course! It's on Pigalle Boulevard, near the Blanche metro station. If you are wearing an evening dress, your destination will be obvious. All cab drivers know how to get to Moulin Rouge.
» See more – Is There A Red Light District in Paris?
Le Lido Cabaret
Le Lido is a real fairy tale for adults (children will prefer Disneyland). Designer outfits, kilograms of Swarovski crystals, clouds of feathers, delightful actresses, skilful direction and semi-acrobatic performances — you'll find all this at Lido. At this cabaret they first came up with the idea to include water in the performances: fountains and ice rinks on stage are the local zest.
[youtube:https://youtu.be/kbrlI5WtbIA]
Lido is located a few hundred meters from the Arc de Triomphe on the Champs Elysees. Getting there is easy: just head to the George V metro station (1 line).
Tourists are attracted first of all by good location and flexible pricing policy. You can choose a ticket for just a show, a show with a glass of champagne, a modest dinner before the show, or a luxurious three-course meal and show with champagne.
A daily dance program is held at 21:30 and 23:30. The night show is cheaper by 5-10 euros, but by its end the subway will be closed.
In Lido, as in the Moulin Rouge, you can come with a child from 6 years old. From experience, we can say that the shows usually don't interest kids until they're about 12.
» See more – Boat tours on the Seine in Paris
Crazy Horse Cabaret
Crazy Horse is probably the most frank cabaret in Paris. There are about fifty skilled dancers from all over the world, who undergo a difficult casting. All girls must be similar to each other in appearance, with the same height and build. Due to this detailed casting, a particularly intriguing effect is achieved for the whole performance.
[youtube:https://youtu.be/E4fuWl11pOE]
The girls from Crazy Horse know how to undress beautifully, and their performances combine eroticism and humor. Woody Allen made a film here, and the famous Demi Moore learned the skill of sexual dance from these girls. This show is a must-see.
You can see the exciting erotic show every day at 20:15 and 22:45. We do not recommend taking children, although according to their policy, children 10 and up are allowed. If you and your child will not be confused by topless girls, then feel free.
Tickets can be bought right here. In addition to the cabaret performance, you will also have a wonderful dinner, and you can get a driver to and from your hotel.
Getting to Crazy Horse is not difficult — the cabaret is located near the Champs-Elysees at the Alma-Marceau metro station (9 line) and George V – Franklin D. Roosevelt (1 line).
» See more – Tourist passes for Paris
Paradis Latin Cabaret
Maybe you haven't heard about this cabaret; it's not as famous as the first three anymore. But what if we told you that it first opened before the Moulin Rouge? It really was! The first concerts in Paradis Latin were held back in the spring of 1889, while the famous mill opened in autumn of that year.
But the "belle époque" was not as favorable to cabaret in the Latin Quarter as the bohemian Montmartre was. In the 30s, the building was in disrepair. But the phoenix was reborn from the ashes in the 70s, when the new owner found old posters on the floor, and above his head a dome made by Gustave Eiffel himself.
[youtube:https://youtu.be/AM21b9ceAqg]
In 2018, the cabaret again changed ownership and completely updated their program. We have not been there ourselves yet, but judging by this backstage video, the show should be well worth it. It includes Miss Universe 2016 Iris Mittenaere. If you have the chance to go before we do, let us know how you liked it!
The obvious advantage of Paradis Latin is more modest prices. Cabaret is gaining in popularity, so a simple ticket costs only 70 euros (you can buy them here in advance), and for young people under 26 years of age they're only 45 euros!
Cabaret is located at 28 Rue du Cardinal Lemoine, not far from the metro station Cardinal Lemoine. This is the historic Latin Quarter.
The rules of the visit are the same as for the ones you'll find at other cabaret houses. Your clothing should be urban or elegant (not sports or beach wear). Children are allowed from 6 years old. Dinner before the show begins at 19:30, and the show itself takes place from 21:30 to 23:15.
If you came to Paris for experiences, not just to visit a couple of famous monuments, be sure to go to the cabaret. It is not difficult to find them—they're all located near the most famous sites in Paris. It's a bit expensive, but it is worth it for an experience you'll remember all your life.
Enjoy the show!
https://voyage10.com/wp-content/webpc-passthru.php?src=https://voyage10.com/wp-content/uploads/2021/06/moulin-rouge-1050325_1920.jpg&nocache=1
425
640
Anna
https://voyage10.com/wp-content/webpc-passthru.php?src=https://voyage10.com/wp-content/uploads/2022/01/voyage10_logo-2-300x95.png&nocache=1
Anna
2021-06-23 19:57:25
2022-02-01 08:51:58
The most famous cabaret in Paris