Paris Disneyland: everything you need to know

Public domain
Disneyland Paris theme park is located in the far suburbs of Paris. It includes two theme parks, Disneyland Park and Walt Disney Studios Park, as well as many restaurants, hotels, a golf course and even its own residential area and business center. Not only children but also many adults dream of visiting this fairytale world where Disney characters walk and ride amusement rides all day long. Hurry up and buy tickets at this link. And we'll tell you how to make your dream come true!
How much does a ticket to Disneyland Paris cost?
The first and foremost question on everyone's mind is the price of the ticket. How much does it cost to go to Disneyland Paris? Answering this question is not easy, because Disney pricing is twisted more interesting than any cartoon plot. But the main thing you should know is this:
You can only buy tickets online. They are no longer sold at the entrance to Disneyland.
Tickets to Disneyland Paris (all attractions included)

3-11 years
12+ years
Ticket purchase link
1 day in 1 park
from 57 up to 91 €
from 62 up to 99 €
book here
1 day in 2 parks
from 82 up to 116 €
from 87 up to 124 €
book here
2 days in both parks
from 142 up to 206 €
from 154 up to 224 €
book here
1 day in 1 park with transfer from Paris
from 129 €
from 139 €
book here
Overnight at Disneyland
double room
 from 170 €
book a hotel
Why are the prices so inaccurate? Tickets are sold for a specific date. The cost of a day in the park depends on the potential demand for that day, i.e., the day of the week, the proximity of holidays or school vacations. Select your anticipated date of your trip on the calendar below and you will see the exact price for that day.
You can buy a ticket without a date a year in advance, but it will be more expensive than the most expensive ticket, and then you still need to register it when you decide on the date. These tickets are available here.
The ticket gives you the right to enter the park. All rides inside are free, the Main Street parade and the evening show at Sleeping Beauty Castle are also free to all guests. You'll only need money for the cafes, souvenir stores and some additional indoor shows (the program changes depending on the season, check the official website).
» See more – Tickets to the Disneyland – Where to buy them and how much they cost
Which cartoon characters are there at Disneyland?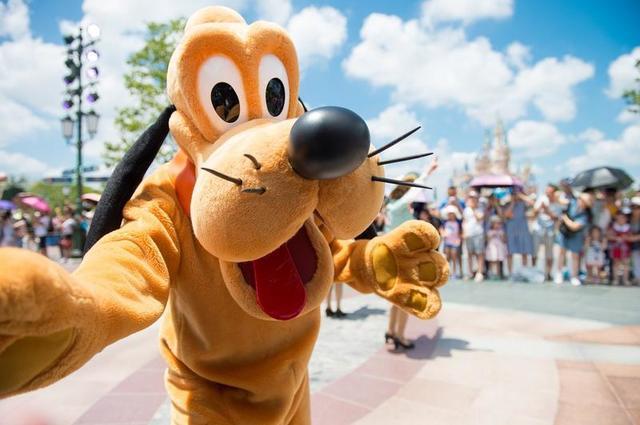 The amusement park is divided into five themed zones located around Sleeping Beauty Castle, just like in Disneyland California. You can view the entire area from the window of the train, which passes through all the sectors at a minimum speed.
Adventureland is the most famous area of the park. This is where you can find Indiana Jones and the Temple of Doom, the robinson's cabin, the ship from the Pirates of the Caribbean, and an island-maze.
Frontierland is in the style of the Wild West. There's a whole town here with taverns and saloons, natives, cowboys and prospectors.
Main Street USA is built in the style of the 1920s. There are many restaurants and cafes here in that retro style. Main Street is a great place to buy souvenirs and take pictures in a picture booth.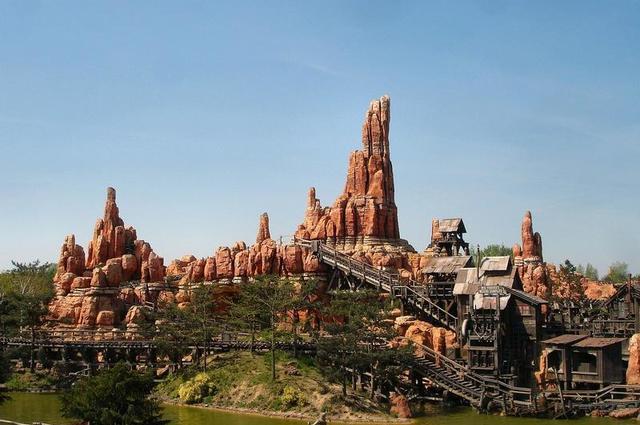 Discoveryland is famous for Space Mountain, a rollercoaster that's stylized in the magical world of Jules Verne. Another can't-miss attraction here is The Lion King musical show in the middle of the park.
Fantasyland is designed for the smallest guests, but it has a lot to love for lifelong Disney fans too. You can take pictures with Snow White, Peter Pan, Mickey Mouse and many other characters.
All of these sections are in classic Disneyland. The second park, Walt Disney Studios, is the land of Pixar characters (Cars, Nemo, Toy Story) and the all-new Avengers Camp, where you can meet the heroes of the Marvel universe.
When is the best time to go to Disneyland?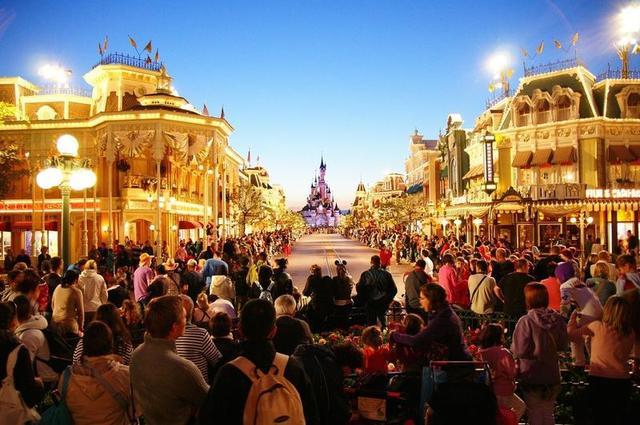 Paris Disneyland is open year-round, but the best time to go is late spring (end of April/beginning of May) or the first half of fall (September or October). There are many kids on vacation in the park in the summer, so the lines will be long, and it will be crowded. There's also a lot of visitors on the weekends. If you can plan it, go to Disneyland on a weekday (Tuesday or Wednesday is best).
The park opens at 9, and the attractions open at 10. Disneyland stays open later on Halloween and Christmas, when they have special parades that go through the park.
Disneyland has a «Princess Park» and «Studio Park». You won't have enough time to go to both of them and ride all the rides in one day. We recommend buying a two-day ticket, especially if you have kids. If you want to get the most out of your time, it's a good idea to book one night in a local hotel. That way you won't have to go to Disney from Paris each day. And the hotel itself will serve as a great extension of the holiday. The interiors of Disney hotels are decorated as if you were in a cartoon.
Book a hotel in Disneyland Paris
Another benefit of staying in a hotel on site is that you can go into the park before everyone else. You'll be able to ride a couple of rides without waiting in line. The on-site hotels also have various discounts for their guests.
» READ MORE – Paris Disneyland: where to stay?
How to get to Paris Disneyland?
You can get to the park in 45 minutes by the RER A trains that leave every 15 minutes. Destination is Marne-la-Vallee station.
The last RER train leaves Disney at 00:20, so you'll be able to stay for the fireworks even if you're staying in Paris, but if you are really tired, it's best to order a taxi to your hotel.
» See more – How to get to Disneyland from Paris
Tips for your Disneyland trip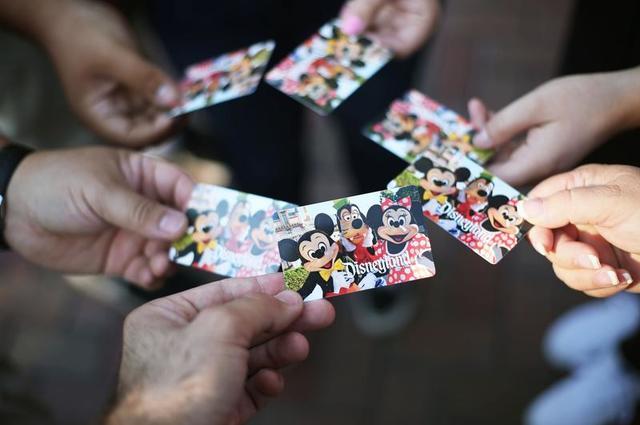 Map of Disneyland
Download the Disneyland app. It has a map and you can easily find any attraction or restaurant, make a reservation or a hotel room. You'll always have the schedule of all of today's shows at your fingertips, so you don't miss out on anything you're sure to see.
Fastpasses
Big lines accumulate to the best rides. To avoid them, you need to take special fastpasses at the attraction's checkpoint. You scan your ticket, take the fastpass, and it tells you the time you need to arrive. Then the wait in line will not be more than 10-15 minutes. Fastpasses can be purchased on the Disneyland app.
Weather
You have to go to Disneyland before it opens, otherwise what's the point of paying for the whole day? It is recommended to bring a bottle of water, sunglasses and sunscreen if you are going to visit the park in hot weather. Or bring a raincoat and umbrella if the weather forecast promises precipitation. Inside you can bring your own food, the French themselves often do so. The main thing is that it should be a compact container, not a huge picnic basket. But if you want to eat something interesting and themed at Disneyland restaurants, there is no point.
Overnight at Disneyland
For the same reason, it is worth booking a room and staying overnight at Disneyland. The rooms in the Disney hotels are decorated in the style of the different cartoons. Instead of having to drive a whole hour in the train, you can immediately after the evening show relax in the same fabulous atmosphere that accompanied you all day. Families with children and those who choose to spend two days in the Disneyland parks will especially appreciate this opportunity. See hotel deals at this link.
A holiday at Disneyland is twice a holiday
Also remember that Disneyland celebrates various holidays. The most important ones are New Year's and Christmas. They celebrate Valentine's day in February, Saint Patrick's Day in March and Halloween in October. Disneyland is open late at Christmas and Halloween. These are the days when the most spectacular shows and parades of Disney cartoon characters take place.
Have a nice trip back to your childhood!
https://voyage10.com/wp-content/webpc-passthru.php?src=https://voyage10.com/wp-content/uploads/2020/02/disneyland-paris-2272907_1920-1.jpg&nocache=1
984
1819
Alina
https://voyage10.com/wp-content/webpc-passthru.php?src=https://voyage10.com/wp-content/uploads/2022/01/voyage10_logo-2-300x95.png&nocache=1
Alina
2020-02-10 18:25:28
2023-03-06 18:23:02
Paris Disneyland: everything you need to know