Paris Disneyland: everything you need to know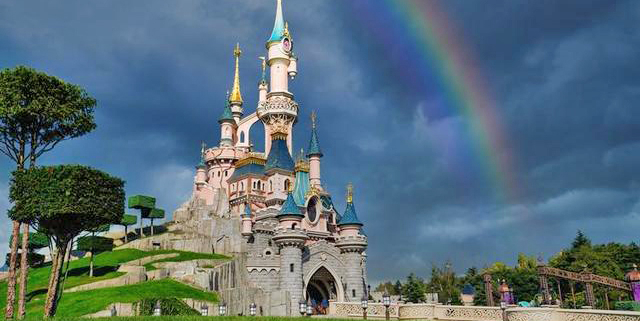 Paris Disneyland is in the furthest suburb of Paris, in the town Marne-la-Vallee, located 43 km from the city. It was founded in 1992, and has two theme parks, Disneyland Park and Walt Disney Studios Park. There are many restaurants, hotels, a golf course in the park as well, along with its own residential and business districts.
The park's territory is split into five themed zones that surrounding Sleeping Beauty's castle and are analogous the areas in California's Disneyland. You can see everything from the train that slowly travels through all the areas. You can find tickets to Disneyland by using this link.
The main sections of the park
Adventureland is the most famous area of the park. This is where you can find Indian Jones and the Temple of Peril, La Cabane des Robinson, the ship from the movie Pirates of the Caribbean, and an island-maze.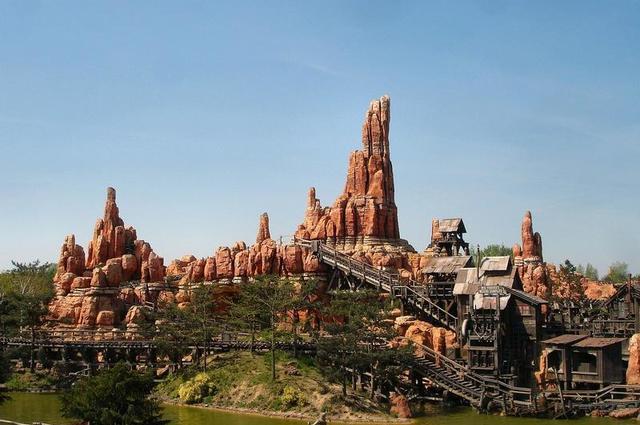 Frontierland is in the style of the Wild West. There's a whole town here with taverns and saloons, natives, cowboys and prospectors. Main Street USA is built in the style of the 1920s. There are many restaurants and cafes here in that retro style. Main Street is a great place to buy souvenirs and take pictures in a picture booth.
Discoveryland is famous for Space Mountain, a rollercoaster that's stylized in the magical world of Jules Verne. Another can't-miss attraction here is The Lion King musical show in the middle of the park.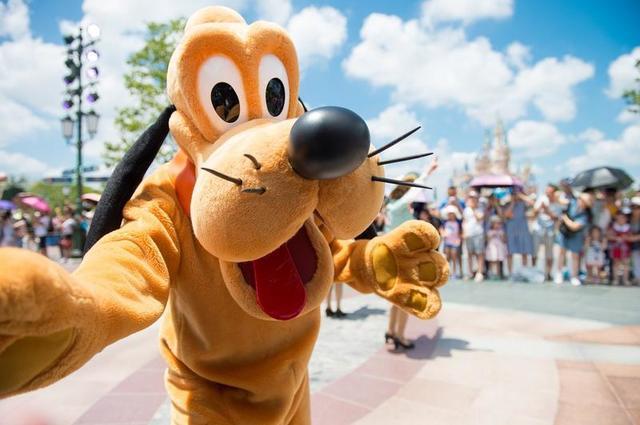 Fantasyland is designed for the smallest guests, but it has a lot to love for lifelong Disney fans too. You can take pictures with Snow White, Peter Pan, Mickey Mouse and many other characters.
[youtube:https://youtu.be/70dq5ok9lu0]
When is Disneyland open?
Paris Disneyland is open year-round, but the best time to go is late spring (end of April/beginning of May) or the first half of fall (September or October). There are many kids on vacation in the park in the summer, so the lines will be long, and it will be crowded. There's also a lot of visitors on the weekends. If you can plan it, go to Disneyland on a weekday (Tuesday or Wednesday is best).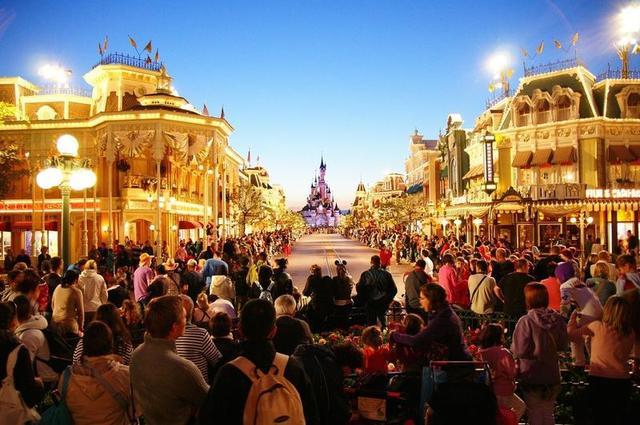 The park opens at 9, and the attractions open at 10. Disneyland stays open later on Halloween and Christmas, when they have special parades that go through the park.
Disneyland has a "Princess Park" and "Studio Park". You won't have enough time to go to both of them and ride all the rides in one day. We recommend buying a two-day ticket, especially if you have kids. If you want to get the most out of your time, it's a good idea to book one night in a local hotel. That way you won't have to go to Disney from Paris each day.
Disneyland Paris: book hotel in
Another benefit of staying in a hotel on site is that you can go into the park before everyone else. You'll be able to ride a couple of rides with waiting in line. The on-site hotels also have various discounts for their guests.
Tickets to Disneyland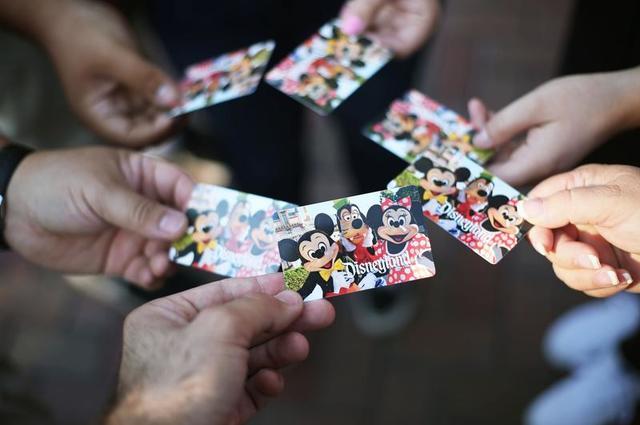 Ticket prices depend on whether you're visiting one or both parks, and what day you plan on going. For example, a one-day ticket to Disneyland Park or Walt Disney Studios Park on a weekday and not on a holiday is 69 Euros. On the weekends it increases to 79 Euros. And it's even more expensive on holidays.
The tickets are the most expensive in the Disneyland ticket booths, so you should buy a ticket ahead of time. You can buy a one-day ticket to both parks as well as two, three, four, and five-day packages with a room in a local hotel. And, of course, the closer it is to your visit, the more expensive the tickets will be.
» See more – Where to buy them and how much they cost
If you don't want to lose an hour waiting in line to buy tickets, you can purchase them early in Paris stores. You can buy them in a Fnac bookstore or a grocery store on the Disney or Elysee Champes. You can of course buy tickets online on their site (the tickets are good for two parks) and it costs the same as in the Paris stores, but it will make your life much easier. This link is for Disneyland tickets with a shuttle. It includes a trip from Paris to the park and back, and you won't need to use the Paris train system.
How to get to Paris Disneyland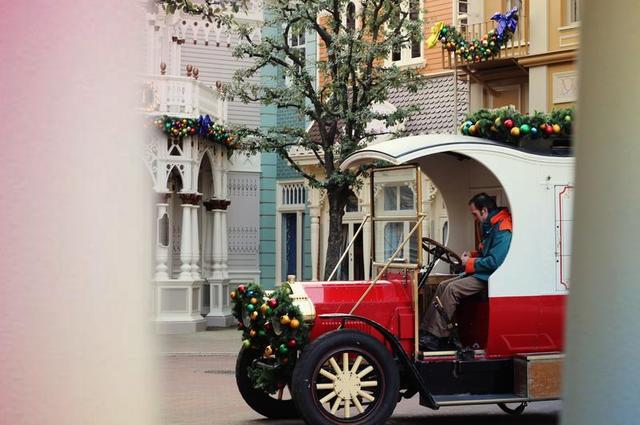 You can get to the park in 30 minutes on the metro, or on RER trains to Marne-la-Vallee that leave every 15 minutes.
» See more – How to get to Disneyland from Paris
A map of Paris Disneyland
Download the map of Paris Disneyland using the link at the end of the article. You will find a map of both parks.
It's best to go to Disneyland in the morning to ride the best rides first. We recommend taking a bottle of water, sunglasses and sunscreen if you plan on going to the park when it's hot. Also remember to take a poncho and umbrella if there is rain in the forecast.
Tips for your Disneyland trip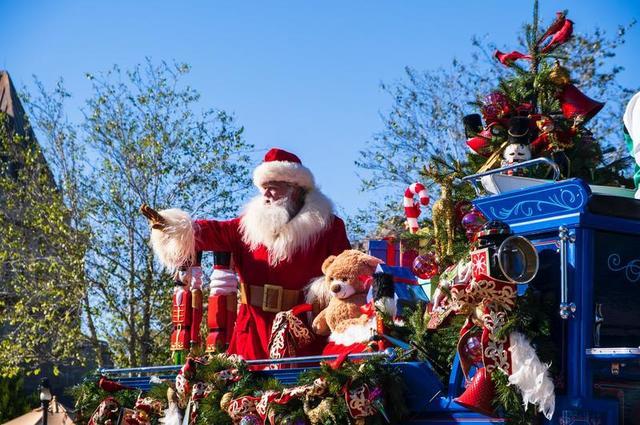 Rides usually have long lines, but you can avoid them with fast passes. You have to scan your park ticket, choose a fast pass at a given time, and show up then, for a much shorter wait: 10-15 minutes instead of 2 hours. You can only pick up one fast pass at a time, so plan ahead. Be prepared to stay in the park for a whole day. The main parade of Disney characters starts at 5:30 in the winter and 6:30 in the summer. It lasts 25 minutes. Find a place on the central street ahead of time so you can see the whole parade. The fireworks and musical show happen right before closing. It starts at 11 in the summer. Double-check the schedule in the booklets at the park's entrance, because it can change. The fireworks last 20 minutes. The last RER train leaves Disney at 12:20, so you'll be able to stay for the fireworks even if you're staying in Paris, but if you are really tired, it's best to order a taxi to your hotel.
Also remember that Disneyland celebrates various holidays. The most important ones are New Year's and Christmas.
They celebrate Valentine's day in February, Saint Patrick's Day in March, the entire summer and Halloween in October.
Have a nice trip back to your childhood!
https://voyage10.com/wp-content/webpc-passthru.php?src=https://voyage10.com/wp-content/uploads/2021/07/mathis-jrdl-jNhRkoKE_sU-unsplash.jpg&nocache=1
425
640
Alina
https://voyage10.com/wp-content/webpc-passthru.php?src=https://voyage10.com/wp-content/uploads/2022/01/voyage10_logo-2-300x95.png&nocache=1
Alina
2020-02-10 18:25:28
2022-08-25 09:48:04
Paris Disneyland: everything you need to know