Paris in one day: route and map
You can do a million things in Paris! There are so many wonderful things in this city, like world-famous tourist attractions, museums with all kinds of art, beautiful, well-kept parks, unique shops, romantic streets and cozy cafes. How can you fit all of this into a tour when you're in Paris for just one day? Of course, there are things you'll have to miss, but you can spend your one day in a way that your trip will never be forgotten!
If you're going to Paris for the first time, use the route that lets you see the majority of Paris's sights in just one day.
If you have a layover and can quickly get to the city, you can see some or all of these places, depending on how much time you have. Be sure to give yourself enough travel time so you don't miss your flight!look at what you can do in that case.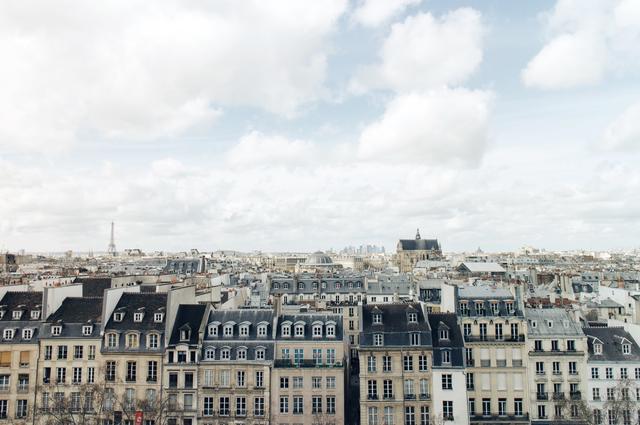 This article is primarily for those who've already been to Paris and who plan to come back soon. We're offering a walking path of the city for a full day. There will be time for pretty pictures at all the best tourist destinations, as well as time for shopping, coffee and even an hour or so in a museum.
The tour will be the most interesting from Monday to Saturday when all the shops and cafes are open. And if you plan to go to a museum, remember that many of them are closed on Mondays.
How to spend one day in Paris
In the morning after breakfast, go to Trocadero square where our route begins. It's a great place to enjoy the Eiffel Tower, but right from sunrise this place is full of tourists and photographers, so be prepared for crowds. From there, head to the closest metro station, get on line 6 and go towards Nation. Get your camera ready, because the view of the tower from the Pont de Bir-Hakeim is much better than from Trocadero.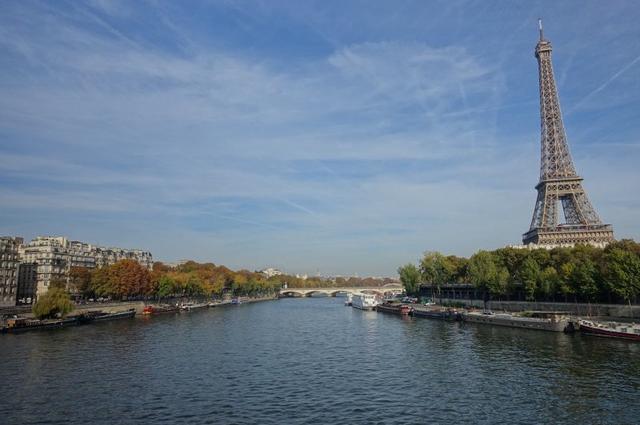 Leave the metro at Raspail station and head towards the Luxembourg gardens. On the way, you can go into the supermarket Franprix at 19 Rue Campagne Premiere and buy something fresh for a mid-morning snack. Take a picture of the La Closerie Des Lilas cafe on Boulevard du Montparnasse and go towards the Luxembourg gardens. You have to go through the Grands Explorateurs complex with the Observatory fountain.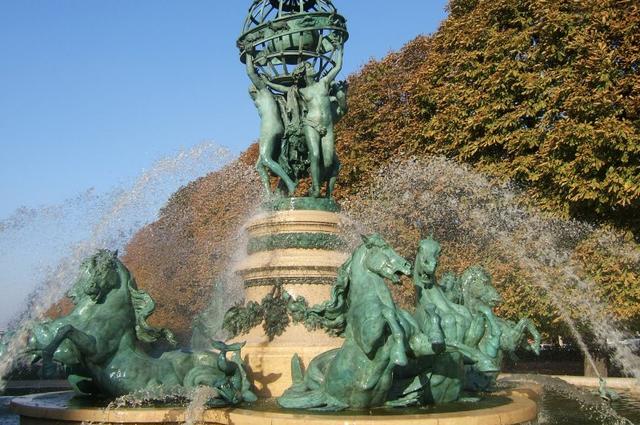 Walk around the Luxembourg gardens and rest on a chair or have a picnic. Take a picture with the Medici fountain, and then walk along Rue de Tournon, toward Rue de Seine in the direction of Saint Germain boulevard. This area has three shops which might be interesting:
a Japanese shop with office and home supplies called MUJI at 30 Rue Saint-Sulpice;
a clothes store for those against fast-fashion and fans of vintage things called Kilo Shop at 125 Boulevard Saint-Germain;
the shop Le Petit Prince Store Paris at 8 Rue Gregoire de Tours where you can find signs, soft toys and souvenirs connected with Exupery's famous fairy tale.
» See more – souvenirs, food and gifts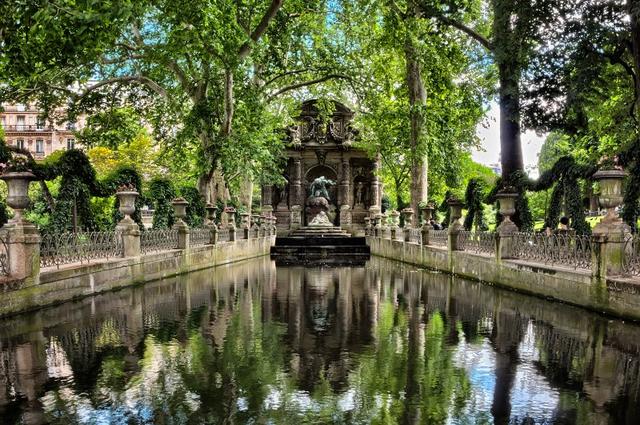 After shopping, walk along Rue Saint-Andre des Arts, which will take you to the Fontaine Saint-Michel. Not far from there, the Rue de la Huchette begins. It is part of the Latin quarter in Paris, and in its narrow streets you'll find many cafes and bistros where you can eat. Rue de la Huchette will take you to Rue de la Bucherie, with the famous and photogenic bookstore Shakespeare and Company and the cafe of the same name.
» READ MORE – Latin quarter: route map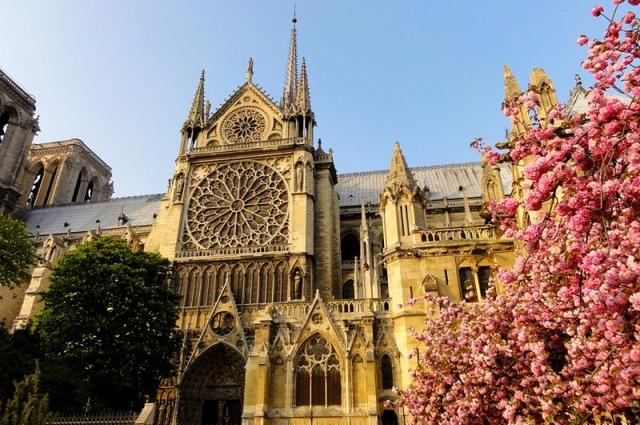 You can enjoy the view of Notre Dame from the Rene Viviani square or the neighboring Cafe Panis, where a cup of coffee costs from 3 to 5 Euros. If you want a wonderful bird's eye view of Paris, we recommend walking along the Tournelle to the Institut du monde arabe. Its roof has a free viewing platform with a good view of Notre Dame and the Saint Louis island.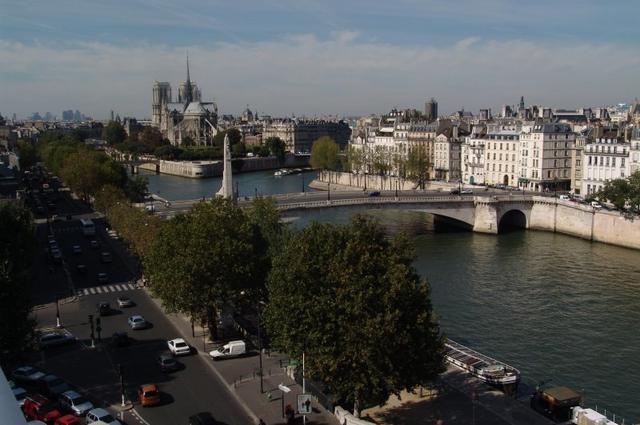 Go back down and cross the Tournelle bridge to Saint Louis island. Step into the old cafe Berthilion Glacier at 29-31 Rue Saint Louis en l'Ile and try unusually flavored ice cream like salt-caramel or whiskey with coffee. Then continue on Rue Saint Louis en l'Ile towards Cite island. Cross the Saint-Louis bridge and go to Jacques XXIII square behind Notre Dame. If you're in the mood, walk around Notre Dame. If you love flowers, visit the flower market Marche aux Fleurs next to the Cite metro station. All year round they sell dry lavender in pots and other things from Provence.
Then go towards the Seine's right bank and walk along the Paris town hall and Hotel de Ville. Spend some time shopping in the shops in the small streets. You'll find brands from all over, including the giant clothing store Uniqlo, a few Muji shops, a Moleskine boutique and many other clothing, perfume and jewelry stores. If you don't want to lose time looking in separate stores, go to the department store Forum des Halles. You can eat there as well.
You can alternately go to the Cafe Kitsune at the Palais Royale Garden. If you prefer macarons, then go to the tea parlor Laderee, not far from the Louvre. After taking a few photos in the Instagram-friendly establishments, go through the Tuileries garden to the place de la Concorde, and then head to the metro station Concorde. There, get on a line 12 (green) train toward Porte de la Chapelle and get off at Lamarck-Caulaincourt at Montmartre.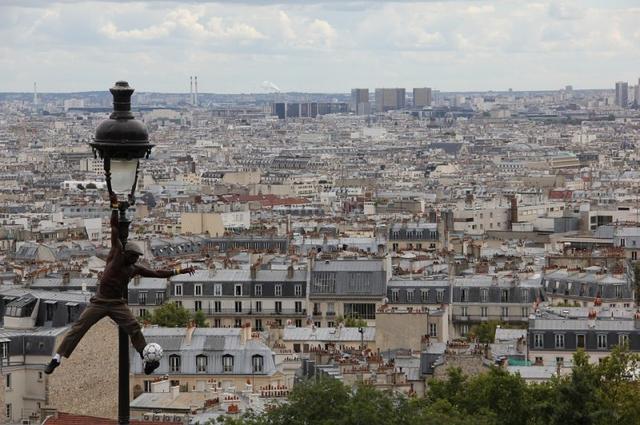 Leave the metro, go up to the Place Constantin Pecqueur and take Rue Giradon to the Dalida square. Walk along the picturesque Rue de l'Abreuvoir, take a few pictures of the restaurant La Maison Rose, and don't be afraid to go inside for a delicious 5 Euro dessert. Walk around Montmartre's streets, take pictures at the local tourist sites, and go towards your final destination, Sacre Coeur. At the base of the church you can see all of Paris, and you'll recognize places you were able to see earlier in the day. Here we've gathered hotel options for you along the route.
Paris City Centre: book hotel in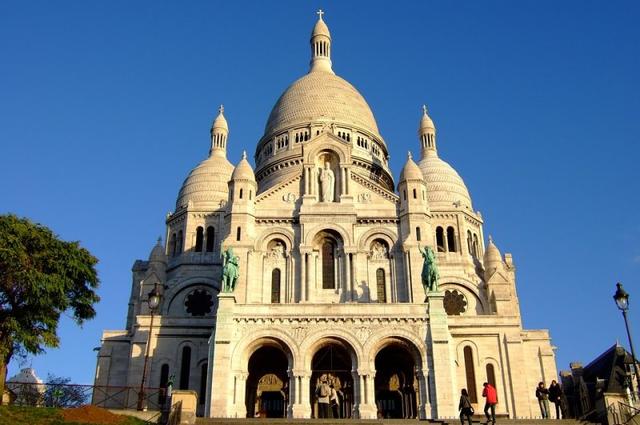 We've developed this route with the intention that all these stops should take a full day, from about 9-10 am to 7 pm, with time for photos and coffee breaks. You can finish this wonderful trip with an unforgettable French dinner in the Eiffel Tower, and once more look out at Paris, this time with a glass of champagne in your hand.
We hope you like our route! Download our audio guide so your trip to Paris will be even better. 
We hope you have a good time in Paris! 
https://voyage10.com/wp-content/webpc-passthru.php?src=https://voyage10.com/wp-content/uploads/2021/04/La_Tour_Eiffel_vue_de_la_Tour_Saint-Jacques_Paris_aout_2014_2.jpg&nocache=1
800
1280
Alina
https://voyage10.com/wp-content/webpc-passthru.php?src=https://voyage10.com/wp-content/uploads/2022/01/voyage10_logo-2-300x95.png&nocache=1
Alina
2020-03-22 18:33:17
2022-12-25 08:20:46
Paris in one day: route and map