Parking lots in Paris: how much they cost and how to find them

The biggest transport problem in Paris is not traffic jams, it's parking lots. It is very difficult to find a place where you can safely and cheaply park your car. Sometimes it's impossible. We will tell you about the intricacies of parking in the French capital. Read about car rentals in Paris in our article here.
» See more – Advice for renting a car in France
Street parking in Paris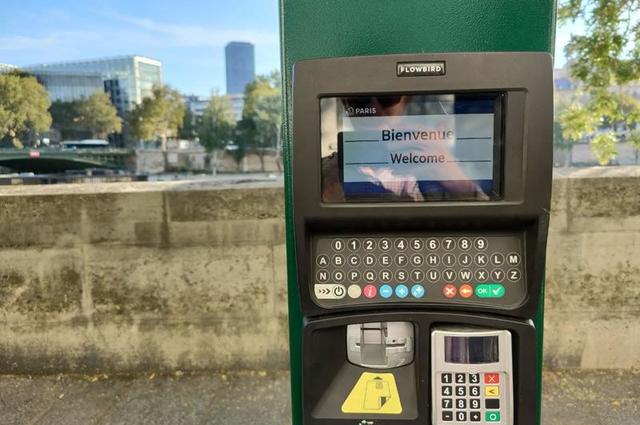 If you want to park on the street, notice that parking is paid from Monday to Saturday from 9 am to 8 pm.
At night, on Sundays and holidays parking in Paris is free. Sometimes parking is also free on Saturdays. But be careful. If the parking lot is free that day, it is marked with a yellow circle, as shown in this photo. Otherwise, parking is paid, even on Sunday.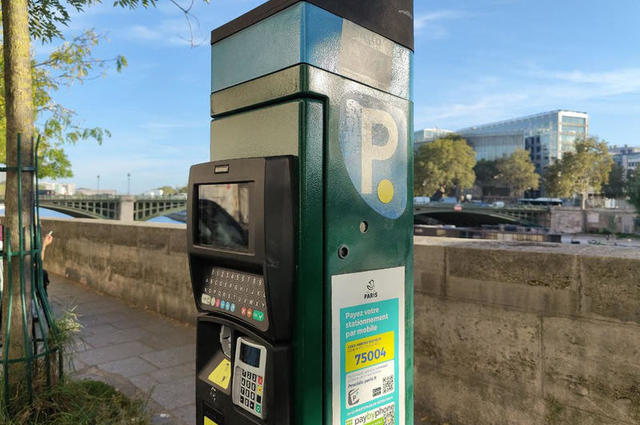 How much does it cost to park in Paris?
There are 3 parking zones in Paris. Prices range from 6€ per hour in the center of Paris to 4€ in the periphery. Parking time is limited to two hours.
You can pay for parking in a special machine with coins, a bank card, a smartphone app, or with Paris Carte. You can buy this card at newsstands or Tabac stores and pay from 10 to 30€ with it. The parking valet will give you a receipt, which should be placed in a prominent place under the windshield so that you do not get fined.
The municipality of Paris recommends that tourists don't use aboveground parking in the city or burden the streets unnecessarily.
If you are traveling in a house on wheels, then remember that parking such vehicles in Paris is prohibited, so look for a campsite.
Underground parking lots in Paris
Underground parking lots operate 24/7. Such parking lots are marked with a white "P" on a blue background and are usually located in tourist, shopping and business districts of the city. You can find a map with underground parking lots in Paris below, along with a file where you will find all the addresses of the parking lots.
The pluses of these parking lots are safety and unlimited parking time. We will not say that it is dangerous to leave a car in Paris. It is unlikely to be stolen or broken into. But it can be maimed, not by criminals, but ordinary Parisians who decide to park on the street next to you. Look closely at French cars: they all have scratched bumpers and doors, and very often the mirrors are torn off. If you've rented a car, you'll have to pay for such scratches later. This is what we mean when we talk about parking safety.
The cost of parking in Paris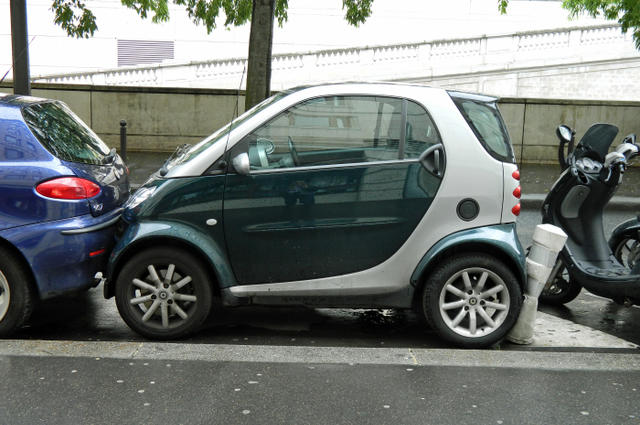 Prices in underground parking lots vary depending on the area: in the center and tourist spots it's about 2.50€ per hour, and a little over 20 euros per day. On the outskirts of Paris, rates are lower, and you will pay an average of 10 to 15€ per day. Underground parking lots also offer weekend, weekly or monthly packages.
Before entering the underground parking lot, you must press the button to get a card and open the barrier. Leave your car and go about your business on foot. When you return, pay for the parking time first. Put in your paid ticket at the exit and leave the parking lot.
Guaranteed Parking
When booking a hotel in Paris, think ahead about where you will park your car. Some hotels provide free parking to their customers, but not all. Check whether this option is available before you book your room.
» See more – 10 good inexpensive hotels in Paris
You can also book parking for your car in advance online. On this website, you can choose a convenient parking location, arrival time, and length of parking.
Paris City Centre: book hotel in
What happens if I don't pay for parking in Paris?
At best, you'll get a fine. The ticket will be placed under the windshield wipers, as it is often shown in French films. The fine starts at 35 euros.
But they may also confiscate your car if you parked incorrectly or stay for too long. To get your impounded car back, you will need your license and registration certificate.
If the vehicle does not belong to you, you must, in addition to these documents, provide a power of attorney or contract.
You will have to pay €126 for the evacuation, €10 per day for parking and then a parking fine.
» See more – planning your ideal trip
Park correctly in Paris!
https://voyage10.com/wp-content/webpc-passthru.php?src=https://voyage10.com/wp-content/uploads/2021/10/Parken-und-Parkplatze-in-Paris.jpg&nocache=1
1280
1920
Alina
https://voyage10.com/wp-content/webpc-passthru.php?src=https://voyage10.com/wp-content/uploads/2022/01/voyage10_logo-2-300x95.png&nocache=1
Alina
2021-10-26 18:59:54
2023-02-10 07:56:56
Parking lots in Paris: how much they cost and how to find them