Christmas and New Year in Rome

Rome is a wonderful place to celebrate both Christmas and the New Year. Both holidays have significant differences in this city: the first is Catholic and especially revered, while the second is secular and somewhat secondary. This circumstance is decisive in preparing for the celebration and following traditions.
Keep in mind that it's not easy to find lodging vacancies in hotels and especially hostels during the Christmas holidays in Rome. It's worth booking accommodation in Rome in advance. You can see the list of various hotels here.
Rome City Centre: book hotel in
Catholic Christmas in Rome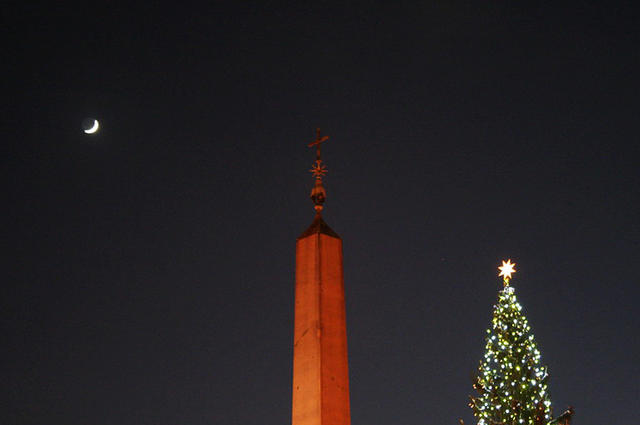 We know that Catholic Christmas is celebrated on December 25, but Catholics begin their preparations from the day of the Immaculate Conception of the Virgin Mary on December 8. From that day, the city begins to transform: illuminations, Christmas trees, festive crib trees, and Christmas markets are set up. All this beauty attracts many tourists to Rome in December.
From December 8 to 24 the stores are open for business without a lunch break, giving everyone the chance to buy presents for family and friends. The city begins to have a festive atmosphere and bustle. Especially wonderful is the Vatican City during this time: there is a Christmas tree at least 30 meters high and a nativity scene with life-size figures on the square. At the main attractions in Rome, such as the Colosseum, Venice Square and Spain Square, giant Christmas trees with toys and illumination are installed.
The Bramante exhibition hall sets up their exhibition "100 Nativity scenes" each year. The exhibition runs from Nov. 23 to Jan. 7, with no weekends or holidays, from 10 a.m. to 8 p.m. Entrance fees are €8 for adults and €5.50 for children (ages 4 to 10). The exhibition hall is located in Piazza del Popolo near the Basilica of Santa Maria del Popolo. It can be reached by subway line A on the Flaminio station.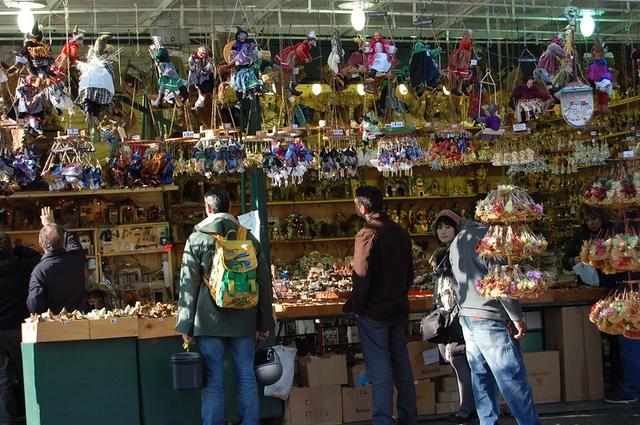 As for the Christmas markets, the most famous one is on Piazza Navona. You can find gifts, sweets, toys, local delicacies, drinks and all sorts of other things on sale. The atmosphere is heightened by minstrels – poet-musicians who play musical instruments and sing songs they've written. New Year's Eve markets are open from about 10 a.m. to 8 p.m. from December 8 to January 7. Admission is free, but you'll want to do some shopping!
Those with a reverence for the Christian religion will enjoy the Dec. 24 Christmas Eve service at the Vatican, conducted by Pope Francis himself. The service begins at 9:30 p.m., and entrance to the basilica will be open as early as 7:30 p.m. But to get the best seats, you should get in line at about 6 p.m. Tickets are free, but must be ordered through the Prefettura della Casa Pontifica office. On December 25, at 12:00 noon, Pope Francis will greet the whole world with a Merry Christmas from the balcony of the Basilica, pronouncing the famous "Urbi et Orbi," a blessing to the city and the world. Christmas greetings will be spoken in more than 60 languages.
» READ MORE – Christmas at the Vatican: Feast, Mass, tickets
The gastronomic traditions of a Catholic Christmas in Rome
According to the local Christian tradition, Christmas Eve dinner should consist only of fish, vegetables and nuts. That's why restaurants abandon their usual menus in favor of traditional Roman dishes: for the first course you will be offered pasta with fish and shellfish, and light fish soups. For the second course you are offered a dish of eel, fried fish, various fish carpaccio, roasted or baked vegetables, and nut-based sweets.
» See more – Try these 10 dishes to experience the best of Roman food
The menu changes on Christmas Day: for the first course, lasagna (or other pasta with meat or minced meat); for the second course, young lamb cooked in different ways, with numerous appetizers and side dishes; and for the sweet course, the world famous "pandoro" and "panettone" cakes.
Be sure that you find a restaurant with a view of the city! It's very atmospheric, and during the Christmas period, the Roman panorama is simply magnificent.
» See more – The 10 best pizzerias in Rome
New Year in Rome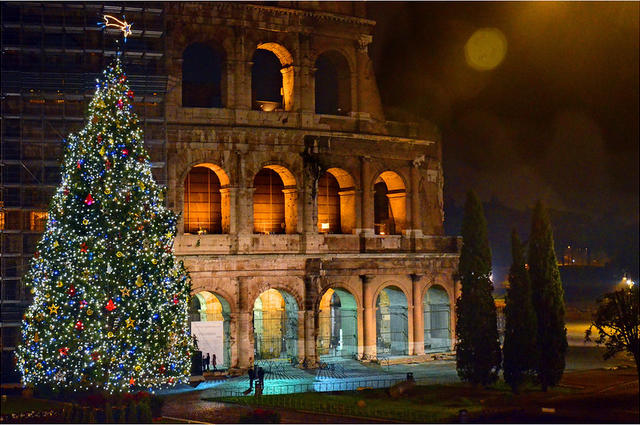 We owe the celebration of New Year's Day on January 1 to the formidable Roman emperor Julius Caesar, who introduced the Julian calendar. Since it is only a few days after Christmas, the city is still in a festive rush, and Christmas markets, exhibitions, and crèches continue their work, to the delight of tourists and locals.
New Year's Eve in Rome can be spent in several ways. The most budget-friendly is a walk through the city until dawn and a glass of champagne at midnight in any bar. The main squares of the city, Navona and Spainia, will be set up as concert venues, where famous Italian singers will perform. You can also spend New Year's Eve in one of the Roman nightclubs, which will cost about 25 euros per person.
Or if you want something fancy, spend the evening in a restaurant with dinner. The cost for a nice New Year's Eve meal will start around 150 euros per person, with music and dancing. Many hotels also offer dinner on New Year's Eve for an additional fee. The main thing to do is to think about your cultural program for these days and purchase tickets and book a hotel in advance, as we wrote earlier.
Store and museum hours during the holidays in Rome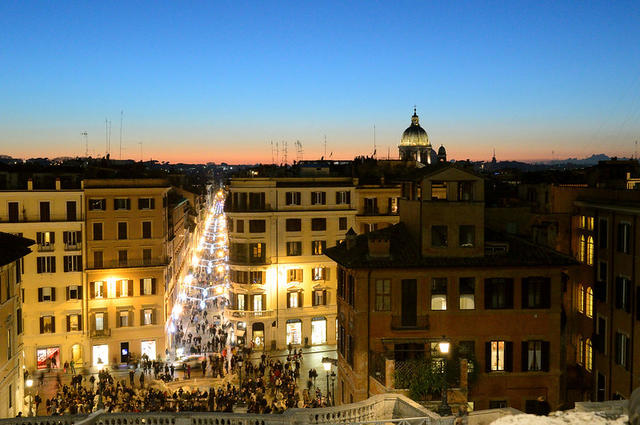 Stores in Rome have a special schedule on Christmas and New Year's Eve.
On December 24 and 31, stores are open according to schedule, without a lunch break, and museums are open until lunch (13.00).
On December 25 and January 1, stores, museums, libraries and exhibition halls are closed.
On December 26, everything is open according to the usual schedule, except the Vatican.
Individual changes are possible.
» See more – Best trade streets and outlets
We wish you a wonderful New Year's vacation in Rome!
https://voyage10.com/wp-content/webpc-passthru.php?src=https://voyage10.com/wp-content/uploads/2021/10/Roma_Il_Colosseo_31_Dicembre_2011_-_panoramio-scaled.jpg&nocache=1
1718
2560
Alina
https://voyage10.com/wp-content/webpc-passthru.php?src=https://voyage10.com/wp-content/uploads/2022/01/voyage10_logo-2-300x95.png&nocache=1
Alina
2021-10-27 19:30:03
2022-12-25 07:54:52
Christmas and New Year in Rome