The top 5 best beaches in Corsica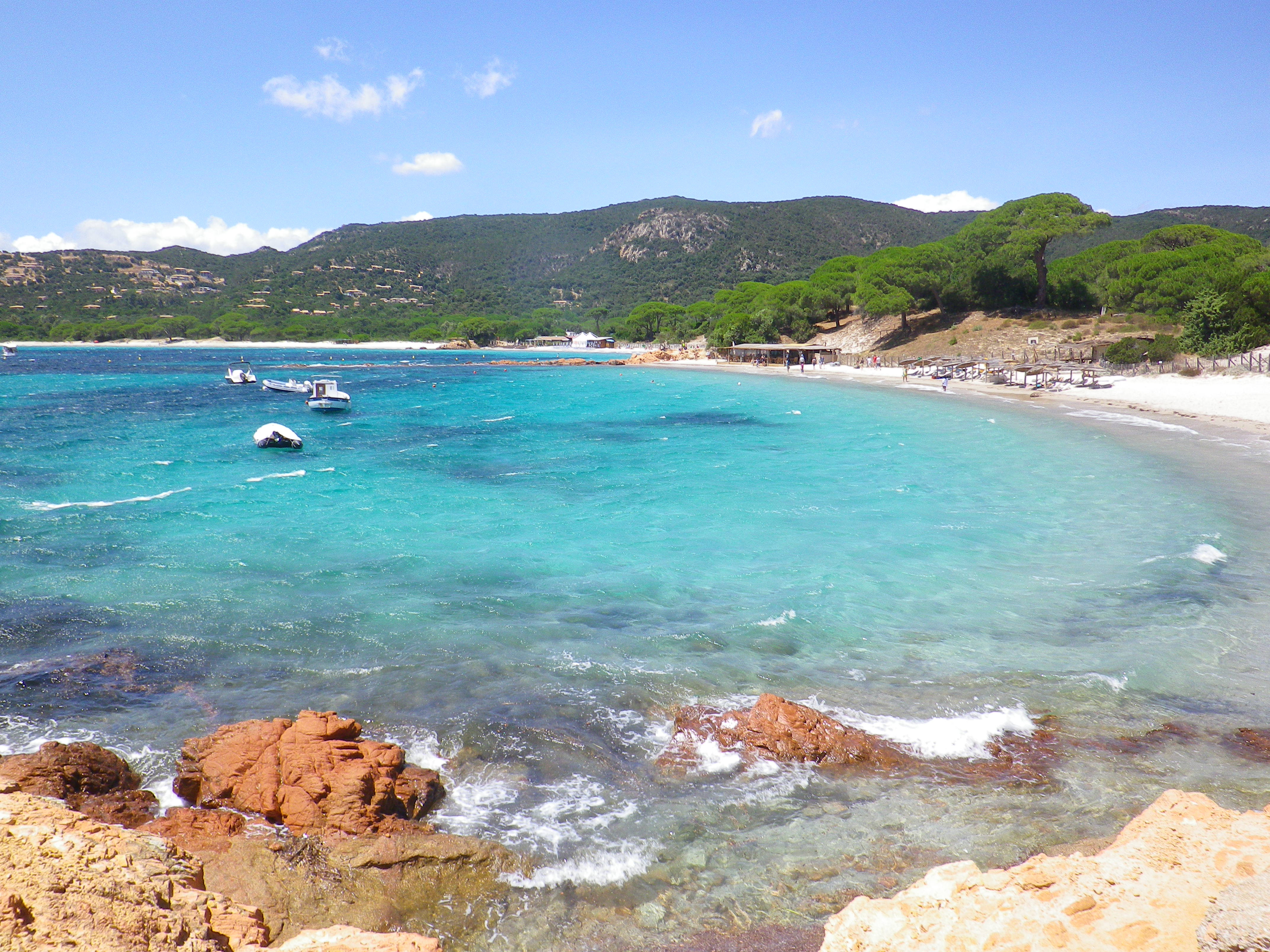 How can you get to the "tropics" from Paris in just an hour and a half? It's easy: fly to Corsica! Sometimes you'll feel like you're in Thailand. The sand is just as white and the waters are turquoise. It isn't as hot — the summers are around 25-35 degrees Celsius. How clean is the water? There isn't a single factory on the whole island. The Corsicans protect their paradise. They say that nature is for everyone, so entrance for even the most luxurious beach is free. You just need to pick one! There are a lot of them, and you can't see them all in one summer. this list of our top 5 Corsican beaches will help you decide.
The most amazingly beautiful beaches are arguably the ones on the south of Corsica, near the cities Propriano, Porto-Vecchio, Ajaccio and Bonifacio. Cap Corse in the north also has beautiful beaches, and really, all of them are great. Buses don't go to most beaches, so your best option will be driving. You can rent a car, hire a tour guide, or go to Nice in your car and take a boat to the island.
Pallombaggia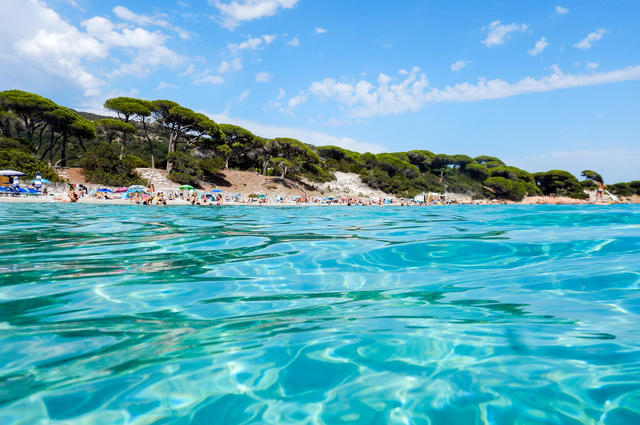 You'll love this place forever! Just imagine a typical picture of the Maldives. The sea is the same surprisingly ravishing color and the sand is very white. The reddish stones coming out of the water complete the picture. You'll be reminded that you're in Corsica by the scent of pine trees that grow nearby. Pallombaggia is always full of tourists in the summer these days, but in the past, only hunters and "adventurous" tourists came here. It's in the Porto-Vecchio commune.
You can find the best hotels by following this link.
Santa Giulia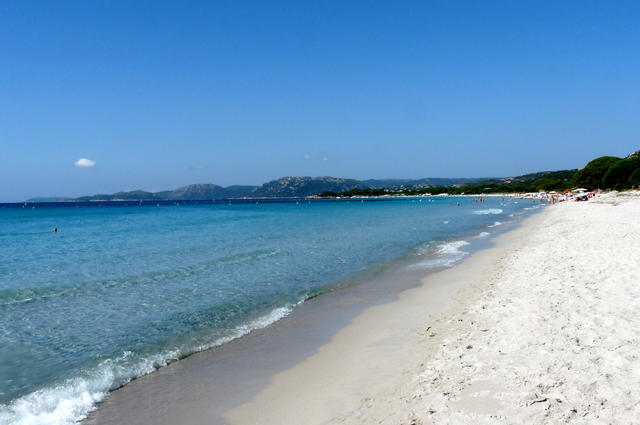 Santa Giulia is another wonderful beach in Porto-Vecchio. There's a two-kilometer white sandy beach 10 minutes from the city, and the Riviera waters draw everyone to them. There are more tourists here than at Pallombaggia, likely because this beach has jet skis, paddleboats, and other similar water sporting goods for rent. There's also a nice restaurant. If you want, you can rent a lounge chair (this service is available at almost every beach).
You can find the best hotels by following this link.
Santa Giulia Bay, Porto-Vecchio: book hotel in
Îles Lavezzi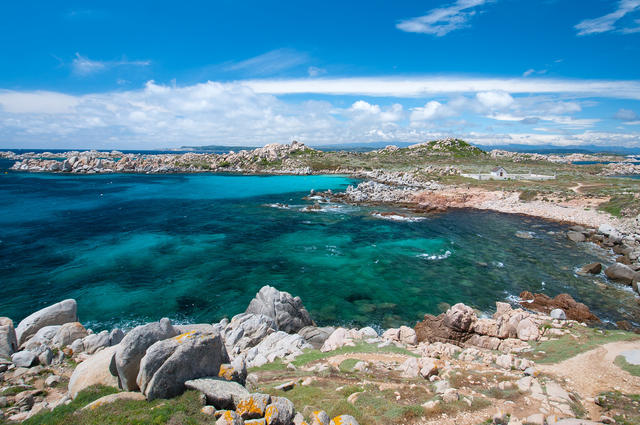 Who hasn't dreamed of being on an uninhabited island for a day as a child? Diving into underwater caves, seeing strangely-shaped red stones (Calanques) and tanning on white sand is a dream that you can bring to life at Îles Lavezzi. The Lavezzi archipelago is made up of several small islands, one of which is Italian, and you can almost touch Sardinia from here. You can only walk around Lavezzi, but you can imagine you're a sailor stranded on a distant island. It's been protected since 1982, but luckily is open to tourists. It's 10 km from Bonifacio. Do you want to spend all day in Lavezzi? A boat ticket costs about 20 euros, with various options for children, students and adults available with various programs. For example, you can go to a grotto during your ride. If you know how to drive a motorboat, you can rent one at the port.
You can find the best hotel options by following this link.
Îles Lavezzi, Bonifacio: book hotel in
Saleccia and Lotu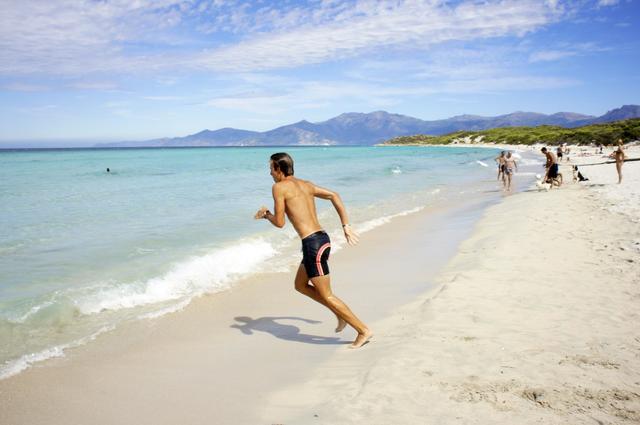 If you love the feeling of being on a remote island, you'll like Saleccia and Lotu. It's not quite an island, so you can get there in an off-road jeep. Would you pick a jeep ride through the Agriat desert to these beaches, or a boat ride? Ferry prices depend on the season and start at 10 euros. You can expect kilometers of snow-white sand and extremely clean water. Shrubs that only grow on Corsica and Sardinia border the area. Their aroma is indescribable, creating a sublime unique fragrance when it mixes with the sea and pine smells. The beaches are 4 km apart. You can walk that distance, take a jeep, or even take a carriage like in the old days.
You can find the best hotels by following this link.
Saleccia Beach, Casta: book hotel in
Algajola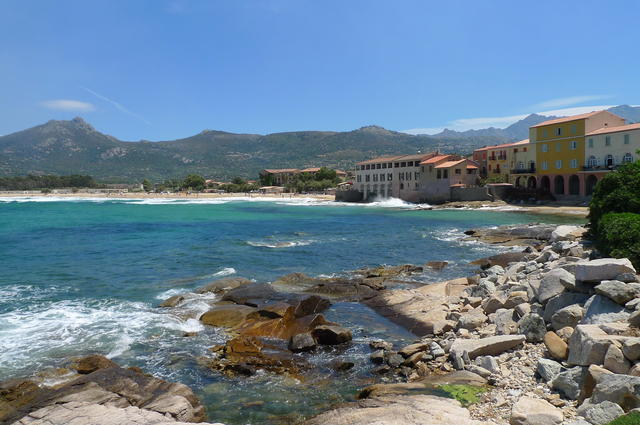 You can enjoy the beautiful color of the water from afar as you relax on the sand or swim in the sea. The beach isn't far from Calvi, so you can walk around the old fortress and go to the beach on the same day.
If you don't have a car, we recommend the glamorous beach Ile Rousse. It also has blue water, soft white sand, and a beautiful view. Buses do go there. You can get to Saint-Florent from Bastia where the water is warm and shallow. People go to Saint-Florent for water sports. It's great to rent a kayak and ride to the other coast, where you can find a destroyed 15-th century tower.
If you flew into Ajaccio, you can find white sandy beaches everywhere. One of the most popular beaches that's good for kids is Mare e Sole (the Corsican name) or Plage d'Argent. There's a pine forest that grows here where you can have a picnic. Isolella beach is nearby. There's a beach bus that runs 3 times a day from Ajaccio's train station. It's a 15-minute drive towards Potriccio.
You can book a hotel room by using this link.
Finally, remember that no matter what beach you choose, there will be clean, clear water everywhere. The "sweet and salty" water's aftertaste will stay in your heart forever.
Have a wonderful vacation!
https://voyage10.com/wp-content/webpc-passthru.php?src=https://voyage10.com/wp-content/uploads/2020/07/Plage_de_Palombaggia_Corse_du_sud.jpg&nocache=1
0
0
Alina
https://voyage10.com/wp-content/webpc-passthru.php?src=https://voyage10.com/wp-content/uploads/2022/01/voyage10_logo-2-300x95.png&nocache=1
Alina
2020-07-21 15:06:05
2022-12-25 08:19:24
The top 5 best beaches in Corsica