The best of Roman food: 10 dishes

People go to Italy to see the amazing architecture and to try the tastiest Italian dishes. If you're going to Rome, you're lucky: roman cuisine is very good. You can use this article as a kind of culinary checklist. We'll tell you what Italian, namely Roman, food to try, what's the best, and what makes them special.
» See more – The best cheap places to eat in Rome
The 10 best dishes to try in Rome
Roman cuisine is generous and original. Romans have always loved delicious food and luckily that tradition hasn't been lost. We recommend that tourists include a culinary tour in their plan along with seeing Rome's tourist sights. It's worth it. Here are some of the dishes you shouldn't miss.
Saltimbocca
Saltimbocca is not a typical schnitzel, but an amazing meat dish with spices. The base is marinated salted and spiced veal. Every layer of the tender meat has a piece of Parma ham on it and 1-2 pieces of sage. It's all pounded together, rolled in flour and cooked in a mix of olive oil and dessert wine, which gives the schnitzel a multi-layered aroma.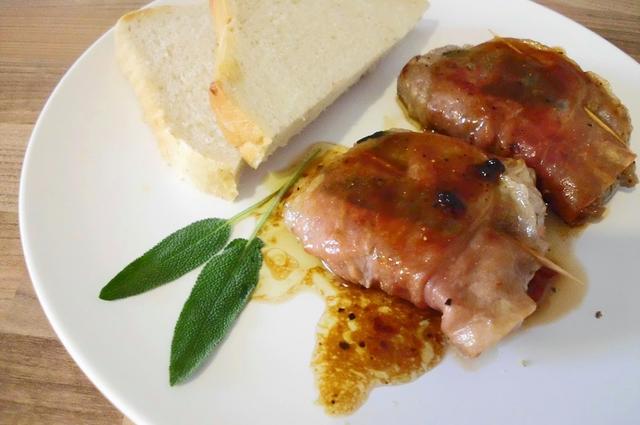 Some chefs roll the meat slices, which makes the dish look even more spectacular. Saltimbocca is served with lettuce, olives, tomatoes, pasta, and polenta (cornmeal). You have to try saltimbocca in Rome. The tender meat goes well with excellent Italian wine.
Bucatini all'amatriciana
This real Italian pasta is something you really need to try in Rome. Bucatini all'amatriciana is a classic Italian dish. It's pork belly stewed with red onion, sweet tomatoes, spices and herbs in wine and is an outstanding addition to delicious Italian macaroni.
The dish is sprinkled with grated parmesan and finely cut basil which provides an amazing aroma and looks beautiful. It's finger lickin' good! This Roman dish can be found in almost any restaurant, and you can make it yourself in one of many master classes with a chef.
Roman artichokes
Not many people know that artichokes are the most Roman dish. In Ancient Rome, artichokes were valued as the strongest vegetable. They started growing artichokes not for the wonderful taste, but as medicine. Artichokes have been used by Roman chefs now for over 5000 years.
Carciofi alla giudia
This Roman dish always surprises tourists who are expecting anything but artichokes!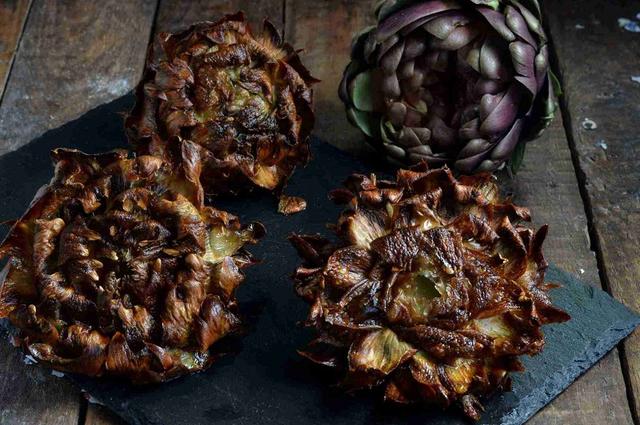 Carciofi alla giudia is Jewish artichokes, and looks like a plate with delightful flowers covered in crunchy bulbs like a morning rose. These delicate vegetables are fried in olive oil and served with lemon and magnificent white bread. Such culinary masterpieces in Roman cuisine are good for lunch and for Instagram pictures.
Carciofi alla romana
Carciofi alla romana is an exotic side and miraculous vegetarian appetizer that you can try in Rome. It's artichokes with parsley, lemon juice, garlic and mint and has an remarkable flavor you'll remember as the taste of Rome. The stewed artichokes don't look as wonderful as fried ones, but are very tasty, especially with white wine.
Abbacchio scottadito
Tourists are often looking for something special and unusual on the menu in Roman restaurants. But sometimes it's worth looking at classic dishes that are made everywhere. For example, we recommend trying Roman meat. Yep, just meat. And we assure you it'll be special! Italians eat a lot of meat in general and are able to use high-quality ingredients and cook them well.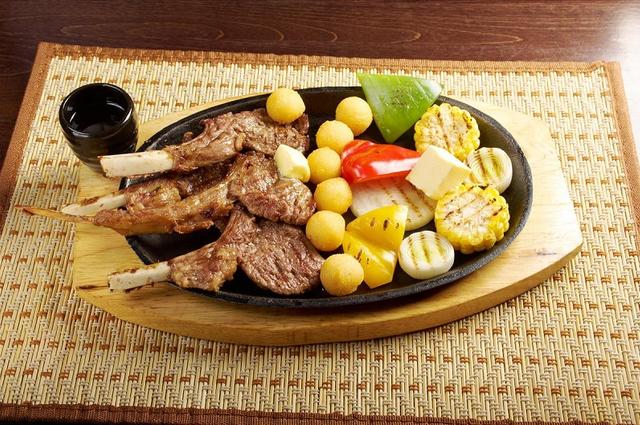 Abbacchio scottadito is lamb meat fried on a rack. The Roman version of this traditional Italian dish is very good. And if you add some red Italian wine to it, you'll have an excellent dinner for sure!
Spaghetti alla carbonara
Who hasn't heard of carbonara? Believe us, you won't order it anymore outside of Italy after you try it in Rome.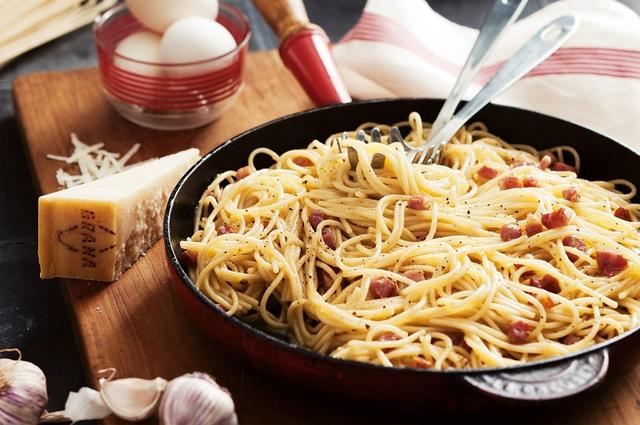 Spaghetti alla carbonara is a simple Italian recipe. It's a filling mix of pasta and pork, 2-3 types of Italian cheeses with an egg sauce on top. This dish was made here in Lazio, the region of Italy that Rome is in. So you just have to this dish while you're in Rome!
Pajata
If you see any dish with pajata sauce on a menu, don't overthink it and just order. This sauce has to be tried in Italy since it's been made here for many centuries and is loved everywhere.
Pajata is a thick, filling sauce made from veal intestines and pecorino cheese. It's often served with large rigatoni pasta. So you have to try rigatoni while you're in Rome too.
Coda alla vaccinara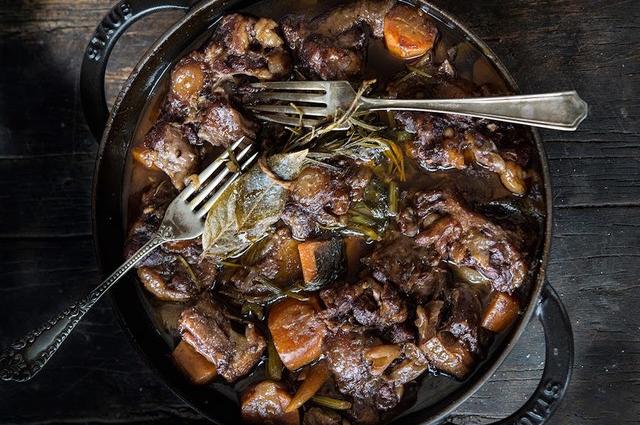 Looking for something unusual to try? This is what you've been waiting for. Coda alla vaccinara is stewed beef tails with tomato sauce and spices, onion, garlic, white wine, olive oil, and, chocolate!
Coda alla vaccinara is an authentic Roman dish and one that went from the table of the poor to the rich and has remained popular.
Gnocchi alla romana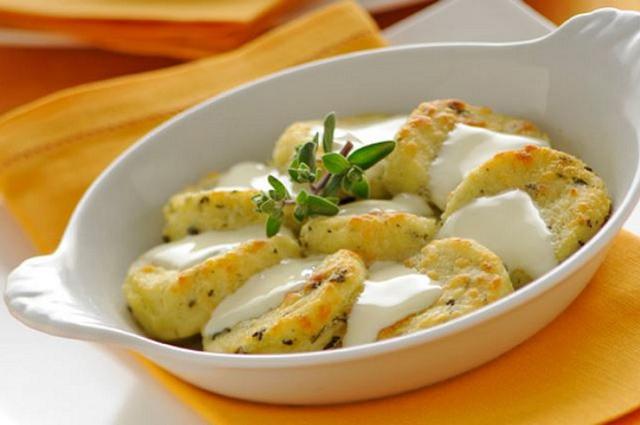 Gnocchi alla romana is another dish for vegetarians. These bite-sized potato dumplings are served with cheese and a bechamel sauce. The soft nutmeg-scented gnocchi that's drenched with cream, butter, and cheese can be eaten as a side or an appetizer with wine.
Cacio e pepe
Cacio e pepe is another pasta dish (how could you avoid them in Italy?!) and this classic Roman pasta is very simple: just sheep's cheese and pepper. It's spicy, aromatic and minimalistic. It's jokingly called the pasta of unfaithful wives who don't have time to make anything elegant after their dates. Don't miss out on a chance to try this simple dish. Thanks to the cheese, it's quite good.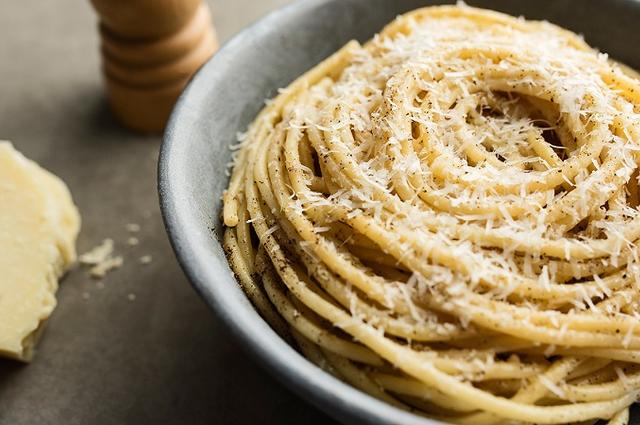 In general, Rome has many good restaurants and small cafes lost in the labyrinth of old streets in the city squares. You can eat in the open air near beautiful fountains. Look into Italian pizzerias, try traditional gelato, wine and coffee with a dessert that you like! 
https://voyage10.com/wp-content/webpc-passthru.php?src=https://voyage10.com/wp-content/uploads/2021/04/Espaguetis_carbonara.jpg&nocache=1
1365
2048
Alina
https://voyage10.com/wp-content/webpc-passthru.php?src=https://voyage10.com/wp-content/uploads/2022/01/voyage10_logo-2-300x95.png&nocache=1
Alina
2020-05-25 16:55:24
2022-12-24 17:15:09
The best of Roman food: 10 dishes