10 affordable places to eat in Paris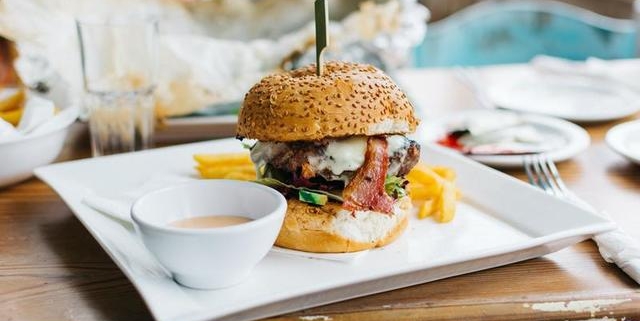 Paris is an expensive city. Not every tourist can afford eating breakfast, lunch, and dinner every day in restaurants. Here are 10 places where you can eat quickly and cheaply. Don't let a limited budget keep you from enjoying this beautiful city.
Cheap French cuisine
If you want real French food that's not too expensive, then look no further than Bouillon. There's one on Montmartre, and on Montparnasse, but the most famous one is Bouillon Chartier. It's been working for over 100 years and has a very historic atmosphere.
Be aware that it's more of a cafeteria than a restaurant. You'll sit with someone at a table and the waiters will be quick, but not exceptionally friendly. The portions are small, but the prices are good. You can try snails, rooster in wine and many other very French dishes. A bottle of wine will cost 13-15 Euros. You won't find another place with such a good cost to quality value.
One way they keep prices down is that you can't reserve a table here. You'll have to stand in line, and it can sometimes can take an hour.
Latin Quarter
This neighborhood is around Saint Michel fountain. Did you get hungry while walking around Notre-Dame? Go to the left bank of the Seine, then to the left of the fountain or the right of Notre-Dame. You'll end up in the area with the cheapest tourist restaurants in Paris. Here you can try real French food for, let's say, 10 Euros.
But it's true that it won't be really real for this money. We recommend being on guard and picking a menu that's a bit more expensive, and don't hope to meet a French chef. Once more, be very careful! Here they might try to sell you water, which should be free if it's in a pitcher, or they may recommend microscopic portions.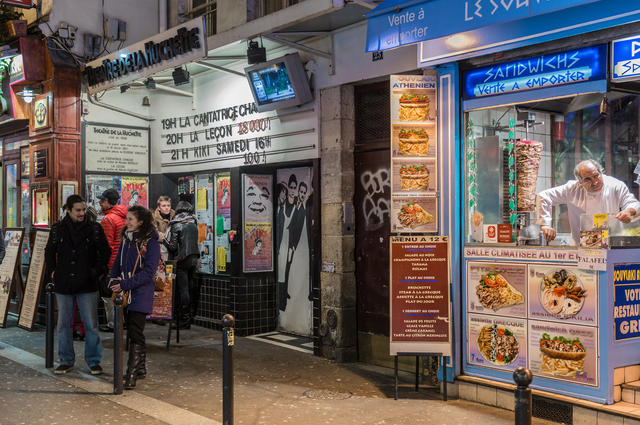 Montmartre
The whole hill of Montmartre is covered in various cafes, bars, and restaurants. There are many more touristy restaurants closer to Tertre Square, like on San Michael. They may be inexpensive, but they're not always tasty. You'll also find expensive restaurants that have their own history from when they were a dive bar where impressionists hung out.
On the hill's slopes you'll find an abundance of French cafes and bars, Italian pizzerias and restaurants with foreign food. All you have to do is turn from the metro and go down the hill. Just don't go up to Sacre-Coeur.
Restaurant Flunch
Near Pompidou Center just two steps from metro station Rambuteau (line 11) there's a fast food restaurant called Flunch (the address is 21 rue de Beaubourg). You can get a steak and salad at the same prices as food in McDonalds.
Just be careful: the restaurant has an unusual system. First you'll pick your food, then pay at the cashier. You can pick as many sides as you want in the dining room after you pay. But before you get to the sides, it's easy to accidentally pick up extras like a salad or dessert along with your meal, coffee and bread because it won't look like enough without your side.
There's also a Flunch on Montmartre at 1-3 rue Caulaincourt.
Crepes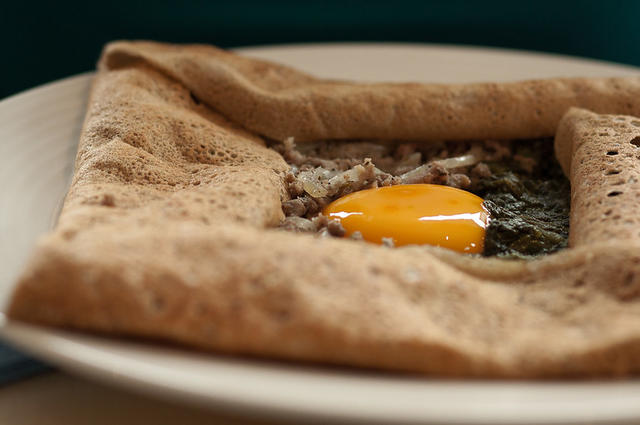 At the exit from Tuileries you'll see crepe stands. You can eat them with various sweet or salty additions like sugar, chocolate and jam or cheese, chicken and eggs, for example. In general, there are many crepe stands all over Paris. Pick whichever you want.
Grocery stores
Near the Eiffel Tower there's nothing to eat except for crepes and waffles. Another food option is to go to the Champs de Mars, turn left and you'll find several grocery stores (like Carrefour City).
You can buy a baguette, French ham and cheese, a bottle of wine or beer and go back to the Champs de Mars and eat on the grass. A picnic with a view of the Eiffel Tower: what could be better?
McDonalds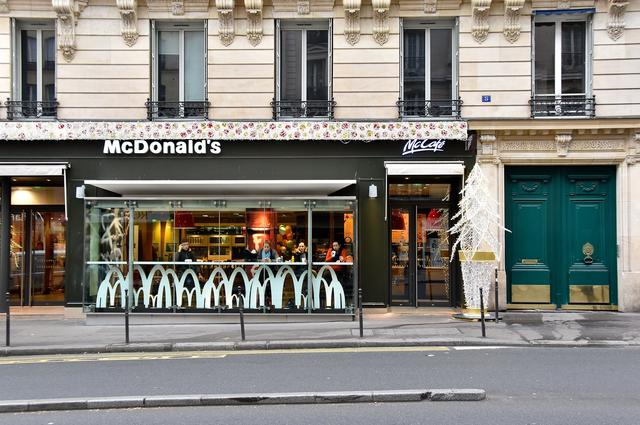 There's a McDonalds on Champes Elysees. Don't laugh. In reality, Champes Elysees is the most popular tourist place in Paris where you can find the most expensive shops. The price for a square centimeter of anything will make you sick. The cost of food is quite high. For example, a cup of coffee could cost you 40 Euros!
So you'll at least know how much you'll be spending on food in chain cafes like McDonalds and Quik. There's also a McDonalds near the Louvre, in the Louvre, in the Latin quarter and elsewhere.
La Bastille
The Bastille isn't just a former royal fortress or a modern opera theater. The Bastille is where Paris's nightlife is! There's an unbelievable number of discotheques, bars, and cafes where you can eat, drink, and enjoy life.
Place de la Bastille: book hotel in
Shawarma and falafel in Paris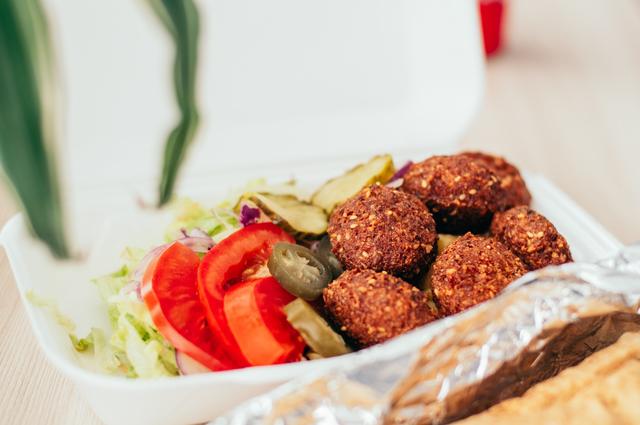 Parisian kebabs are made with flatbread, filled with cut meat, vegetables and sauces. You can also add French fries to it. In the end, you'll get fairly tasty, filling and absolutely inexpensive food that you can eat quickly while sitting on the stairs of Garnier Theatre. There are kebabs everywhere in the city, for example, near Place de la Republique or near Saint Michel.
Another real Parisian experience is falafel in the Jewish quarter. Marai has had a Jewish community for several centuries, and there's a pair of streets (the main one is rue Rosiers) that sell flatbread with chickpeas and vegetables. It's quite good, inexpensive and authentic. You should definitely try Parisian falafel on your trip.
Sushi and Chinese cuisine
Parisians look at these foods as a quick and inexpensive office lunch. The standard menu is made of soup, salad, rice and a set of sushi and poppy seeds. It's enough to fill you up all day! Like kebabs, sushi and Chinese cafes are all throughout the city, like on Rue de Rivoli and near Saint Michel and Defense.
Sandwiches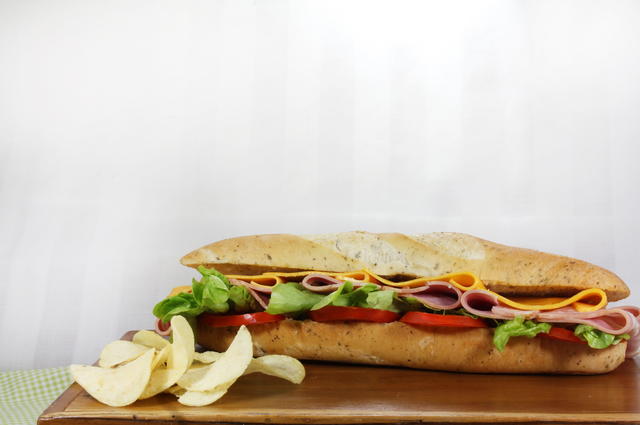 Finally, you can try real French sandwiches! Go into any bakery and buy a huge baguette sandwich with Parisian ham, tomatoes and cheese. If you add a cup of coffee, then you'll have the standard lunch of French Sorbonne students. It tastes especially good eaten as a picnic!
Top tip
Of course, you shouldn't take these tips as a gastronomic guide. Nevertheless, they will help you get through a few hours or even days. But you can be craftier.
If you want to eat on a budget and are willing to spend some time on theoretical preparation, visit Les Petites Tables. It's in French, but it's generally intuitive, and you can use an automatic Google translator.
Les Petites Tables was created by two gourmet friends. They collect on their resource eateries and restaurants, where you can really have a good meal for less than 10 euros. The main advantage is that you can find small, family-run French restaurants with low prices and eat normal food, not fast food.
If you're on a limited budget, these tips may help you survive a few hours or even days! There's lots of wonderful food available throughout Paris at affordable prices if you know where to look.
Bon appetite!
https://voyage10.com/wp-content/webpc-passthru.php?src=https://voyage10.com/wp-content/uploads/2021/07/jakub-kapusnak-4hgYULBzVEE-unsplash.jpg&nocache=1
425
640
Alina
https://voyage10.com/wp-content/webpc-passthru.php?src=https://voyage10.com/wp-content/uploads/2022/01/voyage10_logo-2-300x95.png&nocache=1
Alina
2020-01-30 16:37:51
2022-08-25 09:48:04
10 affordable places to eat in Paris