The 10 best cafes in Paris to relax with a coffee
The terraces of Paris's cafes and their small tables all right next to each other have become the calling card of the city. People don't just go to these cafes to drink coffee, but also to relax, chat with friends, people watch and sometimes work. If you're going to Paris, especially if it's your first time, you have to go to at least one cafe, sit on the terrace, order a strong espresso and enjoy the atmosphere of the city.
Are you having trouble picking one? We've made a list of the 10 best cafes just for you.
Some advice before we get to the list: if you just want to drink coffee and not sit around in the cafe, order it to go (a emporter) and the price will be 15-20% lower.
Au Vieux Paris d'Arcole
Every year, the Internet is filled with pictures of the front of Au Vieux Paris d'Arcole. Blossoming wisteria flowers have covered the walls since 1946. This old building is located on Cite island, and it was famously the home of Notre Dame's main priest for over 200 years, from 1512 until 1723, when the building became a restaurant. You can have lunch or dinner here, but most people come to have a cup of coffee or glass of wine and take a picture outside.
The address is 24 Rue Chanoinesse.
Espresso costs 3 Euros. Desserts cost 10 to 13 Euros.
Their site is https://restaurantauvieuxparis.fr/en
Shakespeare & Company Cafe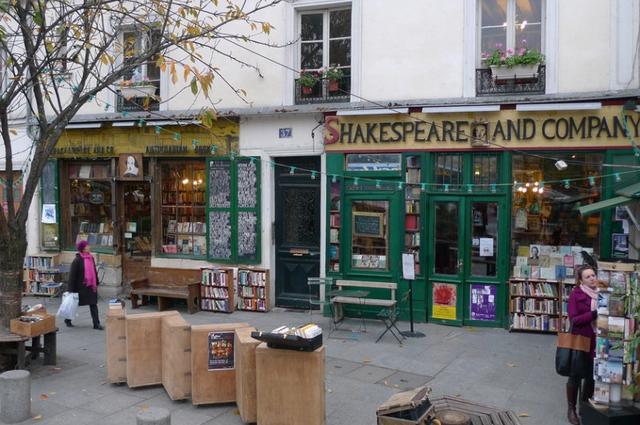 The Shakespeare & Company cafe is right next to the famous bookstore of the same name. If you've dreamed of going to Sylvia Beach's shop from Hemingway's "A Moveable Feast" unfortunately you're a bit late. It closed in 1940, but a "new" establishment opened in 1951 and it's just as good as its predecessor. The Shakespeare & Company cafe is very clean, bright and cozy, and usually quite crowded. It's a very relaxed place and you might find sleeping cats among the bookshelves. The staff speak English quite well and will make you coffee with soy or almond milk if needed. And one of the biggest benefits of the Shakespeare & Company cafe is the view of Notre Dame.
The address is 37 Rue de la Bucherie.
A cappuccino with almond milk costs 5 Euros.
Their site is https://shakespeareandcompany.com/51/shakespeare-and-company/463/the-cafe
Cafe de Flore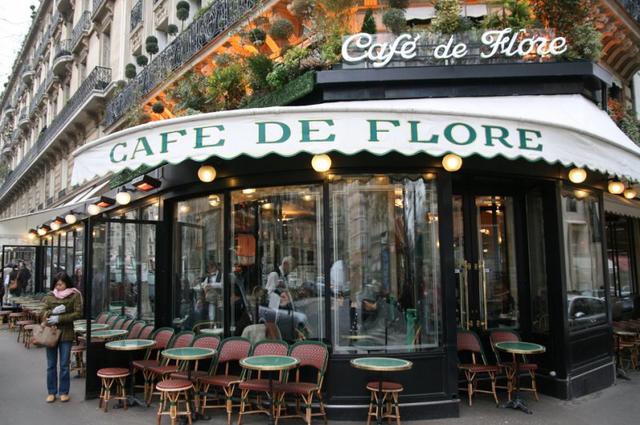 Cafe de Flore is at the corner of Saint-Benoir street and Saint-Germain boulevard and gained some cult popularity thanks to the patronage of Hemmingway, Camus, Picasso, Capote and many other intelligent people. The rich history of the place explains the slightly higher prices, but it's worth noting that despite the crowds, Cafe de Flore has very fast and polite servers, the croissants are always fresh, there's an excellent choice of desserts and a wide variety of egg dishes (it's their specialty).
The address is 172 Boulevard Saint Germain.
An espresso costs 4.60 Euros, hot chocolate 7, tea 6.50, onion soup is 13 Euros and a Caesar salad is 19.
Their site is https://cafedeflore.fr
Cafe Les Deux Magots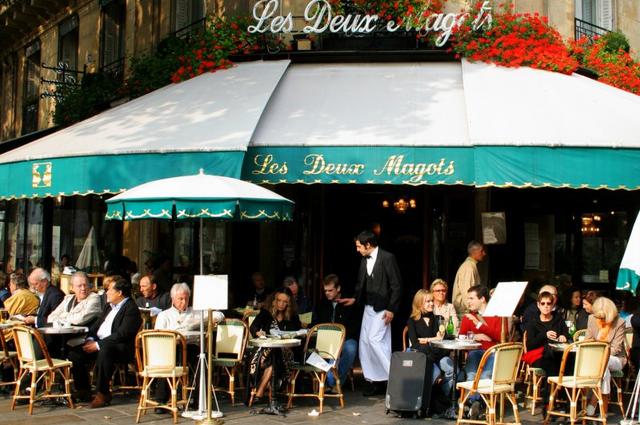 Another place with a cult following on Saint-Germain boulevard is the cafe "des magots" or "two monkeys" if you translate it. The same group of famous writers and artists frequented this cafe as well, and it's been in movies and TV shows and is a tourist place, so the prices are a bit higher. There's often live jazz, and the waitstaff wears black jackets, white button-down shirts and red bowties just like 100 years ago, so if you like that kind of atmosphere, it's worth a visit.
The address is 6 Place Saint-Germain des Pres.
Breakfast costs 12-26 Euros, an espresso is 4.70, a latte is 5.80 and a cappuccino is 5.80 Euros.
Their site is http://www.lesdeuxmagots.fr/en/
Cafe des Deux Moulins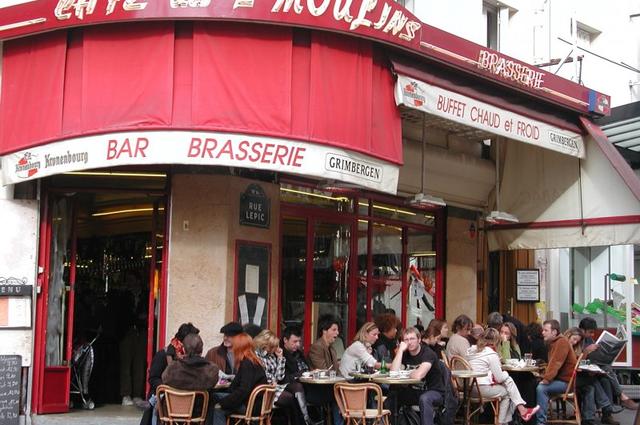 If you love the movie "Amelie" then you should check out the Cafe des Deux Moulins (two mills) on Montmartre. It's just like in the movie and you'll run into other fans of Audrey Tautou. The service is very quick and polite, and the staff speaks English.
The address is 15 Rue Lepic.
Breakfast costs 12 Euros, dessert is 7.50, an espresso is 2.4 and hot chocolate is 4.50.
Their site is https://cafedesdeuxmoulins.fr/en
Salon de The de la Mosquee de Paris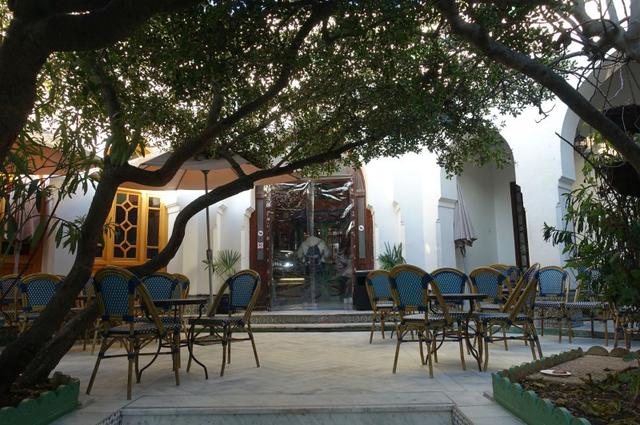 If you like mint tea and eastern sweets, you have to go to the tea parlor near the grand mosque of Paris in the 5th district, not far from the Garden of the Plants. They're open every day from 10 'til 11:30. Before visiting, find 2 Euros in coins because that's how much tea or a sweet costs and you should pay upfront. They also provide hookahs. You can sit under a tree in the garden no matter the weather if you like, but be aware that there are lots of small birds that may try to steal your dessert.
The address is 2 Bis Place du Puits de l'Ermite.
Mint tea costs 2 Euros.
L'Entracte Opera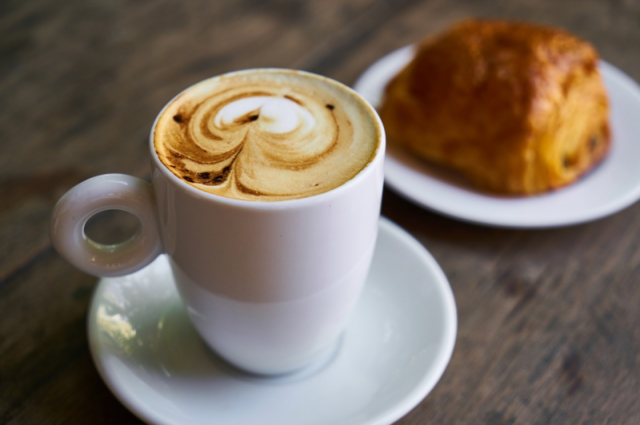 This cafe is named after its location, across from the Opera Garnier. It has a wonderful view of the theater from its second floor. The prices are average for Paris, but the food is wonderful. It's always crowded here, and you should reserve a table on days when there's a play at the theater. If you want to enjoy the view and not waste a lot of money, order a cafe gourmand and you'll be given an espresso and a few small sweets.
The address is 1 Rue Auber.
Coffee costs 3-5 Euros, and a cafe gourmand is 9.
Their site is https://entracte-opera.fr/en
Creperie Chez Suzette Grand Boulevards
Crepes are as popular in France as waffles are in Belgium, so if you're in Paris, don't just go to local bakeries for baguettes and croissants, but go to creperies for fresh crepes too. This cafe has the best ones. The staff is very friendly, but they only speak French, so don't be shy about indicating what you want.
The address is 23 Boulevard Poissonniere.
Crepes cost 3-5 Euros, coffee is 2-5 and a milkshake is 6.
Their site is https://creperiechezsuzettegb.business.site/
Boot cafe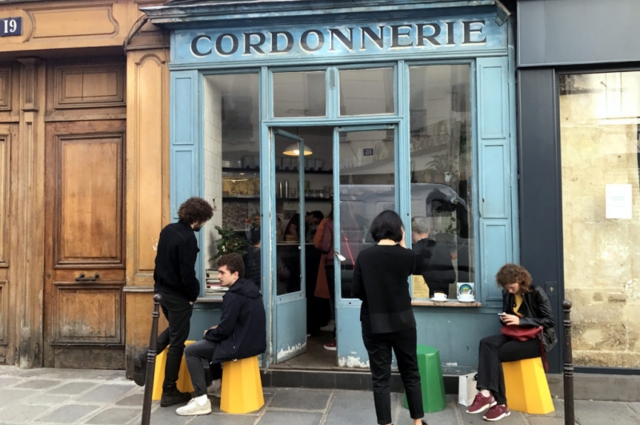 For the last three years Boot cafe has been one of the most popular hipster cafes in Paris. It's an Instagram-friendly place. There are magazines everywhere, the walls are covered in collages of pictures and posters, and the flowers are in tall glasses instead of vases. But the biggest plus to this place isn't the fashionable, relaxed interior but the excellent coffee. Boot cafe is one of a few places in France where they not only know what a Chemex is but are ready to talk about it. Note that they only accept cash.
The address is 19 Rue du Pont aux Choux & 26 Rue des Grands Augustins.
Coffee costs 2.5 (for an espresso) to 6 Euros (for Chemex), and a pie or cookie is 3.5 Euros.
Their site is https://www.instagram.com/bootcafe/
Paul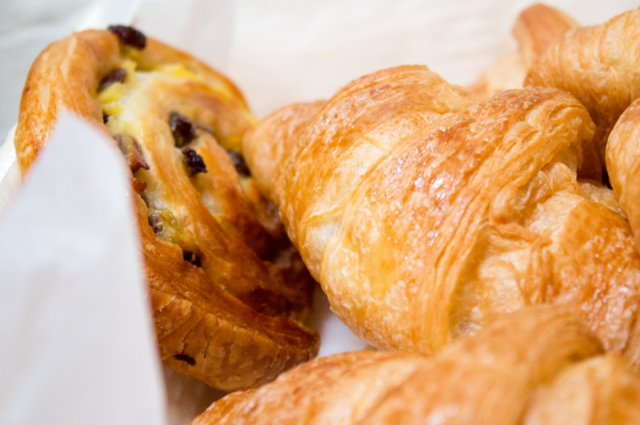 This bakery-restaurant chain is famous far beyond France. In any Paul cafe you can expect a very wide array of baked goods like croissants, macaroons, eclairs, Paris-Brest, dozens of types of bread and fresh sandwiches as well as hot tea and coffee.
In our opinion, all Paul cafes are great, so pick the one that's most convenient for you. The cafe at 77 Rue de Seine always has polite service.
Coffee costs 2-4 Euros and baked goods from 1.50 to 6.
Their site is https://www.paul.fr/en/
Which Paris cafe interests you the most? Is your favorite cafe on our list? Tell us in the comments!
Have a nice visit to Paris's cafes!
https://voyage10.com/wp-content/webpc-passthru.php?src=https://voyage10.com/wp-content/uploads/2021/04/Deux_Magots.jpg&nocache=1
1384
2000
Alina
https://voyage10.com/wp-content/webpc-passthru.php?src=https://voyage10.com/wp-content/uploads/2022/01/voyage10_logo-2-300x95.png&nocache=1
Alina
2020-02-25 18:52:50
2022-11-17 15:20:21
The 10 best cafes in Paris to relax with a coffee