All About Parking in Milan

Moving around the suburbs of Milan by car is convenient if you have a place to stay in the countryside, or planning a trip to the lake, and a must if you have small children or elderly relatives on the trip.
You can rent a car from a website and drive it right from the airport.
Parking in Milan is a rather complicated issue, as well as in all of Italy. We advise you to weigh all the pros and cons. Free parking is scarce, paid parking is expensive, and they are sometimes difficult to find. But the reservation service is now available online.
In most cases, it is more convenient to move around the city by public transport or cab. If you cannot do without a car, get ready to walk or take a streetcar from the parking lot to the city center.
» See more – all about bus, streetcar, and metro tickets
Types of parking lots
The color markings for parking are your guides, which are white, yellow, and blue.
White indicates free parking spaces, and yellow is for residents and the disabled. Also, under the signs, they have the number of zones in Milan for which they permit residents to park.
In case of non-compliance with the rules, they can impound your car and charge a fine up to 90 €.
The paid parking has a white letter "P" on a blue background. Also, a sign indicates what time you can pay for the parking.
Usually, it is from 8 a.m. to 7 p.m., at other times,, parking is free. The cost per hour is also on the sign.
Parking rates and zones
The cost of an hour of parking depends on the area of Milan – the closer to the city center, the more expensive it is (up to 3 € per hour).
You can pay for the service in special vending machines. After payment, place the ticket on the windshield on the driver's side. Do not forget to turn the cardboard clock to the time you began parking.
You can also buy a "Sosta Milano" parking card at one of the Tabacchi stores, on which you should put the time of arrival in the parking lot.
The cost of parking in the center of Milan (Area C):
From 8:00am to 7:00pm – 2 € per hour for the first 2 hours, after that – 3 € for each following hour.
From 7:00pm to 8:00am, 2€ per hour for the first 2 hours, after that, it id free.
Entrance to Zone C also must be paid because it is a restricted traffic area (ZonaTraffico Limitato – ZTL). There is a fee is charged from 7:30am to 7:30pm (Monday, Tuesday, Wednesday, and Friday) and to 6:00 on Thursday.
Entry to the ZTL area is free on Saturday and Sunday.
You can buy entry tickets to "Area C" at the Tabacchi stores and parking machines. The cost is 5 € for one day (valid until midnight), 15 € for one day (valid after midnight), 30 € or 60 € for multiple tickets that they will automatically deduct.
The cost of parking outside the center of Milan:
From 8:00am to 7:00pm – 1.20 € per hour in the Corona Filoviaria area. In the Extra Filoviaria, Agee ospedaliere area, 0,80 € per hour. Ambito San Siro 1,20 € per hour and 7 € for the whole day.
From 7pm to 8am – free.
Parking Park & Ride
Milan has a transportation service system, Rark&Ride, which allows you to leave your car.
The "temporary storage" is relatively inexpensive: the first 4 hours are 1 €, a day is 2 €, a week is 6.20 €. Often this amount includes travel on all forms of public transport.
From each Park&Ride station, you can get to the historic center of Milan by metro, streetcar, or bus. It is also easy to walk and see the city at the same time.
» See more – Popular brands and shopping in Italy
Covered parking lots
Covered parking lots are open 24 hours a day and are more expensive:
Daytime from 8:00am to 9:00pm – 2.90 € per hour.
At night, from 9:00pm to 8:00am, €1.90 per hour.
A day is 31,20 €.
A week costs €130.
In the center of Milan, there are several covered parking lots: Meravigli, Augusto, Velasa, Diaz, and Rinascente.
Car impound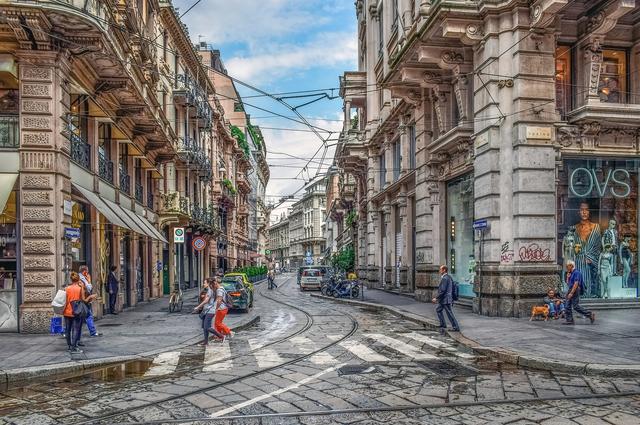 Parking in the wrong place in Milan is forbidden. Authorities will impound any cars found in unauthorized areas.
To get your car back, you must pay a fine and go to the lot to pick it up. You can contact the Lost and Found office by phone +39.02.77270280 or in Via Beccaria, 19.
Advice from an experienced tourist
The best thing for you is to find a hotel with parking for guests. There is no point in driving in the center of Milan: the distances are short and walking allows you to experience the atmosphere of the city.
Enjoy the experience!
https://voyage10.com/wp-content/webpc-passthru.php?src=https://voyage10.com/wp-content/uploads/2021/12/italy-g3b762c8bd_1920-1.jpg&nocache=1
1371
1920
Alina
https://voyage10.com/wp-content/webpc-passthru.php?src=https://voyage10.com/wp-content/uploads/2022/01/voyage10_logo-2-300x95.png&nocache=1
Alina
2021-12-20 19:12:21
2022-12-25 08:00:52
All About Parking in Milan