There are several fares for getting around Milan by public transport. In Italy, the ticket system is unified – you can ride any form of public transport with a single ticket.
You can stay at a hotel near the subway and see the sights. Also, the intracity trains routes are underground. Streetcars and trolleybuses can travel between neighborhoods, where you can admire the city in passing. Buses are suitable for those who stay at a hotel far from the subway.
There are also electric trains that run every 30 minutes between Milan and Lombardy. To use them, you need tickets for the suburban areas.
Attention! You can buy the tickets in vending machines and ticket offices at the entrance to the metro, as well as in kiosks – newsstands, and tobacco shops. Machines accept cash and cards.
Before you use it, place the ticket to the validator or punch it out. If it has a magnetic stripe, put it to the reader each time you change. Often, they check tickets at the exits, so keep them until the end of your trip. We do not recommend riding as a stowaway since you can receive a fine of up to 100 euros.
» See more – Popular brands and shopping in Italy
Types of tickets for traveling in Milan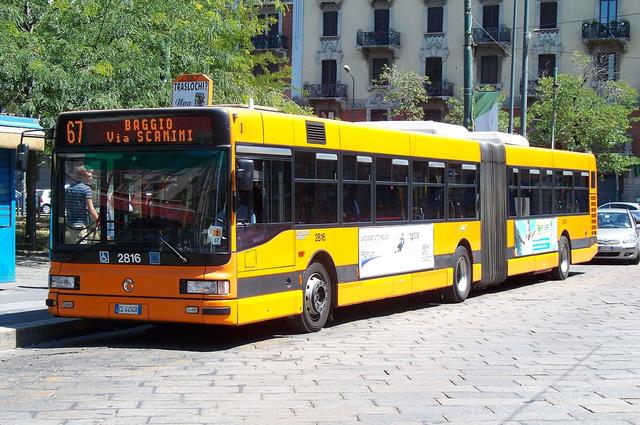 The most common city ticket (Biglietto Urbano) costs €1.50 and is valid for 90 minutes after you punch it. During this time you can use the ticket for Milan's streetcars, trolleybuses, and buses, but you can enter the metro only once.
By the way, it is convenient to pay for these tickets via SMS. Send the text "ATM" to the number 48444; it will allow you to pay for a single trip on the subway for 1.50 euros. You can also buy an international SIM card.
A 4-trip ticket (Biglietto integrato per 4 viaggi) costs €6.00 and equals four trips of 90 minutes each.
A 10-ride ticket (Carnet 10 viaggi) costs €13.80 and is the equivalent of ten rides of 90 minutes. The conditions are the same as in the city ticket.
Evening ticket (Biglietto serale) – valid from 8pm until the end of the journey.
One-day ticket (Biglietto giornaliero) – costs €4.50 and can be used up to 24 hours for all forms of public transport, including the train.
two-day ticket (Biglietto bigiornaliero) – €8.25, valid for 48 hours, and the conditions of use are similar to the one-day ticket.
Weekly 2×6 ticket (Settimanale 2×6) – costs €10. With this type of pass, you can make two trips of 90 minutes a day. Each trip is equal to one trip on the Milan subway or train. On other modes of transport, travel is not limited. If two trips remain unused, you can use them on Sunday.
You can also ride around Milan on a bicycle or motorcycle.
Baggage ticket (applies to people who have more than one piece of luggage or large items of luggage) – cost €1.50, valid also – 90 minutes from the time of receiving it.
If you go to Milan with large luggage, it is better to order a transfer from the airport.
Three types of travel cards – plastic cards in Milan
You can buy a plastic card, called a RicaricaMi, that is valid for four years from the date of purchase. The cost is €2.50. After you purchase it, it will become programmed with one standard ticket. After that, you can add several variants of the above tickets to the travel card. The card does not have a photo or name on it.
The second type – a plastic card with a photo. It is also valid four years from the date of purchase. An ATM office can fill it out, and you must have documents (passport). The cost of an empty card is €10. You can recharge the card using the following payment methods:
A weekly ticket costs €11.30. It is valid from Monday to Sunday and has an unlimited number of rides per week.
A monthly ticket costs €30, with unlimited rides during the month.
An annual ticket costs €300, with an unlimited number of trips during the year.
If you are a student, it is cheaper to buy a travel card with your personal number and photo at ATM POINT kiosks, where you can have it made within fifteen days. Student card fees:
Annual is 200 euros, and allows unlimited travel for one year.
Monthly for full-time students, costs 22 euros and allows unlimited rides for a month.
The monthly card for evening students costs 11 euros and is valid from Monday to Friday between 5:00 and 8:30 and 9:00 until the end of public transport, on Saturday between 1:00 and 8:00, but you can not use it on Sunday!
You must activate your card strictly at the beginning of the school year. If your card is stolen or lost, go to any ATM with your identification document. If someone steals the card, you should file a complaint, and if it is lost, you fill out a special application form. In both cases, the issuance of a duplicate will cost €15.