Amsterdam's neighborhoods: where's the best place for tourists to stay?

Max van den Oetelaar / Unsplash
Much of the value of being in Amsterdam is determined by where you stay. Even this prosperous and friendly city has areas where tourists shouldn't go unless they want to ruin their impression of the city and fall into an unpleasant situation. The main thing to avoid is staying in the red-light district too late, we've written about the other places to avoid in a separate article.
Which Amsterdam neighborhood is the best to stay in? That depends on your preferences and budget, so we'll give you the details of the different neighborhoods so you can decide. Also remember that we have an excellent tour of Amsterdam where you'll see and learn much about the city in just two hours. Download it here.
The center of Amsterdam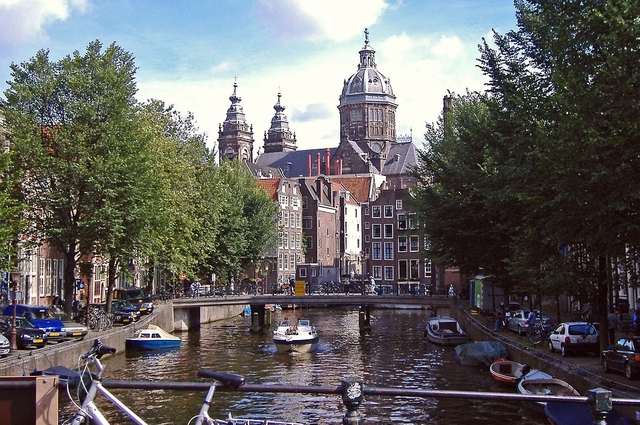 Amsterdam is made of 7 regions: Centre, Nord, Zuid-Ost, Zuid, Ost, Nieuw-West, West. Of course, the most interesting one for tourists is the central region that's logically named Centre, since it's where most of the popular tourist destinations are located. It's where Amsterdam's Central Station is, and you can easily get to the airport from there.
If you're going to Amsterdam for just a few days and your goal is to see the main tourist sights in the city, then pick a hotel close to the station. By staying near Dam square and the red-light street, you're within walking distance of the Royal Palace, the Tussauds museum and many shops and malls. But keep in mind that it's the noisiest part of the city, and it'll be loud even at night.
You can find hotels in this region by using this link.
Book a hotel in Amsterdam City Centre
Red light street (De Wallen region)
The red-light street is the cheapest area in the city to stay in. It has small, comparatively cheap hotels and many hostels. But you'll have to pay for nightly comfort. People walk around until 5 or 6 am, and your windows might be right above a coffeeshop or public house. But this area is often filled with youth, so the prices are 2 or 3 times lower than in similar ones just two districts away. If this sounds good to you, then here you can see some of the cheapest hotels and hostels in Amsterdam.
» See more – what you need to know
It's worth mentioning that you can stay nearby, but it's not worth staying in a hotel on the red-light street. Unless, of course, you want a particular impression while visiting Amsterdam.
We also have a special night tour of Amsterdam for you where you can see all its sins and passions. Download it here or look at special tours below.
Amsterdam's quiet center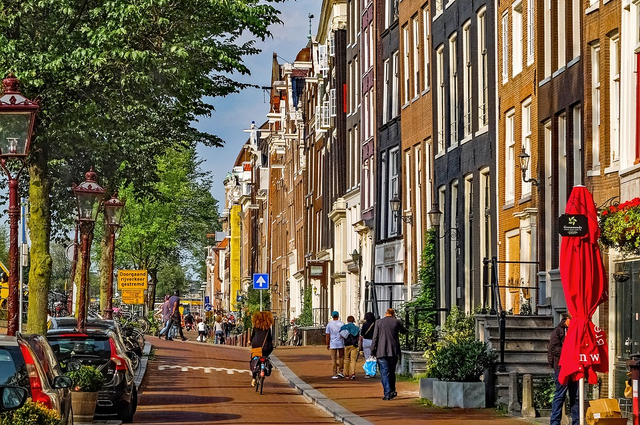 If a trip to Amsterdam for you means walking around the small, narrow streets by the canals and enjoying the historic buildings, then you should stay in one of the city's oldest areas. The Jordaan district runs along the old canals, and the Grachtengordel district and the Jewish quarter are to the west of the Central Station. The Plantage district is to the east. All these districts are in the city center and each is famous for its tourist sights, but they are more peaceful and respectable than the areas near the station and Dam square. While walking around the old streets you will find many interesting shops, and cozy cafes and restaurants.
Another indisputable positive of these central districts is the proximity to the train station (1-3 trolley stops) where trains and planes arrive. The downside is that you'll pay for all these conveniences. This is the most expensive area to stay in and the average price starts at 150 Euros a night.
You can find hotels in these areas here.
Book hotel near Jewish Historical Museum
Amsterdam's southern district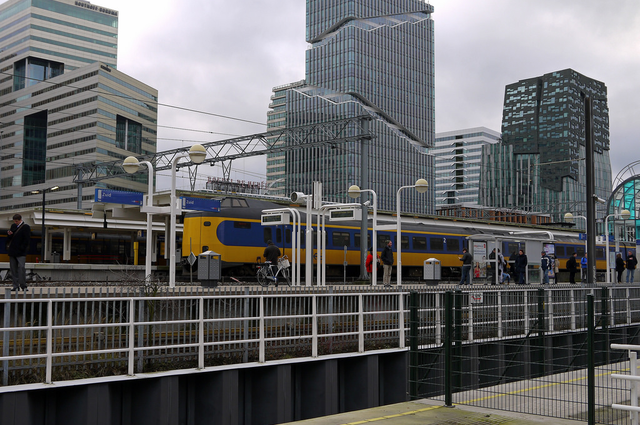 You can find more accessible lodging in the southern district, Zuid. It's a bit farther from the center, so the prices are a bit lower, but Zuid's comfort and quality are no less than the central region. If you don't mind a little travel time to get to many of the things you want to do, it's a great option. You can find hotels in this part of Amsterdam here.
Amsterdam's museum district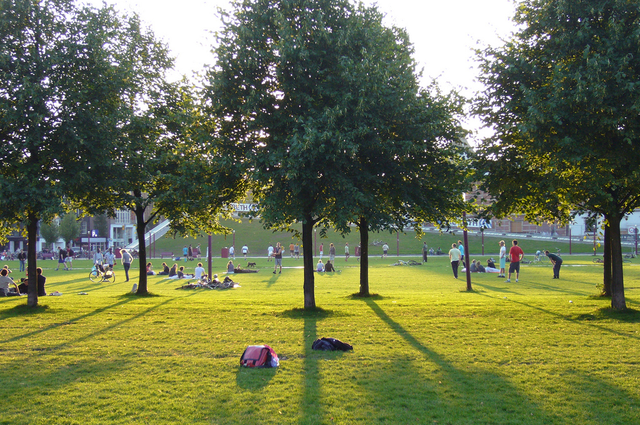 Fans of art and culture will be delighted to stay in the Museum Quarter that's also in this area. As the name implies, this area has Amsterdam's main museums, including the Van Gogh museum, the Rijksmuseum. The famous Vondelpark and P.C. Hooftstraat, the fashion center with expensive brand stores, are also nearby.
We highly recommend this area for families with young children. It's a 30-minute walk to the center to see the tourist attractions, but you can also take the trolley if someone can't do that much walking. The picturesque Vondelpark is nearby, which is also great for taking walks. The area is very quiet and peaceful. There are no coffeeshops or red-light buildings here, so you don't need to worry about your kids.
You can find hotels in this area by using this link.
Book hotel in the Museum Quarter
The De Pijp district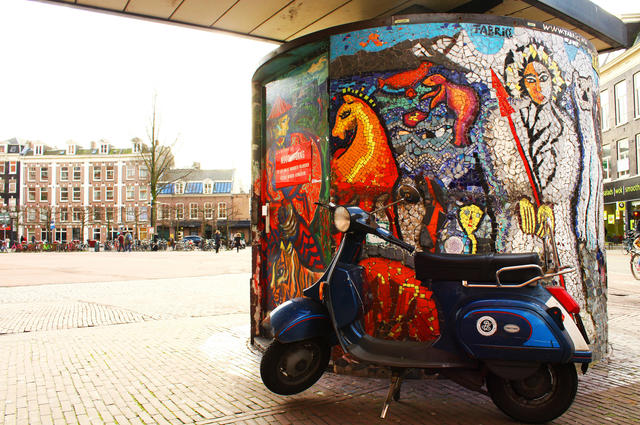 De Pijp is often called Amsterdam's Latin Quarter. The prices here are a bit higher. The Albert Cuyp food market is open every day but Sunday, and restaurants and cafes in every building. It's fun and noisy, and full of hostels as well as apartments that you can rent. The De Pijp district is great for youth. It's great if you love modern fashion, music and design.
The prices are a bit lower here than the norm in Amsterdam. And there are a bit less tourists than in the noisy center.
You can find lodging in this district by using the link.
Where do the Amsterdammers live?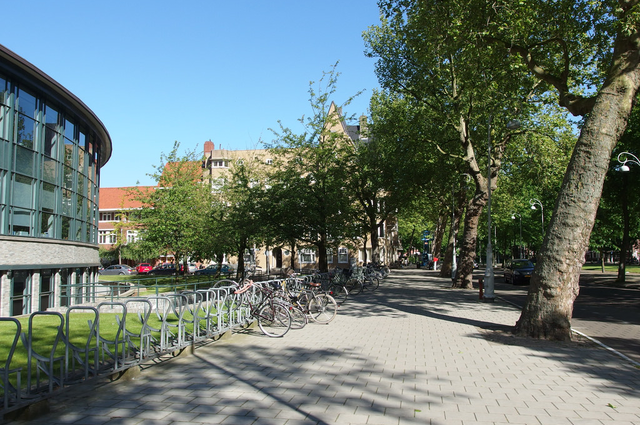 If you want to not feel like a guest but like an Amsterdammer, at least for a bit, then stay in the Oud Zuid or Rivierenbuurt district. Because of the relative distance from the center, they aren't as popular among tourists, but this is where many Amsterdam families live. These districts have guaranteed quiet as well as a pleasant opportunity to blend into the city's daily life and feel like you're part of it.
Use this link to find hotels in Oud Zuid.
Book hotel in Oud Zuid, Amsterdam
Have a great trip to Amsterdam! 
https://voyage10.com/wp-content/webpc-passthru.php?src=https://voyage10.com/wp-content/uploads/2020/05/max-van-den-oetelaar-e4vLFZV9QM-unsplash.jpg&nocache=1
1280
1920
Alina
https://voyage10.com/wp-content/webpc-passthru.php?src=https://voyage10.com/wp-content/uploads/2022/01/voyage10_logo-2-300x95.png&nocache=1
Alina
2020-05-16 17:02:56
2022-12-24 16:57:51
Amsterdam's neighborhoods: where's the best place for tourists to stay?