Amsterdam: The 15 most important tourist attractions

Despite its small size, Amsterdam's large number of interesting places can easily compete with the largest cities in Europe. The magnificent architecture, picturesque canals, and unusual atmosphere in Amsterdam make it a unique city that has many hidden and intriguing surprises and interesting tourist attractions.
You can find them on your own or you can go on a tour of the city with a guide. If you prefer exploring in your own time, but want the insights that a guide can offer, our audio guide lets you see Amsterdam at your own pace, with lots of great information about all the sites you'll visit.
Rijksmuseum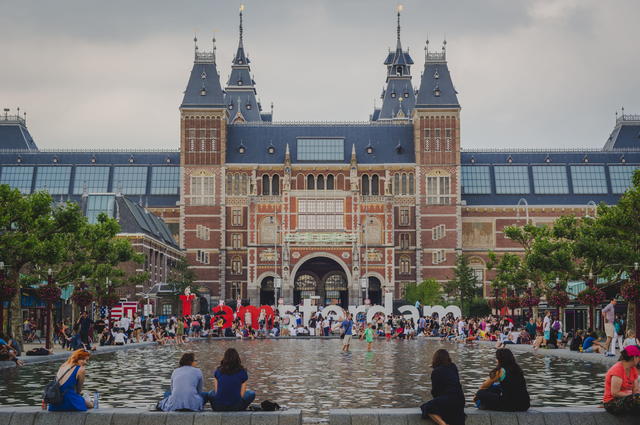 Amsterdam's Rijksmuseum has a wonderful collection of paintings by the Dutch masters, from Frans Hals to Johannes Vermeer. The pride of the museum is the world-famous masterpiece "The Night Watch" by Rembrandt. However, the huge museum collection isn't limited to just paintings. Its exhibition halls also have wonderful examples of Delft porcelain, luxurious gold and silver jewelry, and old clothes and furniture from European royal palaces.
The address is Museumstraat 1, 1071 XX. 
The closest stop is Rijksmuseum. 
It's open every day from 9 to 5. 
Tickets cost 20 Euros and are free for children under 18 years old. You can get a ticket in advance here. 
Van Gogh Museum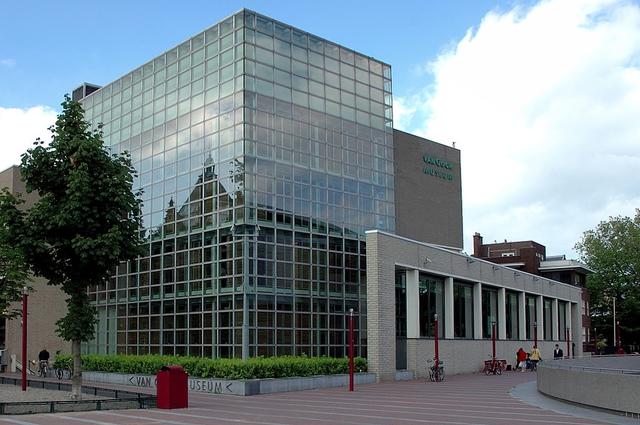 The Van Gogh Museum is amazingly popular among tourists. This huge 4-story museum has the largest collection of Van Gogh's paintings and letters in the world. The first two floors have pieces laid out in chronological order so you can see how his style evolved over time. The first floor is dedicated to his life story. The fourth floor has artwork made by Van Gogh's contemporaries.
The address is Paulus Potterstraat 7, 1071 CX. 
The closest stop is Van Baerlestraat or Museumplein. 
It's open every day from 9 to 5 and from 9 to 10 on Fridays. 
Tickets cost 19 Euros and are free for children under 17 years old. You can buy tickets here. 
Walking through Amsterdam's canals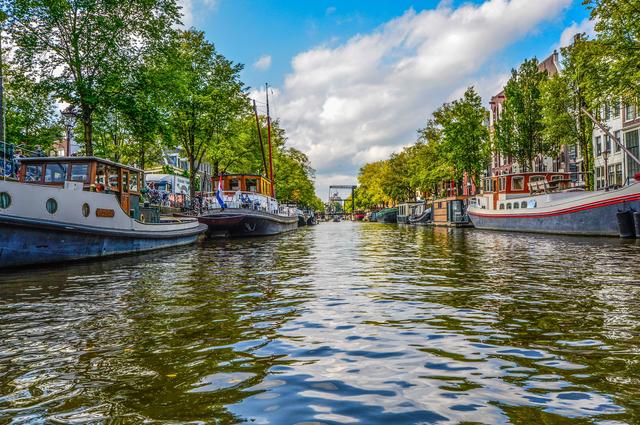 Amsterdam is often called the "northern Venice" because it has so many canals spread throughout the city. Amsterdam's famous canals appeared in the 17th century and were originally made for the practical purpose of controlling the Amstel River's flooding. Today the canals are one of the most impressive tourist attractions in Amsterdam and a small cruise is a chance to enjoy the classical architecture of the Dutch villas built along the canals.
Most of the boats leave from the wharves near the Central Station. 
It's open every day. 
Tickets start at 15 Euros and there are several cruise options. 
National Maritime Museum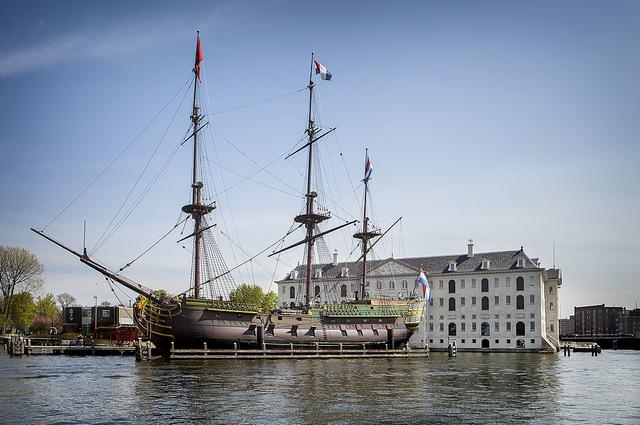 The Maritime Museum will teach you about the multi-century-long history of Dutch shipbuilding and sailing. The pieces and artifacts fill up 18 spacious halls. You'll learn how Amsterdam became one of the richest cities in the world, how the Dutch managed to beat the elements, and what helped the sailors pass the time on their long voyages.
The address is Kattenburgerplein 1, 1018 KK. 
The closest stop is Kadijksplein. 
It's open every day from 9 to 5. 
Tickets cost 16 Euros, are 8 Euros for children from 5 to 17 years old and are free for children under 5 years old. You can buy tickets here. 
Anne Frank's house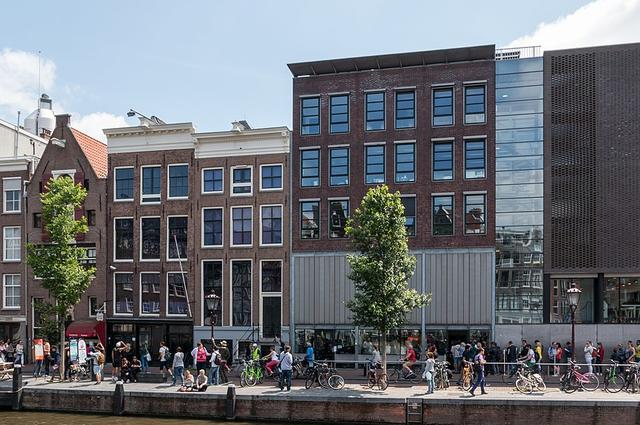 The building where Anne Frank's family hid from the Nazis during WWII is a memorial for Holocaust victims. It is one of the most visited tourist destinations in Amsterdam since 1960 when it was opened as a museum. Visitors can see Anne Frank's original diary and other writings as well as things that describe her short life and an interactive element on human rights.
The address is Prinsengracht 263-267, 1016 GV. 
The closest stop is Westermarkt. From November to March it's open every day from 9 to 7, and on Saturdays to 9; from April to June, September and October it's open every day from 9 to 9, and on Saturdays to 10; and from July to August it's open every day from 9 to 10. 
Tickets cost 12.50 Euros or 6.50 Euros for children from 10 to 17 years old. Tickets are free for children under 10 years old. 
Royal palace
Amsterdam's royal palace is one of three residences of the Dutch royal family. It was built in place of the city administration in the 17th century for King Louis I, Napoleon's brother, and it was considered the 8th wonder of the world. The palace is still used as a royal family residence during large events, but it is open for visitation most of the year.
The address is Dam, 1012 JS. 
The closest stop is Dam or Dam Square. 
It's open from Tuesday through Sunday, from 11 to 5. 
Tickets cost 10 Euros and are free for children under 18 years old. You can buy tickets here. 
Coffeeshops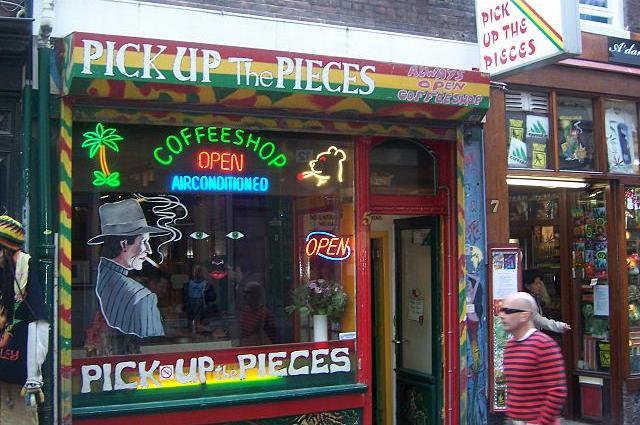 Beautiful museums, palaces and parks can be found in almost every city in the world, but the coffeeshops (cannabis establishments) are truly a Dutch thing, and they bring the country more than 100 million Euros a year. They used to be open to all tourists, but now the Dutch government is gradually increasing the restrictions. Many Dutch cities have already closed tourist access to the coffeeshops, but you can still go to them in Amsterdam.
Vondelpark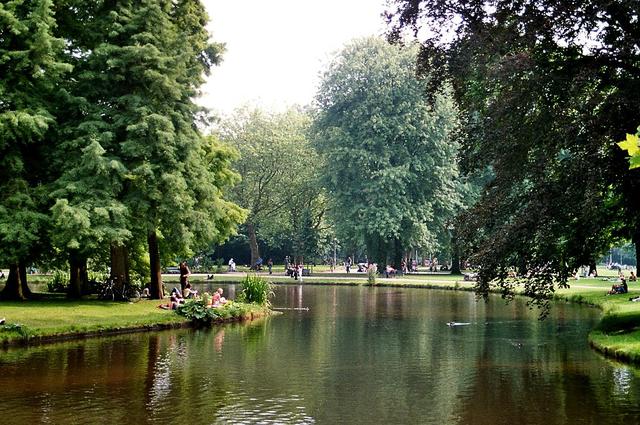 The largest and most beautiful park in Amsterdam was named in honor of the Dutch playwright Joost van den Vondel. The park is loved by tourists and locals both, and they frequently gather here on sunny days for picnics. In the summer, Vondelpark is used as an open-air theater where you can see famous plays for free.
The closest stop is Hobbenmastraat. 
If you like parks, then you have to visit the legendary Keukenhof.
Red light district
Amsterdam is one of the most popular tourist cities in the world. One of its unique attractions is the red-light district that can be recognized by its windows with red lights where the quarter's sex workers call their clients. This area has adult theaters and many sex shops. Despite the nature of the quarter it's completely safe to visit and there are always tourists here under the watch of the police.
» See more – what you need to know
The closest stop is Dam. 
We have a special, exciting audio tour of the red-light street. Download it here and learn the secrets of these ladies of the night and their guests. 
Flower market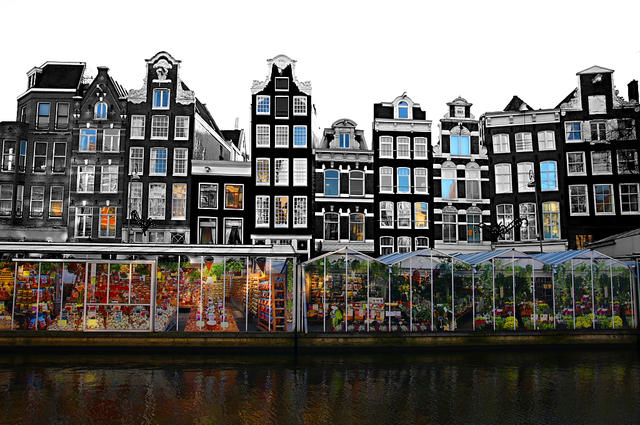 Don't visit Amsterdam without visiting the only floating flower market in the world. This flower kingdom has salespeople on barges along the Singel canal that are filled with all kinds of flowers, seeds and bulbs. The flower market is loved by the locals but is primarily for entertaining tourists. Many of the items in the market are ready sold for export so that the city's guests can easily take home tulips, daffodils and other flowers to remember Amsterdam.
The address is Singel, 1071 AZ. 
It's open from Monday to Saturday from 9 to 5:30 and on Sundays from 11 to 5:30. 
The closest stop is Muntplein or Koningsplein. 
The Keukenhof Tulip Park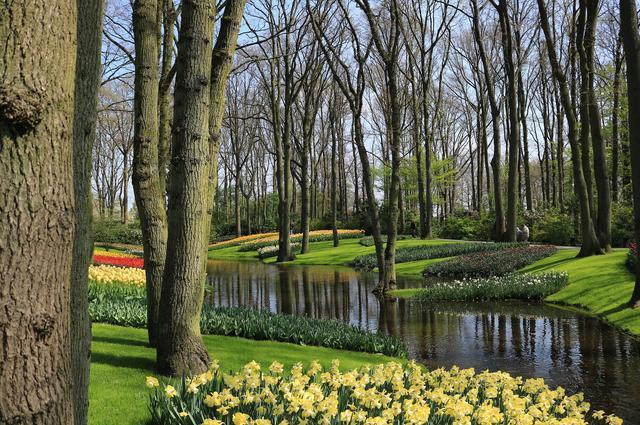 Millions of tourists come to Amsterdam to see tulips! See the incredible floral installations in the Keukenhof Park in the Netherlands. Here they grow huge fields of tulips, which you can admire from a helicopter or a boat. You can listen to classical music, buy bulbs, learn about horticulture, and take the most amazing pictures surrounded by tulips, daffodils, and hyacinths!
Opening hours: In 2022 the Keukenhof will be open every day from 08:00 till 19:30 from 24 March until 15 May.
Ticket price: €18.50 (admission ticket with no queue, guide, and parking space can be bought here), a bus tour from Amsterdam can be booked here.
The Nemo Museum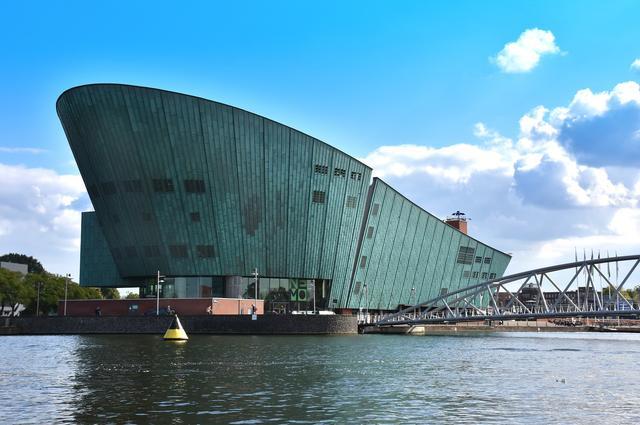 Science can be fun! You'll get that idea after a visit to the Nemo Science Center. It is home to five fascinating floors of hand-on science. Find out how and why the wind blows, rainbows appear, or bubbles are blown!
Opening hours: Tue-Sun 10:00-17:30
Ticket price:  €17.50 – buy here
The Royal Zoo "Artis" in Amsterdam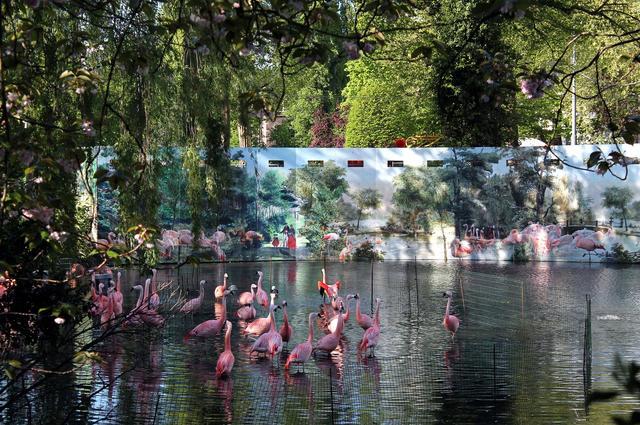 Artis is the oldest zoo in the Netherlands, it was established in 1838. Now it preserves 700 species of exotic animals on the brink of extinction. Many open enclosures separated from pedestrians by small moats do not create a sense of captivity. Don't miss the huge aquarium with fish and pinnipeds.
There are also several interesting old buildings at Artis: a Zoological and geological museum, library, planetarium, terrarium, aquarium, greenhouse, and farm for children.
Open daily from 9:00 to 18:00.
Ticket price: €24 for adults, €20.50 for children from 3 to 9 years
Madame Tussauds Museum in Amsterdam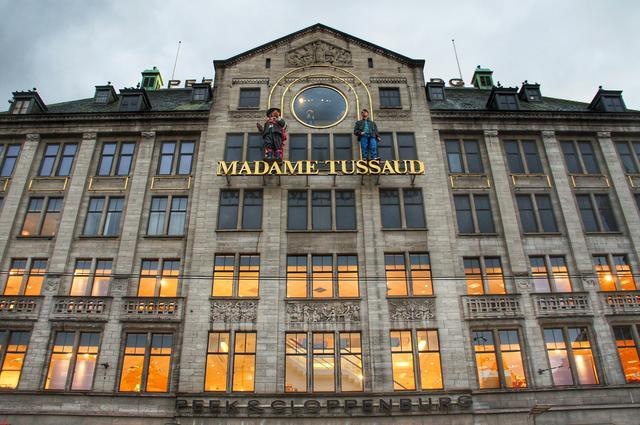 Are you ready to meet the Queen of the Netherlands, Lady Gaga, David Beckham, Michael Jackson, and Nelson Mandela on the same day? Just come to the wonderful world of Madame Tussauds. People you wouldn't ordinarily meet are always ready to take a picture with you!
Open daily from 10:00 to 18:30
Tickets: €21.50 – buy them here
Damrak Street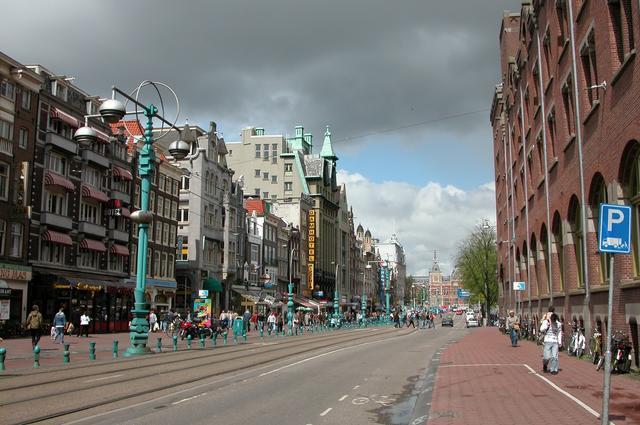 Book a hotel on the Damrak street
Let's head for the city's landmark 300 year-old gingerbread houses! You can see them on the postcards of the Dutch capital. They stand on the left side of Damrak street if you stand with your back to the station. Take your pictures here and you can walk a little to the right towards the bridge for the best shots.
Our audio guide will show you Amsterdam on your own time, and we'll take you to all the most entertaining and interesting spots. Take it with you and get the most out of your vacation.
Have a good trip! 
https://voyage10.com/wp-content/webpc-passthru.php?src=https://voyage10.com/wp-content/uploads/2020/05/Amsterdam_-_Rijksmuseum_-_panoramio_-_Nikolai_Karaneschev_1.jpg&nocache=1
683
1024
Alina
https://voyage10.com/wp-content/webpc-passthru.php?src=https://voyage10.com/wp-content/uploads/2022/01/voyage10_logo-2-300x95.png&nocache=1
Alina
2020-05-19 18:39:48
2022-12-24 16:56:23
Amsterdam: The 15 most important tourist attractions