The best beaches near Rome

Do you dream of being on a beautiful Italian beach with a view of the sea? We'll tell you how to get to the sea from Rome, and which good nearby beaches are paid or free.
The best beaches near Rome
You can get to several beaches on public transport, and others require you to rent a car, which you can do here.
Lido di Ostia beach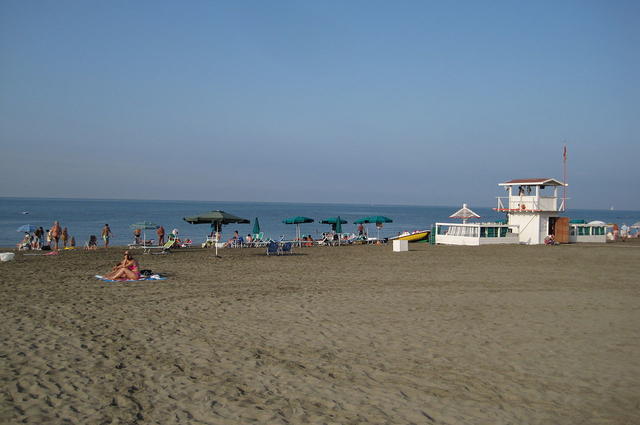 This beach is really easy to get to from Rome for just 1.50 Euros. You just need to get a standard public transport ticket, go to the Piramide metro station, find the platform heading for Cristoforo Colombo, and keep using the same ticket since it works for 100 minutes after activation. The station is called Ostia Lido Centro. Don't forget about the Roma Pass tourist card which provides free rides on all transport (you can get the card here).
Lido di Ostia is the easiest to reach, but unfortunately, the water isn't the cleanest or clearest since the beach is near the city and is very popular. It's worth going if you're staying nearby and want to have a romantic evening on the beach and enjoy the sunset any time of the year. The biggest positives are the proximity to Rome, and you can go to Ostia Antica on the way, where you can enjoy ancient ruins. Near the beach you'll find many inexpensive and good hotels which boost the beach's popularity.
Anzio beach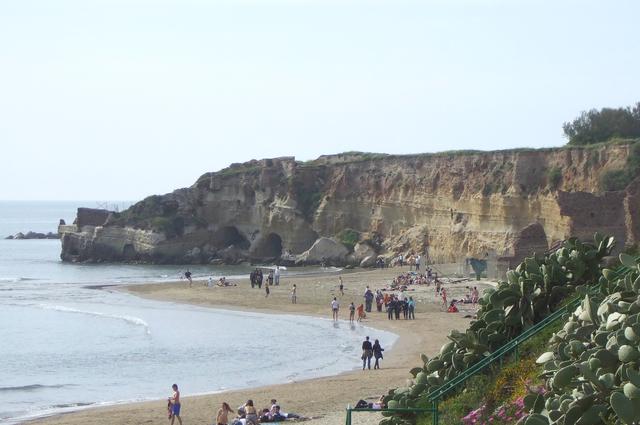 Another fairly popular beach resort on a peninsula. It's easy to get there from Roma Termini on a train. It's a 50-minute ride to Anzio station. It's only 62 km from Rome, and the tickets cost 3.60 Euros one way. There's a port there which can take you to Isole Ponziane. You can sail around the Ponza island on a boat. Read more here.
There are, of course, many popular hotels near the beach so you can stay here for a couple days.
Santa Marinella beach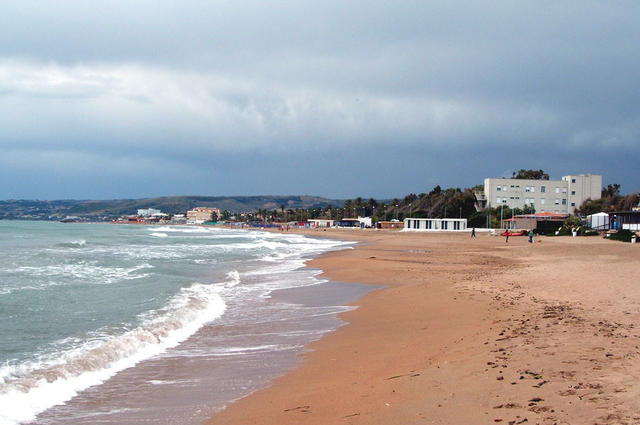 This is one of the best beaches you can get to easily from Rome. It has the best water: crystal-clear, calm and fairly thick, especially in the beginning of the swimming season (before the seaweed blooms). Santa Marinella beach has a beautiful picturesque view. There are big stones on the beach and in the sea, and you can walk along the water for quite a while. There are also places with open sea and significant depth between the stones. It's a good place for families with children and for swimming lovers. You can get here on foot if you're staying in a hotel near the beach, or you can take a 1-hour train ride from Roma Termini towards Civitavecchia (get off at Santa Marinella). The train also passes the Roma Tuscolana, Roma Ostiense, Roma Trastevere, Roma San Pietro, and Roma Aurelia stops. One of them might be close to where you're staying.
The price varies depending on where you get on, from 3.60 to 4.60 Euros. But you can be a bit clever and get there with a 3.60 Euro ticket. If you need to take public transport in the city, then you can use your active ticket legally to go to the Roma Aurelia station since it's in the city's zone. Then your ticket from Roma Aurelia to Santa Marinella will be 1 Euro cheaper than from Roma Termini and you just need to show your city ticket and then your regional Roma Aurelia ticket.
Santa Marinella: book hotel in
Santa Severa beach
This beach's magic is in the sea that washes up against an old 10th-century castle. The waves here can be very tall, which adds even more to the experience. What could be more poetic than riding on the waves and appreciating the castle and hills? It's a good beach near Rome. The water is very clean, since the city is a bit farther from the coast. You can get here the same way as the previous beach, just get off at Santa Severa station. You can find a place to stay at Santa Severa here.
Sperlonga beach
Sperlonga is a 90-minute ride from Rome. It's an incredibly picturesque place. The sea at Sperlonga is clean and the beach itself is marked with a white flag. which means it's safe, clean and has golden sand. It's a long way away, but it's worth it. First, get on a train from Roma Termini towards Fondi-Sperlonga station, then get on a bus for 20 minutes. You can find the bus schedule on this site. The city itself is no less beautiful. It has typically narrow Italian streets and panoramic squares, so you'll surely want to spend a couple days here.
Bracciano Lake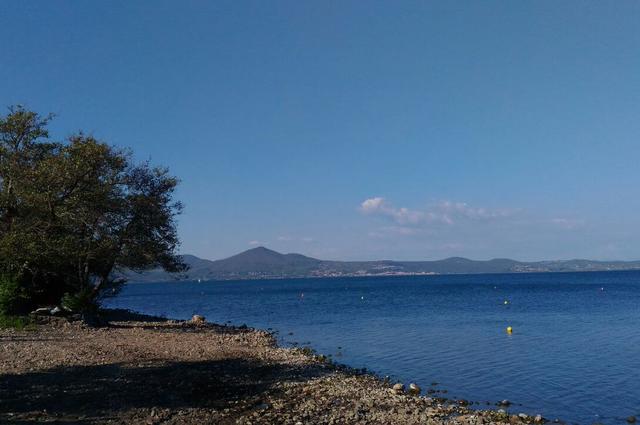 This beach differs from the previous ones because it's on the Bracciano lake instead of the sea. The lake is near the city Bracciano. You can see the 13th century Castello Odescalchi castle there. It has an interesting history, and it's where Tom Cruise and Katie Holmes were married. You'll find swans, seagulls, ducks and geese walking around and swimming in the lake. You can take a train or the Cotral bus to this beach. The trip will cost you 3 Euros.
Lago Albano
This is another lake near Rome. But it's special since the lake is in a caldera of an extinct volcano and is in the Alban Hills. The Pope's summer home is here. You can get here in an hour from Rome. Leave from the Roma Termini station and go to the Albano Laziale stop. If you want to stay just a step away from the beach, then there are many hotels to choose from.
Italy's nature is as wonderful as its cities. Even if you didn't come during beach season, it's still worth going to the sea or lake for a day. And if you want to go farther from Rome, we recommend going to Tivoli. Your trip will be very romantic, and you'll have excellent memories of Italy.
» See more – 20 villages and towns in Tuscany that are worth visiting
Have a wonderful beach vacation in Italy!
https://voyage10.com/wp-content/webpc-passthru.php?src=https://voyage10.com/wp-content/uploads/2021/04/costa-3050030_1920.jpg&nocache=1
1448
1920
Alina
https://voyage10.com/wp-content/webpc-passthru.php?src=https://voyage10.com/wp-content/uploads/2022/01/voyage10_logo-2-300x95.png&nocache=1
Alina
2020-04-27 18:40:48
2022-12-25 08:19:25
The best beaches near Rome