How to celebrate the New Year in Paris
Gradually cities are covered with snow, some just a little, and some even more. And a vague feeling grows in your soul… you definitely need to go to Paris for Christmas.
That's a great idea!
Do you know what you need to do to make Christmas and New Year in Paris a 110% success? Read our holiday to-do list.
» See more – The traditions of Christmas in Paris
Get in the holiday spirit and create your own personal plan
The apogee of the holiday season in France is Christmas, on December 25. Everything leads up to this day and the anticipation is palpable.
The French appreciate the New Year less. Like all Europeans, they consider it a solemn end to the holiday season. January 2nd is a working day, and everyone goes back to everyday life, no post-New Year's vacations. If your plan is to have fun after New Year, you'll have to create a festive mood by yourself.
Take a photo in front of the Eiffel Tower with its Christmas illumination
This one may seem a bit trite, but it's still a must have photo for any holiday traveler. Why miss out on guaranteed social media likes? Everyone will praise the Eiffel Tower, Paris and you. They'll probably even be jealous.
» See more – The 10 best hotels with a view of the Eiffel Tower
Be sure to practice taking pictures at night before traveling! You'll need those skills to get the best photos.
Stroll the Champs Elysees and catch a New Year's Eve show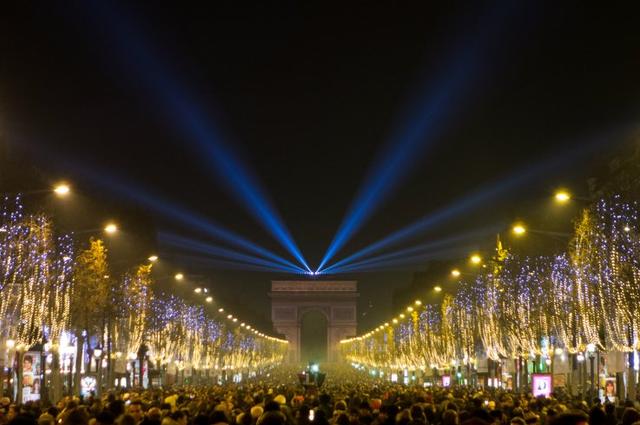 Another must-do is to stroll along the illuminated Champs-Elysées. Mingle with tourists from all over the world and get plenty of air on one of the world's most famous streets. The level of holiday cheer here is off the charts, so be sure to take your time and soak it all in.
On December 31 at 23:20, the Arc de Triomphe will be transformed with an incredible light show. There will be no fireworks, but it's still very beautiful. Don't miss it!
Enjoy the Paris holiday window displays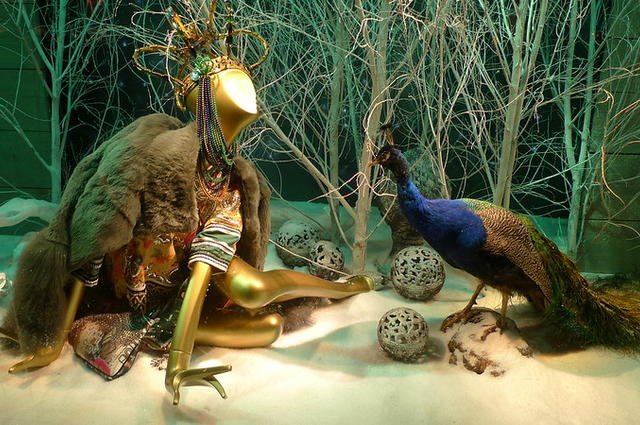 There's plenty to gawk in the storefronts even during normal days, but at Christmas time many stores take it to a new level. Decorators create holiday compositions behind glass with Santas, reindeer, snow, toys, biblical themes and more. Some even have live actors. Seeing and photographing such wonders is definitely a mood booster, especially if you love Christmas, funny puppet worlds, and fancy window displays.
Have fun at the Christmas fairs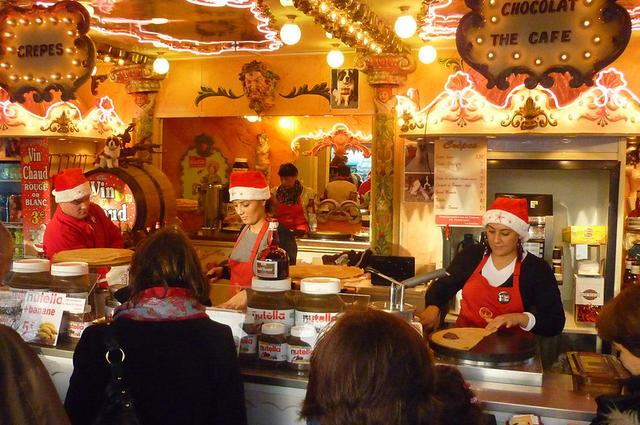 Christmas fairs are the most entertaining holiday events you can find. If you still have a little fairy tale living in your soul, you should definitely go! You'll find treats, including ones that will keep you warm, and piles of different souvenirs for family and friends. There are things both useless but unbearably cute, as well as and quite practical for daily life.
» See more – The best Christmas markets in Europe
Make a delicious and spectacular holiday
What are the holidays without great food? There are plenty of options because it's Paris! Restaurants are gearing up for a culinary battle at this time of year. Celebrity chefs all want to stand out, with everyone trying to make their Christmas dinner special. Even Gordon Ramsay sometimes comes to see what's being done on the mainland.
You can enjoy both the food and culture of Paris at the same time with tickets to Cabaret Le Crazy Horse or Moulin Rouge that include dinner and of course champagne. But if this interests you, be sure to get your tickets as soon as possible, as these sell out fast.
» See more – The most famous cabaret in Paris
If you're looking for a unique view of the city, try a river boat cruise. Celebrating the New Year on the Seine is a fantastic memory, and the food is well worth it. You can buy your ticket here.
Taste the King cake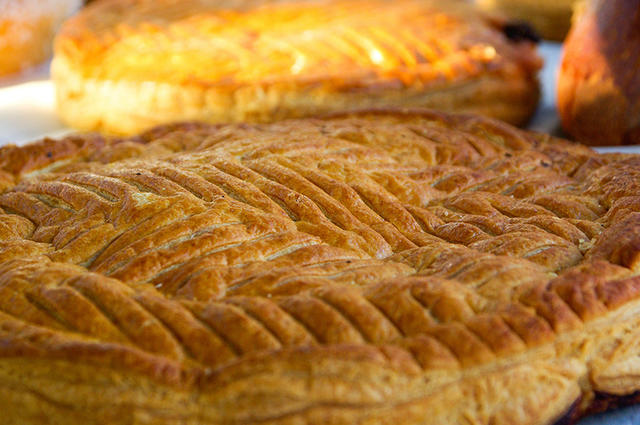 There are lots of places to get a taste of Christmas, not just at restaurant tables.
Just as an American Thanksgiving day features turkey, a French Christmas wouldn't happen without a special festive dessert: galette des Rois. These pies or cakes come in all flavors and sizes, with many recipes to suit any dietary needs. And they're sold everywhere throughout the holiday season, though they're traditionally served on January 5 for the feast of Epiphany.
According to a long tradition that goes back almost to ancient Rome, when this dessert is baked a surprise is hidden inside – a coin, figurine or other little thing. Finding one in your piece is a sign of good luck! But be careful not to swallow your good omen or hurt your tooth.
» See more – 10 French dishes worth trying in Paris
Eat a piece of the Christmas log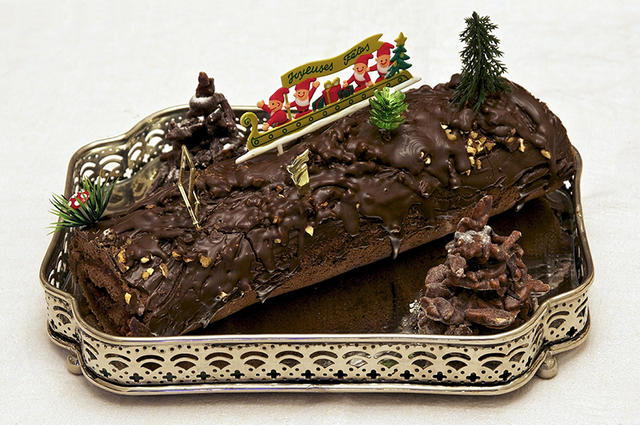 Did you think you were done with food? There's still more. This log isn't wooden, it's chocolate cake! In ancient times the French used to burn a real log at Christmas to protect their houses against spirits and all such mystical folk affairs. But nowadays, the tradition has changed to eating a cake shaped into a log.
A Christmas log can be found as a modest little cake from the supermarket or as a monumental work of confectionery art from master chocolatiers. There's one for every taste so don't miss out.
» READ MORE – Winter vacation destinations in France
Get on skates and don't fall on the ice
The giant skating rink in the Grand Palais is back after renovations. It is promised to be even more beautiful. You can skate and participate in other related entertainment from December 13 to January 8. It's cheaper before lunch: 17 euros for adults and 12 for children. There's a separate area for little children and inexperienced skaters that's equipped with safety barriers.
You can find other ice rinks throughout the city as well, including the famous one at the Eiffel Tower. Additionally, a new ice rink will open on the roof of the Galeries Lafayette. From November 20 to December 21 you can smash your knees on the ice with a fantastic view of the rooftops of Paris.
Visit Mickey Mouse at Disneyland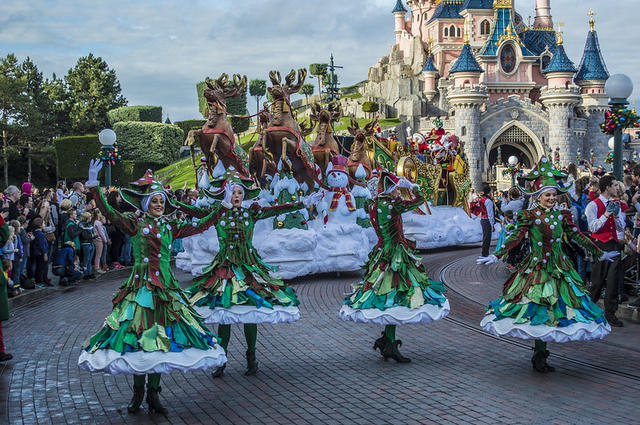 From November 9 to January 6, Disneyland runs in Christmas mode: colorful holiday parades with beloved characters, new programs with Disney princesses, fantastic lighting in the evenings, musical performances and just a myriad of other fun activities and sights for children and adults.
You can also celebrate the New Year at Disneyland. Their special party (with fireworks, of course!) starts December 31 at 20:00 and promises to be especially cool. Tickets are worth booking in advance, which you can do here.
» See more – Everything a tourist needs to know
Discover the Jardin des Plantes in Paris in a new light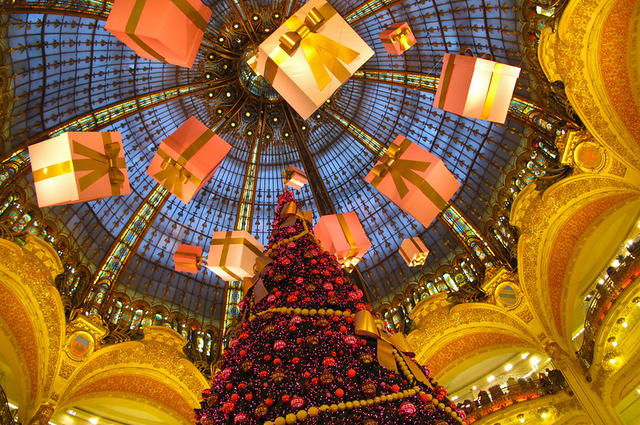 From November 18 to January 19 the Jardin des Plantes de Paris will be populated by fantastic luminous figures of sea animals. The theme of this seasonal installation changes every year. The 50 compositions will delight visitors at night, so visit after 6 p.m. It's a great place to walk around and collect some unique photographic memories.
Test your nerves in a house with ghosts
Tired of everything being too cute at Christmas and want to crack the stereotypes? Zombie Santa is waiting for you at the House of Ghosts (Le Manoir de Paris). Instead of gifts, you'll receive a generous portion of grimy horror. The program runs from November 23 to December 23. Of course, it's better not to take children if you're not sure of their courage.
Get out to the Château Vaux-le-Vicomte
During the Christmas season, the Château Vaux-le-Vicomte turns into a world of fairy tales, blessed and decorated as if a whole horde of Santa Claus' friends were about to pop out. All visitors especially love the garlanded garden, perfect for a romantic walk and first kiss. This outdoor treat is available from November 23 to January 5. You can also check out the carriage museum, where local princes and princesses once rode.
From January 3 to 5 the palace solemnly serves King cakes, but we can't say how good they are, so if you visit, you can let us know.
That's where our list ends, since this article can't be endless! But there are clearly plenty more ideas for having a great time in Paris at Christmastime.
Have you been to Paris for the holidays? What ideas do you have? Tell us in the comments.
» See more – Christmas and New Year in Rome
https://voyage10.com/wp-content/webpc-passthru.php?src=https://voyage10.com/wp-content/uploads/2021/10/11385811234_e4113dd99c_c.jpg&nocache=1
533
799
Alina
https://voyage10.com/wp-content/webpc-passthru.php?src=https://voyage10.com/wp-content/uploads/2022/01/voyage10_logo-2-300x95.png&nocache=1
Alina
2021-10-28 19:53:10
2022-12-25 07:55:29
How to celebrate the New Year in Paris