Christmas fairs across Paris

Christmas in Paris is a fairy tale. The brightest lights and the thrilling spirit of the holiday hang over the city from December 15th to 25th. The main attraction is the Christmas fairs, markets or bazaars. Here we've put together a list of the best Les marches de Noel to be found in Paris.
» See more – How to celebrate the New Year in Paris
Santa Claus's Village
Location: Boulevard Saint Germain.
Open: all December.
Welcome to the village of French Santa Claus. Along Boulevard Saint Germain, 25 houses full of Christmas treasures spring up for the month. Here you can buy gifts for the whole family and enjoy a variety of delicacies. And while adults are tasting wine and foie gras, children can sit on Santa's lap and share their wishes with him.
» See more – 33 Tips for traveling to Paris with children
A guide makes wandering through the decorated squares and streets of Paris even more interesting and informative. They'll tell you about many interesting Christmas traditions and features. You can sign up for a tour at this link.
Christmas market on the Champs-Elysées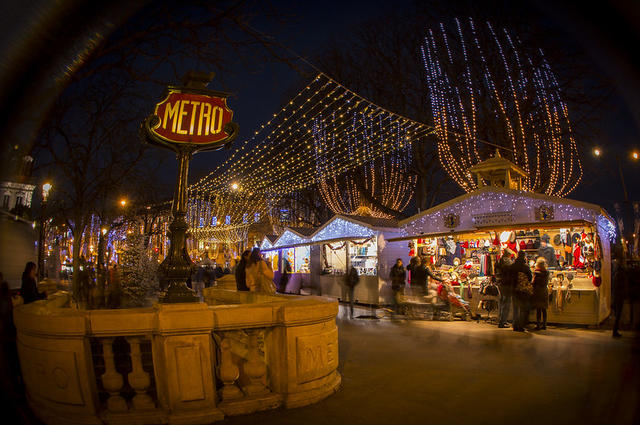 This used to be probably the most popular Christmas market. But now it's been closed by the mayor's office in Paris.
Christmas Market at Notre Dame
Metro: Cité.
Open: mid-December to the end of the month.
A nice little market opens up outside Notre Dame Cathedral in Paris, where France's main Christmas mass used to be held. Though the cathedral is now shrouded in scaffolding like a blanket, life goes on around it. Here you will be offered regional products, cheeses, sausages, roasted chestnuts and, of course, a cup of mulled wine. You can also buy gifts for family and friends: knives, pottery, hats, organic soap. It's all from artisans – no mass-produced knick-knacks!
Tuileries Park Christmas Market
Metro: Tuileries.
Open: late November to early January.
This market is intended to replace the one on the Champs-Elysées. It is the largest in Paris, but far from the most authentic. However, many travelers have noted that it is much more convenient than the one on the Avenue. The garden area is better suited for the market stalls and Christmas decorations. It is gratifying that most of the souvenirs are made in France. All in all, if you're looking for authentic gifts to bring home from Paris, go to the Tuileries Garden!
» See more – The best Christmas markets in Europe
Christmas Market at the Eiffel Tower
Metro: Trocadéro.
RER: Champ de Mars-Tour Eiffel.
Open: mid-December to early January.
Where better to get in the holiday spirit in Paris than at the Eiffel Tower! There's a big Christmas market with an ice rink and merry-go-rounds. Representatives from various European countries are invited to participate in the market. There are 100 market stalls and all have different traditions, souvenirs, and treats. This is a real cultural journey!
» See more – Lunch and dinner on the Eiffel Tower
Christmas Village Montparnasse
Metro: Montparnasse Bienvenüe.
Open: From early to late December.
Forty more festive houses rise up at the foot of the Montparnasse Tower for the holiday. There will be all the usual items, New Year's Eve style and simply delicious! It will be difficult to resist the pancakes, Christmas logs (a traditional French dessert) and chocolates. Better forget about the diet and enjoy!
The Christmas Arche de la Défense
Metro: Grande Arche de la Défense.
RER: La Défense.
Open: end of November to end of December.
The Christmas market in the Défense district, though young, is huge. More than 350 Christmas stalls will offer ornaments, crafts and thousands of other small souvenirs. Many stands feature French cuisine: Corsican ham, Alpine cheeses, traditional sweets… you'll certainly want to sample everything!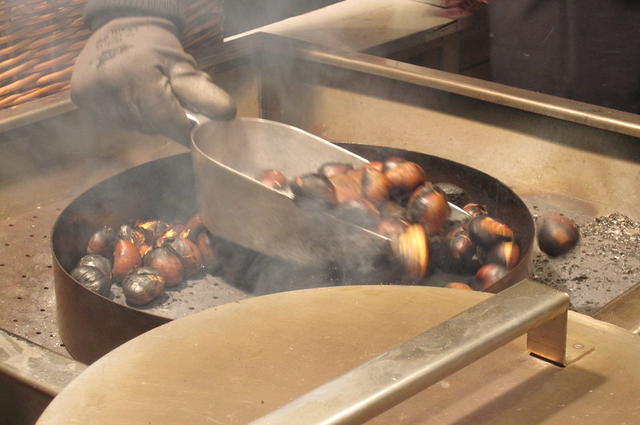 Christmas village of Saint-Sulpice
Metro: Saint Sulpice.
RER: Saint Michel – Notre Dame.
Open: early December to Christmas.
The New Year's huts are a wonderful addition to the atmosphere of old Paris around Saint-Sulpice. Mulled wine, toys and the rustic Christmas spirit can be found again not far from the market by the church of Saint Germain des Prés.
» READ MORE – Famous french desserts: where to try them in Paris
Christmas market in Place d'Italie
Metro: Porte d'Italie.
Open: late November to Christmas.
Italie 2 is a mall located on Place d'Italie, surrounded by festive Christmas cottages. It's the perfect place to stock up on gifts and delicacies to enjoy with friends and family as you celebrate the holiday.
Christmas market in Montmartre
Location: Place Jean Marais.
Open: December until Christmas.
A small fair with 20 houses in the narrow streets of Montmartre could easily get lost among the other destinations in the area. But it's not far from the Sacré Coeur Basilica. You don't need to go there on purpose, but it's perfect for creating a New Year's atmosphere during a walk in Montmartre: it warms you up with mulled wine and chocolates.
Even in winter, our guide provides you with a personalized tour of Paris' most romantic neighborhood. (Adults only!)
The market at the Gare de l'Orient
Metro: Gare de l'Est.
Open: early December to a few days before Christmas.
As the name implies, Gare de l'Est welcomes trains from the eastern parts of France. All Parisians know that on Christmas Eve, they will find the best Alsatian food in the station yard. Such an opportunity to taste real pretzels and Christmas gingerbread with icing! Alsatian wine or foie gras will brighten up your Christmas dinner. You'll also find Christmas decorations and table textiles here.
Market at the St. Lazare station
Metro: Europe – Simone Veil, Saint-Augustin.
Open: mid-November to Christmas.
This is insider information: you won't see the garlanded houses shining from afar at Saint-Lazare station. But step inside and you'll see a secret Christmas market. You can probably guess that the prices at the market for locals will be lower than in the promoted tourist places.
We wish you a Christmas miracle and pleasant walks through the markets!
https://voyage10.com/wp-content/webpc-passthru.php?src=https://voyage10.com/wp-content/uploads/2021/10/paris-gc6ce9e5ad_1920.jpg&nocache=1
1280
1920
Alina
https://voyage10.com/wp-content/webpc-passthru.php?src=https://voyage10.com/wp-content/uploads/2022/01/voyage10_logo-2-300x95.png&nocache=1
Alina
2021-10-30 19:28:12
2022-12-25 07:55:29
Christmas fairs across Paris