Montmartre's 10 best tourist sites

Montmartre is one of the most famous parts of Paris. This is where famous painters, artists, musicians and art representatives lived. In this article, you'll learn about the most interesting places in this part of Paris. And if you want to stay on Montmartre, you can find a hotel here.
Montmartre, Paris: book hotel in
We have an excellent audio guide for Montmartre. It lasts about two hours and goes through the most important sites, including those hidden from tourists. Download it before your trip and you'll be ready to make the most of your time in Montmarte!
Moulin Rouge
First, of course, we recommend visiting Moulin Rouge. It's a famous red mill, and since the end of the 19th century, a river of champagne flows and women dance the can-can.
The address is 82 Boulevard de Clichy. The closest metro station is Blanche.
It's best to buy tickets to Moulin Rouge in advance. Due to the cabaret's popularity, there might not be any tickets at the counter. You can buy tickets for dinner and a show at Moulin Rouge here.
Sacre-Coeur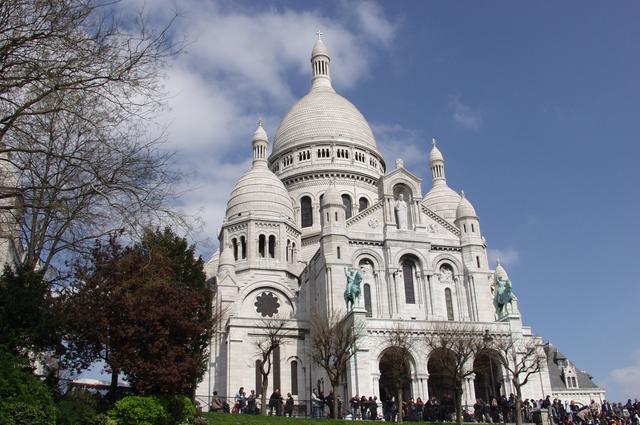 On the top of the mountain you'll find Sacre-Coeur, the largest Catholic cathedral in France, if not in all of Europe. You will have an excellent view of Paris from the viewing platform. Sacre-Coeur and Montmartre are the roof of Paris.
The address is 35 Rue du Chevalier de la Barre. The closest metro station is Abbesses.
Pigalle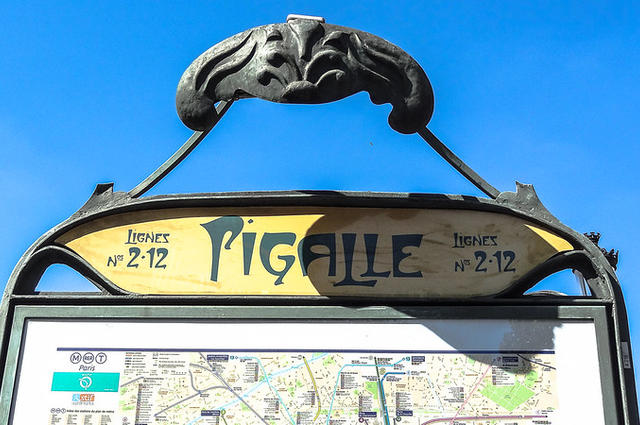 The third must-see on our list is la place Pigalle and le Musee de l'Erotisme. Montmartre is a "red light street" in Paris. On place Pigalle there are sex shops, cabarets, and more. One unique thing you'll find here is a 7-floor museum of the most interesting erotic artifacts.
The address is 72 Boulevard de Clichy. The closest metro station is Pigalle.
Place du Tertre
Next is the square in front of the former town hall, Place du Tertre, along with the old church, Eglise de St. Pierre. Montmartre used to be its own village, not with a part of Paris, so that's why it has a town hall and church. Now when you visit you can find many artists that will draw your portrait if you want (it'll cost you more than 20 Euros, though) as well as mimes and musicians.
The address is Place du Tertre. The closest metro station is Abbesses.
The wall of love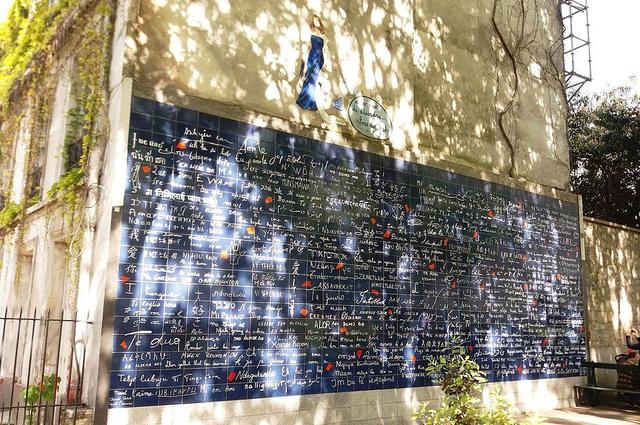 Le Mur de Je T'aime. This unique site says "I love you" in more than two hundred languages. This beautiful art installation appeared not too long ago on Montmartre thanks to the artists Frederic Baron and Claire Kito, who tell us that only languages get in the way of world-wide love.
The address is Square Jehan Rictus, Place des Abesses. The closest metro station is Abbesses.
Bateau-Lavoir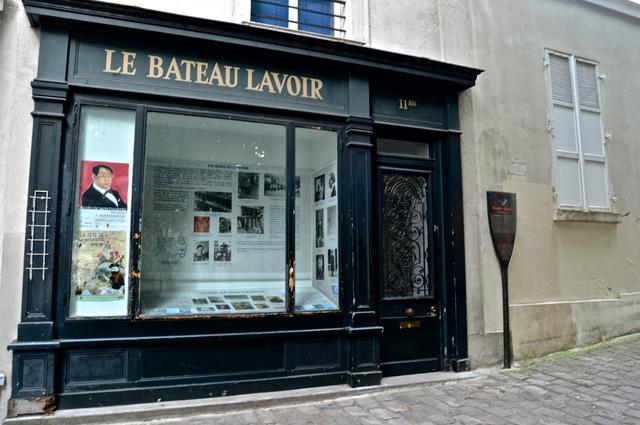 Le Bateau-Lavoir is a barge that isn't used for transport. It's just a building. What makes this building special is that Picasso and dozens of famous painters of that time lived here when they were poor. The beds moved around in this building like in a sailor's cabin, so, it was cheap to rent. This is where Picasso became famous, creating his first painting in a new style that the world hadn't seen before.
The address is 13 de la place Emile-Goudeau. The closest metro station is Abbesses.
Lapin Agile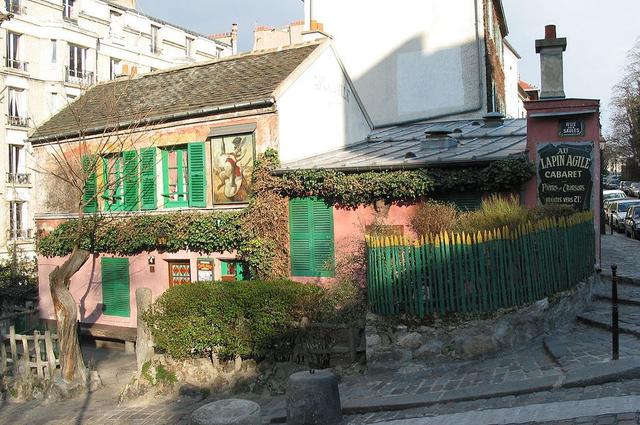 When Picasso and his friends lived on le Bateau-Lavoir, Lapin Agile is where they went to have fun. It's one of the oldest bars on Montmartre and is next to Paris vineyard. And their wine isn't cheap.
The address is 22 Rue des Saules. The closest metro station is Blanche.
Not far from the Lapin Agile are real vineyards, a museum about the history of Montmartre, and The Pink House, another cabaret that's existed since the 19th century.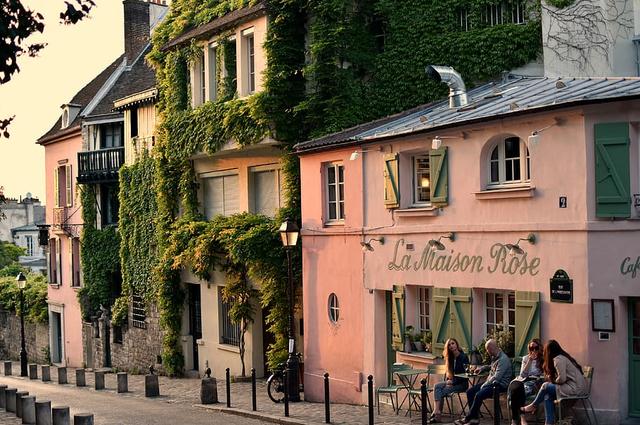 Along with Picasso and 50 other famous artists, Salvador Dali lived on Montmartre too. Now Montmartre has a museum-store with his original works (L'Espace Montmartre — Dali).
The man going through the wall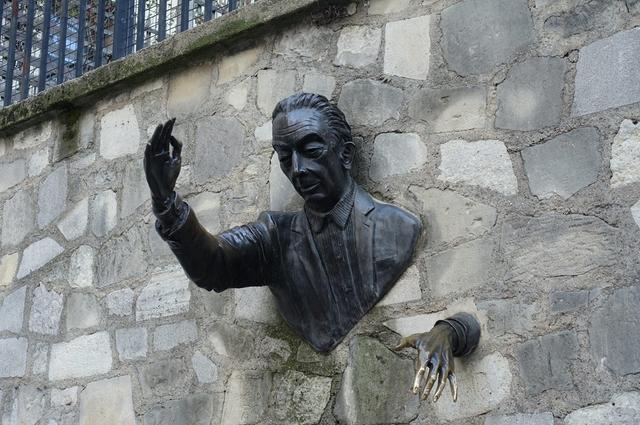 The French writer Marcel Ayme also lived on Montmartre. He's buried here in Montmartre's cemetery. After his death, his friend Jean Marais made a monument that goes with the name of one of Marcel Ayme's stories "The man who walked through walls."
The address is Place Marcel Ayme.
The mill "Moulin de la Galette"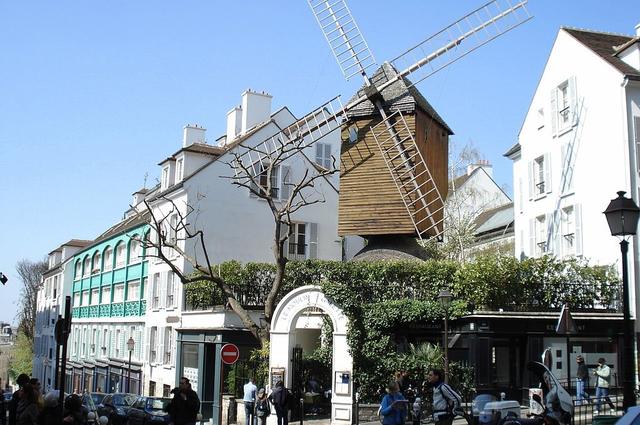 There used to be more than 20 mills on Montmartre. Now there are only two. One is Moulin Rouge, and the second is Moulin de la Galette. It also used to be a cabaret, but now it's a nice cafe with a great view of Paris.
The address is 77 rue Lepic.
The monument to Dalida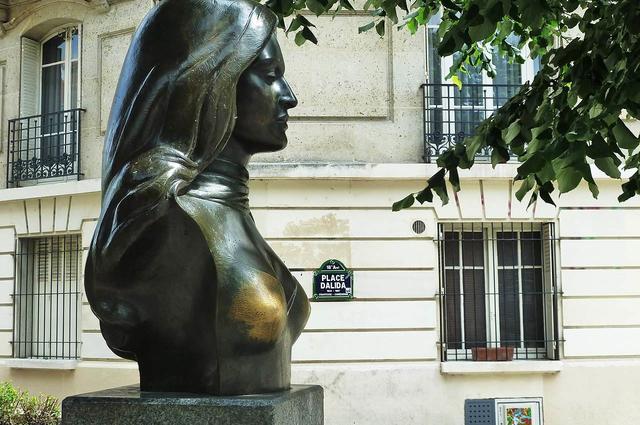 Dalida's home, La Maison de Dalida, is here in Montmartre, and there's a square named after her as well, La place Dalida. A bust of Dalida is on the square and every tourist thinks it's his duty to touch her breast for good luck in love.
The address is Place Dalida.
Finally, one more tourist site in Montmartre and Paris is church Saint. Jean des Abbesses. It was built in the 20th century. And even though it's Catholic, it looks almost like an Arabian palace.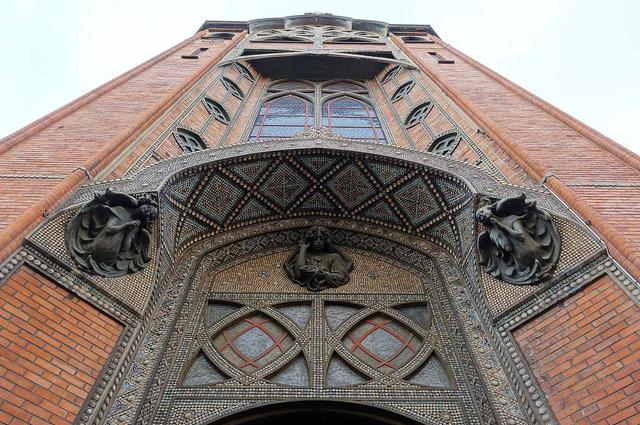 The list above is just some of the interesting places you'll find on Montmartre. If you want to find your way around more easily, we suggest picking up a map from the tourist office, Office de Tourisme. That way you won't get lost and have a plan which is a real work of art. The office is at 21 place du Tertre and is open from 11 to 6 from October to April and from 10 to 7 during the warm months.
[touringbee:link label:And don't forget our audio guide]!
Have a nice trip to Montmartre!
https://voyage10.com/wp-content/webpc-passthru.php?src=https://voyage10.com/wp-content/uploads/2020/02/paris-montmartre-basilica-france.jpg&nocache=1
607
910
Alina
https://voyage10.com/wp-content/webpc-passthru.php?src=https://voyage10.com/wp-content/uploads/2022/01/voyage10_logo-2-300x95.png&nocache=1
Alina
2020-02-12 18:15:39
2022-01-03 16:57:33
Montmartre's 10 best tourist sites