Beautiful places around Rome

Italy is one of the most beautiful countries in the world. Amazing natural landscapes, beautiful architecture and the best food. It invites you to relax and be at peace. If you're on vacation in Rome and are tired of the standard tourist sights, it's time to go look at Rome's outskirts. In 60 to 90 minutes, you can see other beautiful and interesting cities. Read more to find out about these cities.
Cities near Rome
You can travel around Rome's outskirts on public transport, or you can rent a car. If you think renting a car and driving around Rome seems like a bad idea, you're not wrong. But it's the best option for seeing the surrounding area. You can see car options with prices here.
Tivoli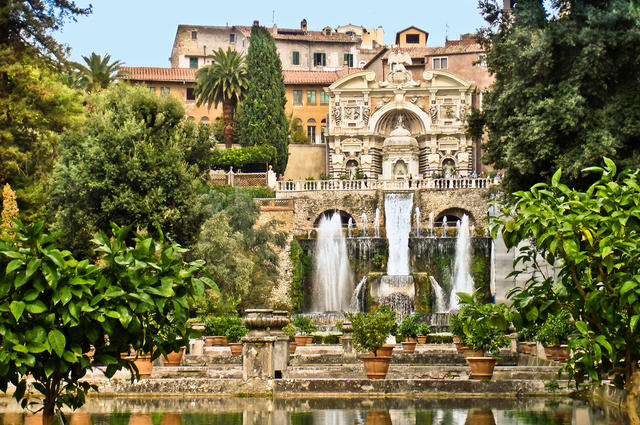 This ancient city was founded in the 13th century BCE. It has its own rich history and interesting tourist destinations, two of which are UNESCO World Heritage Sites. You have to go to Tivoli for at least one day. You'll find the villa d'Este (16) famous for its luxurious gardens, fountains, the villa itself and the view. The ancient Roman imperial Adriana villa will amaze you with its size and ancient history. The Grigorian villa (19) has waterfalls, grottos, greenery, and cool trails. Last but not least, you can visit the castle of Pope Pius II, built during the Renaissance. Another good option for seeing this remarkable city is on a tour. You can find offerings here.
If you're not driving yourself, the most comfortable way to get there is using the bus company Cotral. You'll leave from the Ponte Mammolo (blue line B) metro station. You can see the schedule on their site.
Bracciano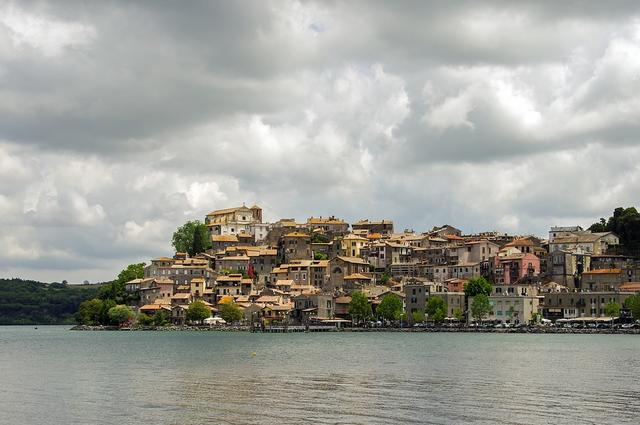 This small town next to Rome is famous for its amazing volcanic lake and medieval castle Odescalchi, which you can visit for 8.50 Euros. More than 100 movies have been filmed there, and it's where Tom Cruise and Katie Holmes got married. It's quite pleasant to enjoy the water and look at the beautiful castle. And you can even swim in the lake in the summer.
You can find information about the museum on the official site. You can get there from two train stations (Roma Ostiense or Roma Tiburtina). The Trenitalia trains go right to Bracciano.
Look into hotels in the city if you plan to go to Bracciano for more than one day.
Ostia Antica
Ostia Antica is an ancient trade city that was the main Roman port for a few centuries. The sea is too far away now for the city to serve as an active port, but the ancient buildings remain. It's worth visiting to see the amphitheater, the forum, the thermal pool and the rulers' home. It's a relaxed place right next to beautiful horse pastures, and the sea is just two bus stops away. A ticket to the beach costs 6.5 Euros.
You can get to Ostia Antica from Rome by taking a train towards Cristoforo Colombo (using the city ticket for 1.5 Euros) from the Piramide metro station (blue line B), and riding until the Ostia Antica stop. You can also book a tour to Ostia from Rome. You can find more detail here.
If you want to stay longer, you can find hotels in Ostia here.
Cerveteri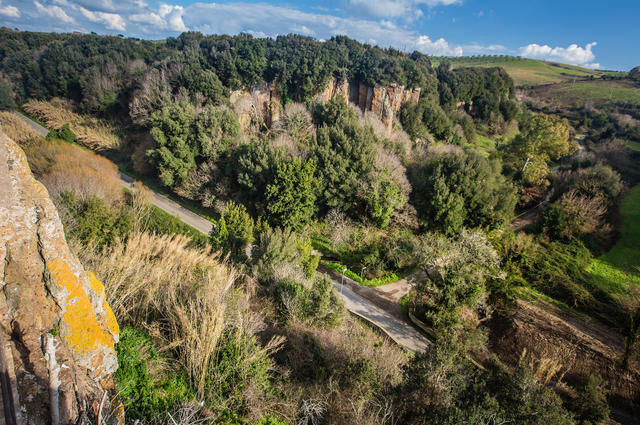 Cerveteri is an old city that used to be the home of the Etruscan government. The history of Cerveteri starts in the middle of the 9th century BCE. You can visit a complex of impressive, ancient cemeteries near Rome. The Etruscans thought that the dead needed all human amenities like cookware, furniture, weapons, spacious areas and more. These burial grounds are an amazing piece of history.
You can get there from the Cornelia metro station (red line A) on the blue bus Cotral and get off at the Cerveteri — Piazza A. Moro stop.
Viterbo
Viterbo is a popular city in Rome's outskirts where you can spend a day to see some unique local tourist sights. The main Papal residence was located in this former Etruscan capital in the 13th century, and the building has very interesting stonework. You'll also find a medieval pilgrim quarter (San Pelligrino), the post-Gothic palace Farnese, the San Lorenzo cathedral, a Renaissance-era city hall, Gothic fountains and other famous tourist sites.
There are several options for interesting tours in this city. You can see them here.
The most comfortable way to get there is on a train from the Rome Ostiense or the Roma Tiburtina train stations. Your stop will be the Trenitalia station.
Calcata
This small town near Rome is nestled in a cut-out mountain and surrounded by forest. It's no mistake that many artists came to live here. Thanks to them, Calcata was revived. You can find beautiful streets and wonderful views that inspired the artists who called Calcata home.
You can take a blue Cotral bus from the Roma Saxa Rubra station to get there.
There are a few good hotels in Calcata if you want to stay longer.
Tourists also often go to the sea to enjoy the beaches and warm water. You can read more about this in our article "Best beaches near Rome."
Have a nice trip to Rome's outskirts! 
https://voyage10.com/wp-content/webpc-passthru.php?src=https://voyage10.com/wp-content/uploads/2021/04/medieval-4399423_1920.jpg&nocache=1
1281
1920
Alina
https://voyage10.com/wp-content/webpc-passthru.php?src=https://voyage10.com/wp-content/uploads/2022/01/voyage10_logo-2-300x95.png&nocache=1
Alina
2020-03-25 18:08:44
2022-12-24 16:52:25
Beautiful places around Rome