What can you see during a layover in Paris?

Do you have a layover in Paris and don't know what to do while you wait? This article will explain when it makes sense to leave the airport, how to get to the center quickly and what interesting things you can see in Paris in just a few hours.
What you'll need to visit Paris during a layover
A Schengen visa: without it you can't get out of the international terminal. Make sure your Schengen visa isn't category A (transit), which doesn't let you leave the airport.
You need at least 6 hours between flights.
A frequently asked question is how long a layover needs to be to safely leave either Charles de Gaulle or Orly airport and go to Paris. We think you need at least 6 hours to get to the city and back, since 3 of those hours will be spent traveling and on airport procedures. If your layover is less than 6 hours, don't risk it and stay in the airport. Charles de Gaulle is huge, and you can find something to do.
How to get to Paris on a layover?
Your layover is more than 6 hours, so you think to yourself, what next?
First, plan your time so you can quickly solve the necessary problems in the airport:
Figure out how to get your bags when you land.
Understand the airport layout, know which terminal you're arriving in, and departing from, where baggage claim is and where registration and baggage storage are. If you're traveling with a large carry-on, it might be worth leaving it in the airport (6 hours of storage for a 32 kg bag costs €12). Find the shortest path to the RER station.
Download the RER app and an offline map of Paris.
How to get to Paris quickly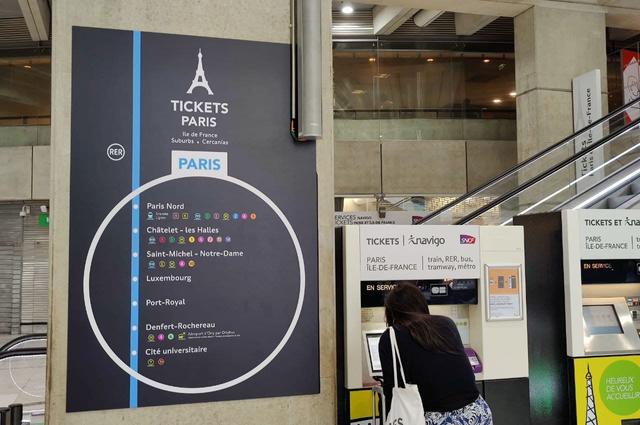 The train ride from the airport takes about an hour one way, so plan your time carefully.
The airport building has an RER train station that you can take to the Saint-Michel-Notre-Dame station in the middle of Paris. You can get your ticket from machines that are in the airport's train station. If you're planning to move around a lot with the metro, and don't want to think about buying extra tickets, buy the Paris Visite travel pass for zones 1-5 (an adult ticket for 1 day costs €28,50), which lets you freely use any public transport in Paris and the suburbs.
» See more – What kind of ticket is best to buy in the Paris metro?
You can also take a taxi. You can order one using this link and it'll pick you up in arrivals in Charles de Gaulle or here in Orly. You won't have to search for the RER station, buy tickets, and figure out the metro, and it'll save you at least 30 minutes.
You can order a shuttle bus from the airport Orly here which is a fast and cheap option.
Our site has articles on how to get to Paris from Charles de Gaulle here and from Orly here.
» See more – 10 ways to get to Paris from Charles de Gaulle airport
What to see in Paris during a layover
If your layover is 6 hours, then you'll have about 3 hours of free time in Paris. What can you see in just three hours? Quite a lot! Just follow this foot route that we've made for you:
Saint-Michel-Notre-Dame station to the Alexander III bridge (5 km);
the bridge to the Champ de Mars-Tour Eiffel station (3.3 km).
Notre-Dame and Latin quartier
You should start at the Saint-Michel-Notre-Dame station. Go above ground, and you'll see one of the main tourist sites, Notre Dame de Paris. You can go straight to the cathedral, or start by visiting the Shakespeare and Company bookstore next to the famous cafe of the same name. If you get hungry, you can order a cup of coffee and a dessert and enjoy the view of Notre Dame.
We also recommend taking a picture on Rue Saint-Julien le Pauvrec with a view of the Odette cafe. You can also buy an edible souvenir: a box of French pies.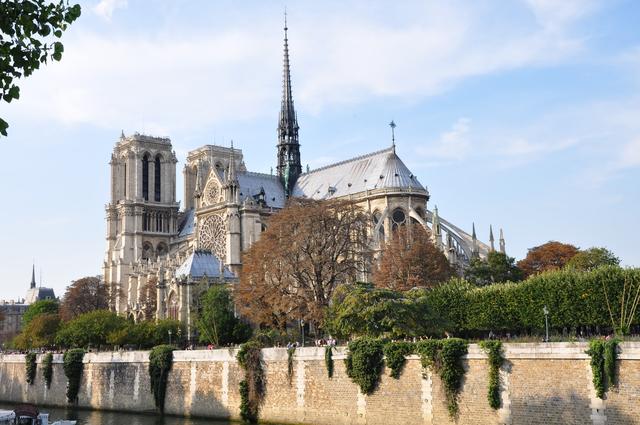 Next, go back Square Rene Viviani alongside the Seine and up to Pont de l'Archeveche which has a view of the cathedral. Cross the bridge and you'll be in the garden of Jean XXIII which is unbelievably beautiful in the spring when the cherry trees are in bloom. Go through the garden and you'll be across from Notre Dame. This is Paris's exact center. Across from the cathedral you'll find a ton of birds, and you can take a nice picture with some pigeons. The birds are trained, and if you pay 1 Euro, the local can organize a photo with sparrows and pigeons on your arms.
There's a ramp down to a public toilet across from the cathedral.
Louvre and Tuileries gardens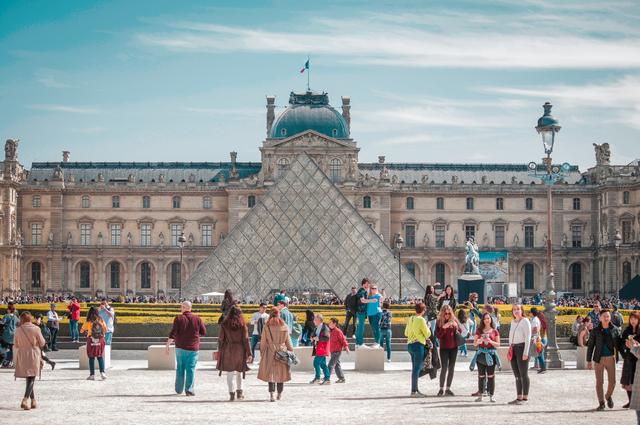 After Notre Dame, head towards the Louvre: go down Rue de la Cite, across the bridge Pont Notre-Dame or Pont au Change, and then walk along the Quai du Louvre and cross the Quai Francois Mitterrand. Unfortunately, there isn't enough time during an average layover to visit the Louvre, but you can look around the foyer and museum walls, and you'll have enough time to take a picture of the famous glass pyramids.
Alexander III bridge and Les Invalides
Once you leave, go through the Tuileries gardens and you'll be at the place de la Concorde. Enjoy the Luxor Obelisk and fountains, then go along the Cours la Reine to the bridge of Alexander III. There you'll have a great view of the Eiffel Tower and you can take a nice picture.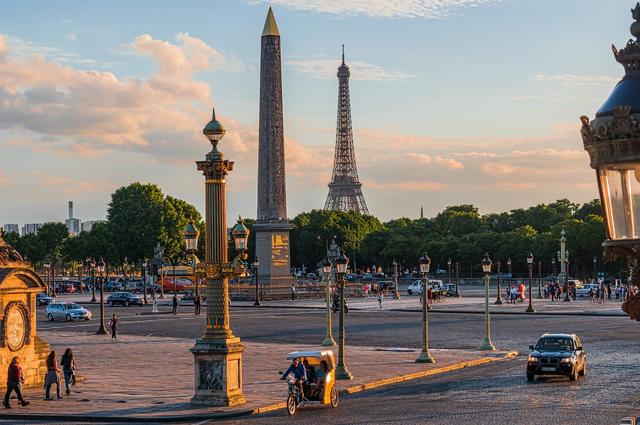 Our route up to this point is about 5 km, and with consideration for seeing the sights, there isn't much of our original three hours left. If you don't have much time left and don't want to be late, go across the bridge. There's a station Invalides on the other side of the Seine and you can get to the RER station Saint-Michel-Notre-Dame in 5-7 minutes and take the RER back to either of the airports.
If you've got energy and time, we recommend continuing your walk. After the bridge, look at the Invalides, admire the dome on Napoleon's tombs and then go along Avenue de la Motte-Picquet to the Fields of Mars.
Eiffel Tower
Here is a great place for pictures of the Eiffel Tower. Go across the park to see the famous tower. And this is where our brisk introduction to Paris ends. Now you have to go down the Quai Branly to the Champ de Mars-Tour Eiffel station where you can get to the RER Saint-Michel-Notre-Dame station in 10-15 minutes, and you're back where we started.
You can find more ideas for entertainment with our audioguides
More ideas without walking
Of course, 3, 5 or 7 hours can be spent completely differently in Paris. If you don't like walking around, but the weather is nice, buy some food at a bakery and have a picnic in the Champs de Mars or the Luxembourg gardens. Three hours is more than enough for this.
If the weather's bad, you could sit in a cafe and relax.
If you want to see more of the city, but don't want to run around the streets, choose a double-decker bus tour and in just a couple of hours you'll see almost all of Paris! You can order one here.
A cruise on the Seine is one of the best ways to see the city both day and night. Book your ticket here so you don't have to wait in line. By the way, you can have lunch or dinner during the cruise.
The most important thing is don't be afraid to leave the airport if you have more than 6 hours!
Enjoy your trip!
https://voyage10.com/wp-content/webpc-passthru.php?src=https://voyage10.com/wp-content/uploads/2020/02/1280px-Paris-Charles_de_Gaulle_Airport_sunrise.jpg&nocache=1
836
1280
Alina
https://voyage10.com/wp-content/webpc-passthru.php?src=https://voyage10.com/wp-content/uploads/2022/01/voyage10_logo-2-300x95.png&nocache=1
Alina
2020-02-28 19:52:12
2023-06-21 07:51:35
What can you see during a layover in Paris?