How to get from Schiphol airport to the center of Amsterdam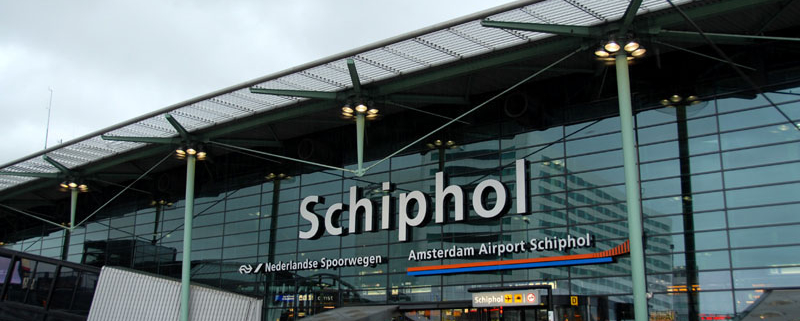 After passing through standard passport control and baggage claim, you'll be in Schiphol's main hall. How can you get to Amsterdam from here? There are several options.
A train is the easiest and quickest of all the public transport options. Modern trains will take you there in just 30 minutes, and they have signs for all the stations and even internet access. You can get a train ticket in advance here to avoid the Dutch ticket machines at the stations. Also keep in mind that the machines don't take all types of cards, so if you didn't buy your ticket in advance, you should have some coins on hand.
You can get a ticket yourself or at the counter (Train tickets & Service) that is near the Meeting Point in the center of the hall, but there are often lines. Trains leave Schiphol to different Dutch cities, including Amsterdam's central station. If you're staying in a different region, you'll need to get on a trolley or bus which will need a separate ticket, and it's sometimes easier and cheaper to get a taxi in advance (you can do so using this link). Moreover, your driver will pick you up at the airport and take you to your hotel.
How to buy train tickets to Amsterdam at Schiphol airport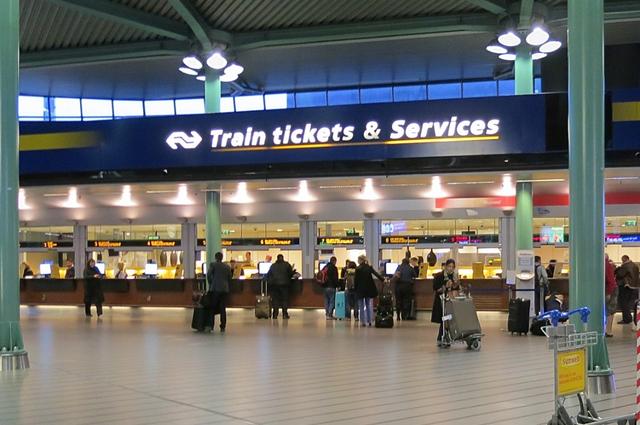 At the ticket office, they'll tell you which route you need and when the train will arrive. You can pay with cash or card. It's important to note that prices go up by 50 cents for each ticket.
You can buy a ticket yourself with no difficulties. The center of the hall has special yellow machines where you can get tickets.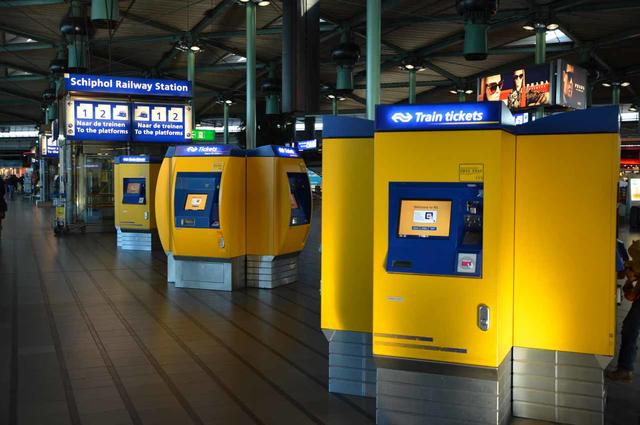 You can pick Dutch or English. The screen has four buttons, and since you want Amsterdam, press "I want to go to Amsterdam".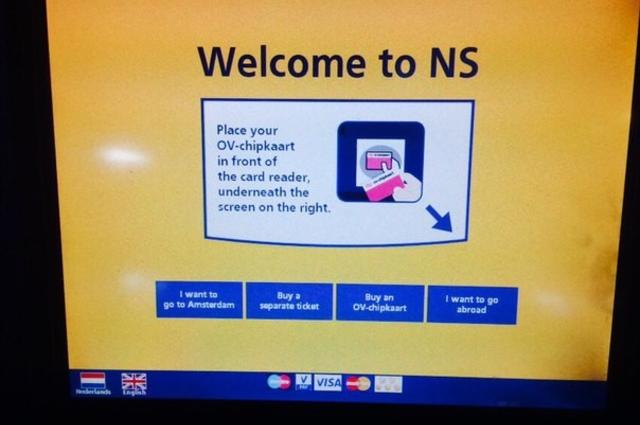 Then you'll see the different ticket types. The simplest and most standard ticket is the One-Way ticket (the highest button), which is good if you're going to Amsterdam for a few days. If you'll be in the city for a day or just a few hours, we recommend the Day Return ticket (second from the top) that will let you go to the city and come back to the airport.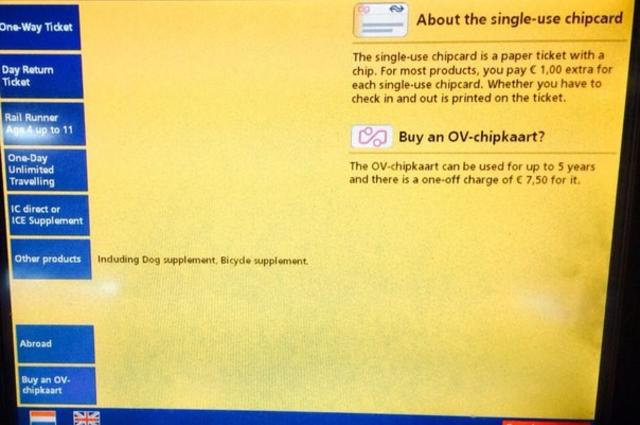 You can get a first- or second-class ticket. We recommend the second-class ticket because it's cheaper and hardly worse than first class. You aren't going very far.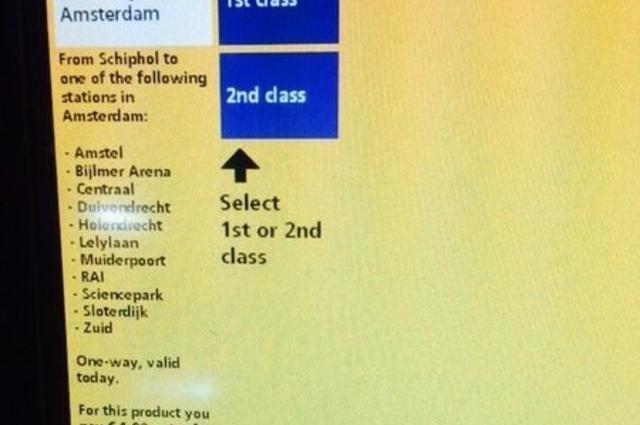 After picking your ticket class, select the "valid today" option.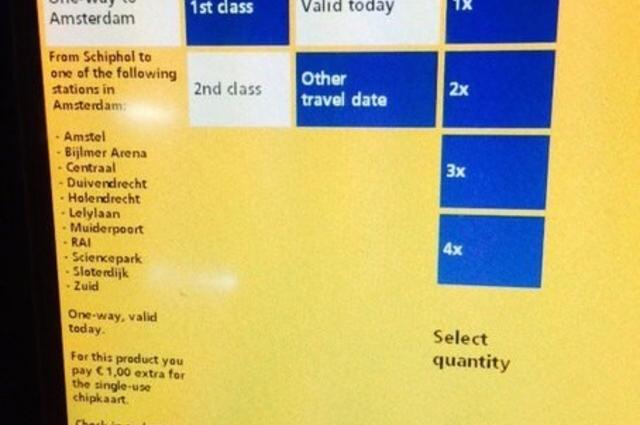 Pick the number tickets that you need, then pay for your tickets. You have several choices for payment. The machines take all kinds of cards, but keep in mind that if you pay with a visa card, you'll pay a 50-cent tax. Also, if you're paying with cash, it only takes coins.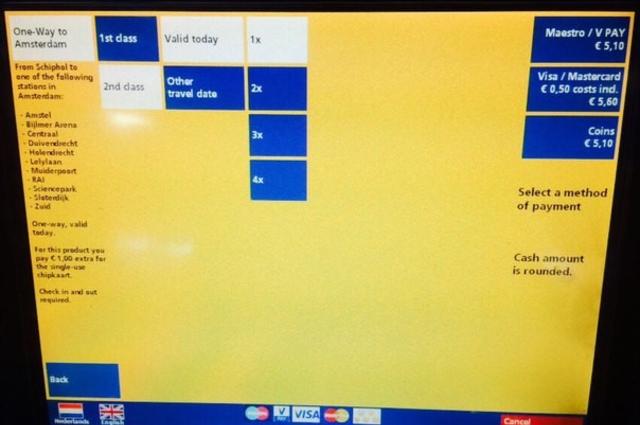 After paying, you'll get your white and yellow card-ticket. You need to activate your ticket by passing it through one of the special scanners that you can find throughout the hall.
Now you can go to Amsterdam.
If you want to find the train schedule, we recommend downloading the 9292, NS app on your phone. This free program will show you the route, time and platform number of your train.
You can get help at the ticket counter or look at the schedule, but it doesn't mark canceled trains or delays, so always double-check the display that's on the platform.
How often do trains go to Amsterdam?
During the day, trains leave every 15 minutes. From 1 to 5 am they leave every hour. The trains have ticket checkers, so we highly recommend buying a ticket. The fine for riding without a ticket is 35 Euros.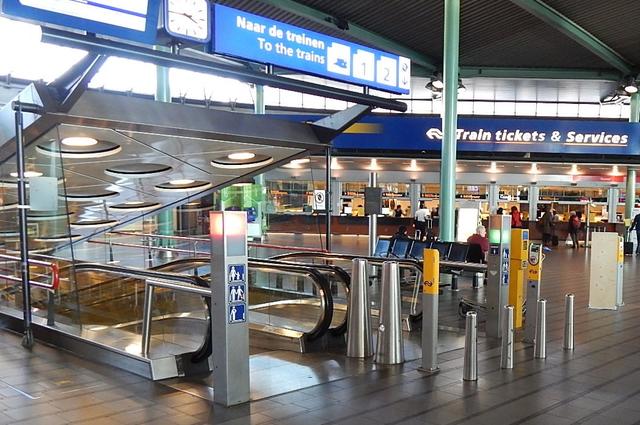 You can also take a bus to Amsterdam, but we don't recommend it because it will take more time, is more expensive, and you'll have to take another form of transport to get to the center from the southern part of Amsterdam.
You can also get a taxi, which will cost 50 Euros on average and the travel time depends on the traffic.
Enjoy your vacation and have a nice trip! 
https://voyage10.com/wp-content/webpc-passthru.php?src=https://voyage10.com/wp-content/uploads/2021/04/Amsterdam_Airport_Schiphol_Front.jpg&nocache=1
536
800
Alina
https://voyage10.com/wp-content/webpc-passthru.php?src=https://voyage10.com/wp-content/uploads/2022/01/voyage10_logo-2-300x95.png&nocache=1
Alina
2020-05-14 17:31:11
2022-12-24 16:58:25
How to get from Schiphol airport to the center of Amsterdam