Mont Saint-Michel: everything a tourist needs to know

Bas van Breukelen
There are three rocky islands just off the north-western coast of France: Mont Saint-Michel, Mont-Dol and Tomblaine. Only Mont Saint-Michel is inhabited. The Saint Michael monastery was built on the island in the year 709, and the dam connecting it to the continent was only built at the end of the 19th century. For much of the city-island's history, it was separated from the mainland with every high tide.
Now this unique monument is protected by UNESCO. Only 30 people permanently live on the island, but 3.5 million tourists and pilgrims visit every year. The best time to visit Mont Saint-Michel is in July and August, but there are great sights even in the winter. The view of the ice-covered coast is stunning.
How can I get to Mont Saint-Michel from Paris?
On a train
The TGV speed train leaves Montparnasse station and goes to Pontorson, the closest mainland village to the island It's about a 3-hour trip. It's 10 km from Pontorson to Mont Saint-Michel, and a free bus runs every 10 minutes.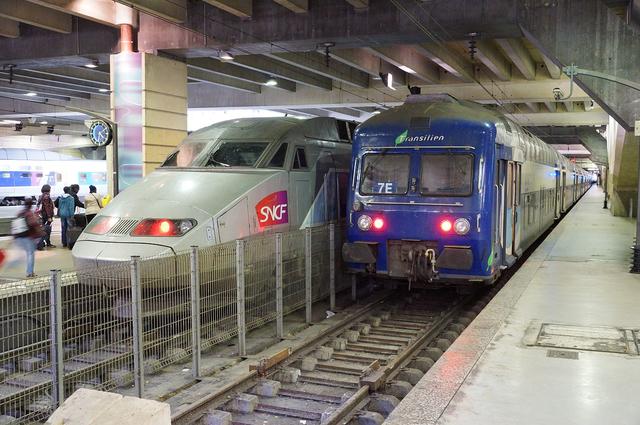 If you want to visit as many wonderful northern French towns as possible, the train to Pontorson also runs through Rennes and Dol-de-Bretagne. There are direct buses from them to Mont Saint-Michel as well.
You can go in a small circle by going through Caen or the extremely gorgeous city-fortress Saint-Malo. Buses go to Mont Saint-Michel from there too.
On a bus
There's no direct bus to Mont Saint-Michel from Paris, but there are full-day individual and group tours. You can choose and book one using this link.
In a car
If you don't want to worry about transfers, the easiest way to get to Mont Saint-Michel is in a car (you can rent a car here). But keep in mind the nearest parking is 3 km from the island, is fairly expensive, and you'll have to walk the rest of the way. If you're driving, it's a good idea to leave your car in Pontorson and finish your journey on the free bus.
» See more – Advice for renting a car in France
Mont Saint-Michel's tourist sights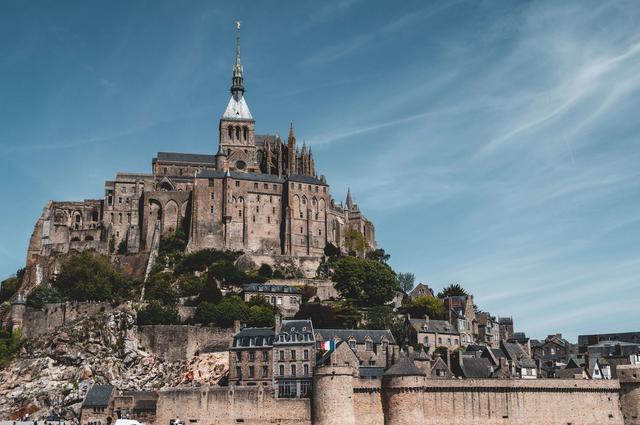 Once you get to the island, you could call your visit one big tour. The entrance to this medieval town has a former Burgher's Guardroom where a tourist office is now located.
It's open from:
7 to 7 daily in July and August.
9:30 to 6 (break from 12:30 to 2) from March to June and September to October.
10 to 5 (break from 12:30 to 2) from November to February.
After going through the Boulevard Gate and the King's Gate, you'll be on the main road (Grande Rue) that has museums, shops and buildings built in the 15th and 16th centuries.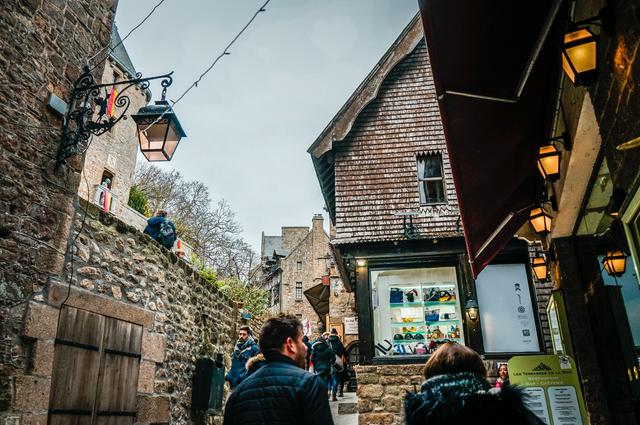 The city has the four unique museums:
L'archeoscope will teach you about the construction and history of Mont Saint-Michel.
The historical museum has old weapons, paintings and sculptures that give you an idea of the local prisons and dungeons.
The museum of the sea and ecology tells you about the city's connection to the sea.
Le logis Tiphaine demure de Bertrand Duguesclin is a home built in 1365 by Bertrand Duguesclin for his wife. You can see gargoyles, furniture and 16th century paintings.
The museums are open every day from 10 to 5. All the museums besides the sea one close during winter holidays. Tickets are sold at the entrance. Tickets pricing:
Tickets for all four museums        Ticket for 1 museum
For adults                                   18 Euros                                 9 Euros
18-25 years old                          12 Euros                                 4.50 Euros
12-18 years old                           9 Euros                                  3 Euros
You can get a 4-museum ticket in advance here.
While walking around, you'll find the small parish church St-Pierre, which was built at the turn of the 16th century in honor of the patron saint of fishers. Mass is held every day at 11 and at 6 on Saturdays.
If you want to go to the monastery, you need to climb the Grand Degre (great steps). The abbey is open to visitors every day other than January 1, May 1, and December 25.
It's open from:
9 to 7 from May 2 to August 31.
9:30 to 6 from September 1 to April 30.
You can go on your own or with a tour guide. Tickets are sold at the monastery entranceand they cost 11 euros. Children under 18 years old (with parents) can get in for free. The chapel tour is 18 euros and an audio guide is 3. You can get a discount at the entrance if you came on the Intercites train. Show your ticket at the ticket counter and your ticket will cost 9 euros.
Mass is held every day at 12:15 (11:30 on Sundays) and can be attended for free.
You can get an abbey ticket in advance here. The price is the same. What do you get? You don't have to wait in line!
Mont Saint-Michel tides
People come to Mont Saint-Michel to see the medieval town and to see the biggest tides in Europe. The water reaches Saint-Michel's walls twice a month. The specific dates can be found on the city's website in the times of the tides section.
The water reaches its highest point 36-48 hours after the full moon or half moon, especially in the mornings and evenings. The difference in water level is 15 meters. You can almost see how the water hides or reveals 15 km of Saint-Michel's land with your own eyes.
If you're driving, be very careful and plan on leaving your car within the fortress walls, or it could be swept away by the tides. The best way to see the tides is by arriving one or two days in advance and staying in a hotel.
Where should I stay in Mont Saint-Michel?
You have two choices: stay on the island itself, or 3 km away with a great view of the giant abbey.
If you choose to stay on the mainland, these are our recommendations:
Le Relais Saint-Michel is a 4-star hotel. Rooms cost 270-560 euros a night. Some rooms have a view of the island.
Saint Aubert is a 3-star hotel. Rooms cost 90-145 euros a night. No view of the island.
The island itself has good hotels too:
La Mere Poulard is a 3-star hotel. Rooms cost 190-550 euros a night. It's not far from the island entrance (useful if you have large suitcases).
La Vieille Auberge is a 2-star hotel. Rooms cost 120-200 euros a night.
Another option available from February 15 to November 11 is staying at a campsite with electricity in a nearby village on the mainland.
Book hotel in Le Mont Saint Michel
Where should I eat in Mont Saint-Michel?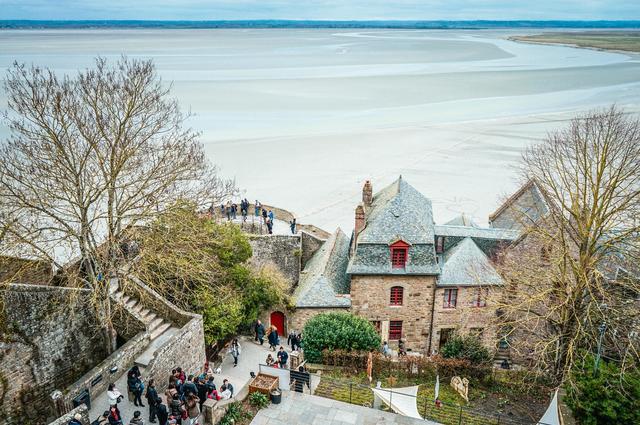 The Mont Saint-Michel island has hotels, restaurants, and dozens of cafes and creperies, almost all on the monastery's territory. Traditional items on most menus include various Norman dishes. Seafood often includes mussels, called moules de bouchot de la baie de Mont Saint Michel.
The 3-6 month "l'agneau de pre'sale with high salt and iodine content is unbelievably good. Food tourists come to the island specifically for this dish, as well as the huge "la mere Poulard" omelet that's made in a fireplace. The la mere Poulard is made in the la mere Poulard hotel.
Crepes spread throughout France from Normandy. The local crepes are special due to the buckwheat flour. Definitely give them a try. Some good places to go for crepes are:
The traditional crepe house La Cloche;
Cafe La Mere Poulard;
The restaurant Le Saint-Michel;
The cafe Le Tripot.
Have a great trip! 
» See more – An independent car trip around Normandy
https://voyage10.com/wp-content/webpc-passthru.php?src=https://voyage10.com/wp-content/uploads/2020/07/bas-van-breukelen-EaEEml67Ws8-unsplash.jpg&nocache=1
1280
1920
Alina
https://voyage10.com/wp-content/webpc-passthru.php?src=https://voyage10.com/wp-content/uploads/2022/01/voyage10_logo-2-300x95.png&nocache=1
Alina
2020-07-15 18:24:00
2022-12-24 17:03:42
Mont Saint-Michel: everything a tourist needs to know