Courchevel: 10 Ideas for a Great Vacation

Public domain
Courchevel, which became popular thanks to the revelry of the Russian billionaire Prokhorov, is world-famous as a fashionable resort with well-developed infrastructure and high-quality tracks.
We have prepared 10 ideas to help you enjoy your time in Courchevel.
Rent a chalet
There are many hotels in Courchevel, but it's the Alps, so why not choose a chalet! These Swiss-style farmhouses may be humble or ornate. You can rent an entire house for your family or just a room. You'll find different levels of comfort: some chalets are no different from modern hotels, while others resemble mountain huts without unnecessary amenities, with furnace heating. For authenticity, the latter option can be tempting, but double-check the amenities to make sure that your trip will be comfortable.
Top tip: book your accommodation well in advance. During the busy season, the army of tourists will take all but the most uncomfortable or expensive options. You can find a hotel using this link.
Go downhill skiing
You can search for Courchevel on Instagram to see some of the more than 150 kilometers of tracks of varying difficulty. Even complete beginners can have a good time here. There are lessons available with instructors that will have you skiing on your own after just a couple of housrs.
For beginners, there are blue and green trails, most of which are located in the Pralong and Bellecôte regions. More experienced skiiers will likely be waiting for La Vizelle, while pros can enjoy downhill skiing in Pas du Lac.
» READ MORE – Where to ski in the Alps: 10 best resorts
Snowshoeing
For those who are not tempted by mountain skiing, you can go for a walk on snowshoes. This is also a fun activity if you just need a break from skiing!
There are 9 special snow-accessible trails in Courchevel. Their total length is 17 kilometers, and hiking them is a challenge in the mountain conditions. It is best to take an instructor with you to show you the most secluded and beautiful places on the track that you will never find on your own.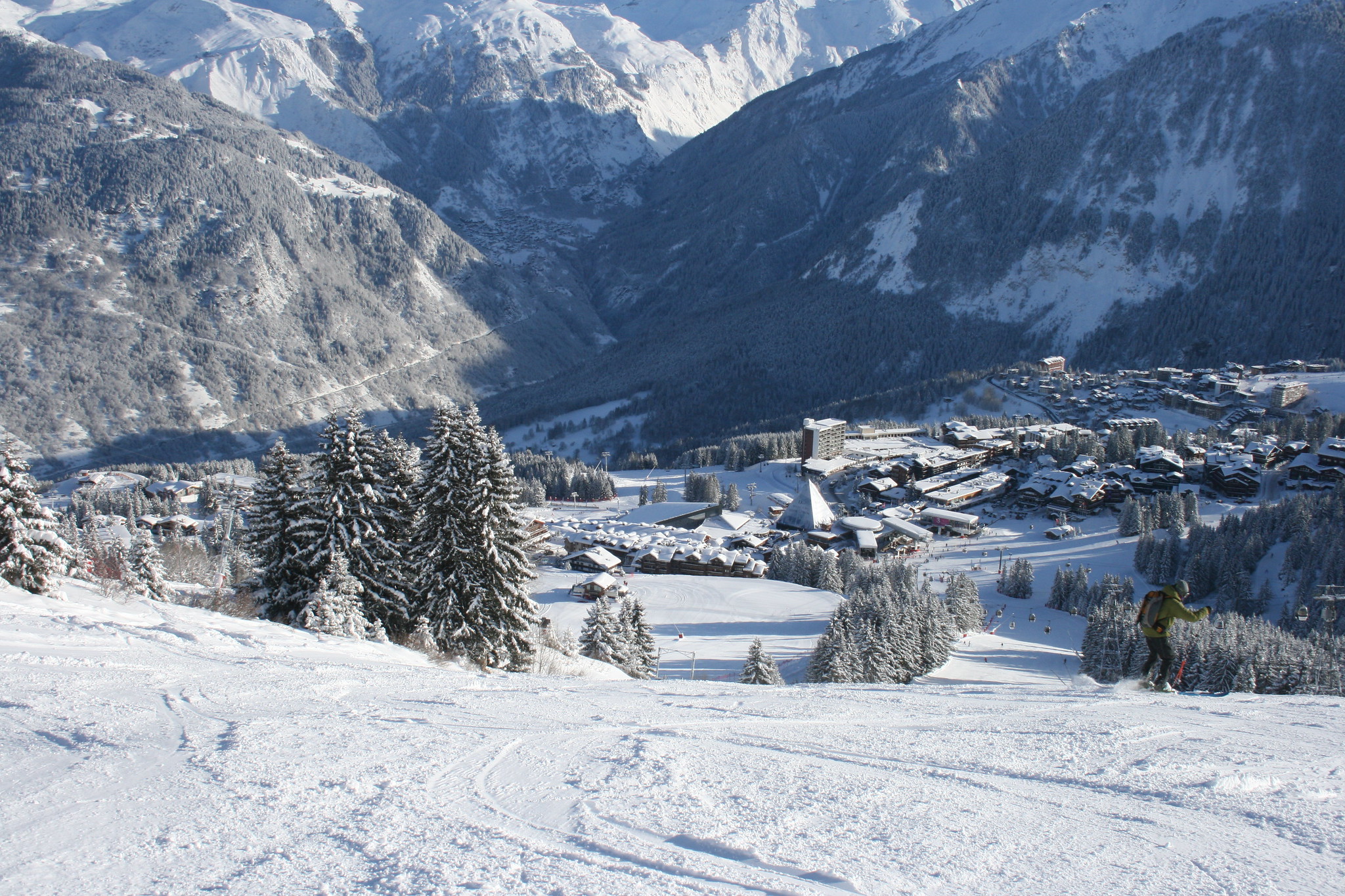 Ride a dog sled
One of the traditional activities in Courchevel is dog sledding. Due to the fact that the trail is full of descents and ascents, it's limited to ages 12 and up.
It's an expensive activity, starting from 2000 euros, but it's a great once-in-a-lifeteime experience. You'll enjoy the sled ride with Husky dogs, and you can drive the sled yourself with the guidance of a professional instructor. Arrivals are often combined with chalet dining or snowshoeing hikes.
Ride a toboggan
Toboggans are a type of non-runner sled used by Native Americans. Rides are now available for tourists in Courchevel. In 2017, the resort opened a new 3 km trail for this type of luge. Unlike downhill skiing, tobogganing is fun and safe entertainment that is also suitable for non-professionals. Even children can ride. The track itself is full of tunnels and unexpected obstacles.
A gondola lift from Courchevel 1650 leads to the beginning of the track. For those who are afraid to use a relatively high-speed toboggan, descents are available on any equipment, including ordinary air bags.
» READ MORE – 10 Best ski resorts in the French Alps
Learn to drive a snowcat
For those who are tired of traditional and even newly-fashionable amusements, the snowcat remains an option. Special caterpillar transport is intended for the preparation of ski slopes, but the enterprising French came up with the idea of renting it out to tourists.
Transport can be rented near Altiport (local airport). This requires a driver's license and a short briefing. And then a breathtaking ride on special transport awaits: the speeds are moderate, but the power and cross-country ability on the snow track are impressive.
Go shopping
The fame of an elite resort means that many wealthy people come to Courchevel, and there are hundreds of boutiques are ready to please them, rivaling any shop that can be found in Paris. In addition to traditional fashion accessories and clothing, it is worth looking at the ski equipment: although the prices are high, the quality is worth it, and the world's best sports brands are represented here.
Compensate your wallet with a VAT refund (most shops here are Tax Free). You can use this service right in the city with the registration point on Roche Square.
Taste the local cuisine
Historically, Courchevel has belonged to the Savoy, an area with strong Italian influence, and so the local cuisine is different from the classic French food you may expect.
Among the Savoyard dishes, the most popular are the traditional Swiss cheese fondue and the similar raclette dish, also made with melted cheese. We must not forget the tartiflett, a no less traditional potato casserole with bacon and onions. You can taste all these dishes in one restaurant with two Michelin stars: Le Chabichou, which is completely dedicated to Savoyard cuisine.
It is worth buying Savoyard cheese in stores and taking it home with you to enjoy later as a reminder of your trip or to share with friends or family.
Fly in a hot air balloon
Of course, Courchevel is first and foremost a winter resort (and a great place to celebrate the New Year), but it's also a nice summer destination. Naturally, snow-related entertainment is not available at this time, but there's still plenty to do! A whole world of walking tours and excursions to Geneva or Grenoble opens up for guests.
One of the best activities in the warm season is a hot air balloon flight over the peaks surrounding the city. Flights are allowed in the morning until the wind picks up. Start in Altiport, the local small airfield.
Go fishing in a mountain lake
During the warmer months in Courchevel, you can fish on the alpine lake La Rosiere or in the smaller, higher-altitude bodies of water nearby.
From lake to lake, different regulations apply: on some bodies of water, the catch must be released, in others, you can take large fish, and at others, you can keep the entire catch, but of course you have to pay for it. The cost varies. The minimum price is from 6 euros for small fish to much more for heavyweights.
When considering Courchevel as your vacation destination, don't fall for the snow and ski stereotypes. There are tons of ways to enjoy the winter snow, and summer will give you a fresh perspective on the resort.
Have a nice vacation!
» READ MORE – Alps in january
https://voyage10.com/wp-content/webpc-passthru.php?src=https://voyage10.com/wp-content/uploads/2020/08/ski-4188832_1920.jpg&nocache=1
1275
1920
Anna
https://voyage10.com/wp-content/webpc-passthru.php?src=https://voyage10.com/wp-content/uploads/2022/01/voyage10_logo-2-300x95.png&nocache=1
Anna
2020-08-28 12:12:41
2023-01-09 15:54:23
Courchevel: 10 Ideas for a Great Vacation