Tour the Loire Valley castles in your car

Dorian Mongel / Unsplash
The Loire Valley is a perfect region for tourists. You'll find luxurious views, abbeys, historical monuments, light wines from local grapes, and of course, Renaissance era castles. The best way to see the valley is to travel by car, so you can see the most interesting places without rushing, take time to enjoy traditional French dishes, beautiful nature, and experience the local romantic spirit to the fullest.
You can rent a car at the airport or in the city. Don't try to see too many castles a day. Two or three will be plenty. Our experts have designed an optimal route for you that is designed to take about a week. If you have just a couple days, then follow the route for days 1 and 2. We tried to get to all the most famous Loire castles on those days. If you have a full week, you'll be able to see more. Besides the castles, you can expect excellent views, local food, wine tastings and maybe even a hot air balloon ride.
» See more – The Loire Valley castles: a two-day adventure
Day 1. Blois, Chambord and maybe Cheverny
The city Blois is on the right bank of the Loire, 180 km from Paris on the RN152 highway. The castle address in Blois is Place du Chateau, 41000 Blois.
The largest Loire castle has a unique architectural structure composed of buildings from various times. The former royal chambers are open to visitors.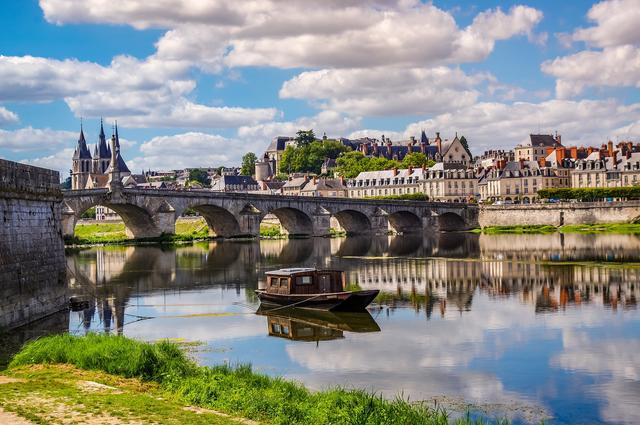 Tickets cost 12 euros for adults, 9.5 for students, 6.5 for children over 6 years old, and are free for children under 6. It's open every day from 9 to 7. It's closed on January 1st and December 25th.
The next stop is Chambord, 16 km from Blois on the D33. The address for the castle is Chateau de Chambord, 41250.
Chambord is the largest, most beautiful, and most magnificent castle in the valley. The castle complex is in a huge 5000-hectare forest park. Chambord is partially built according to Leonardo da Vinci's drawings. It looks like a maze and rivals Versailles in size.
Tickets cost 14.5 euros for adults and are free for children. Parking costs 6 euros. It's open from 9 to 5 in the winter and until 6 in the summer. It's closed on December 25, November 30th, January 1.
This is quite enough for your first day. But if you want more, you can also go to Cheverny. The route to Cheverny takes less than 30 minutes (18 km).
The address is Domaine de Cheverny, 41700.
The castle here is praised for its rich interior. The kennel has hounds that help hunt deer. The dog feeding is a daily show. It's a private castle, which means it is still home to aristocrats. Tickets are 12.50 Euros for adults and 9 for children over 7 years old. It's open in the winter from 10 to 5 and in the summer (April through September) from 9:15 to 6:30.
For your first day, it would be best to go back to Blois for dinner and a hotel. You can see Blois's best hotel offerings here.
Day 2. Amboise, Chenonceau and maybe Chaumont
If you have time, start day two by visiting Chaumont, 24 km from Blois.
The address is Chaumont-sur-Loire. The architecture is a mix of Gothic and Renaissance, and the castle is surrounded by a beautiful garden that has amazing views.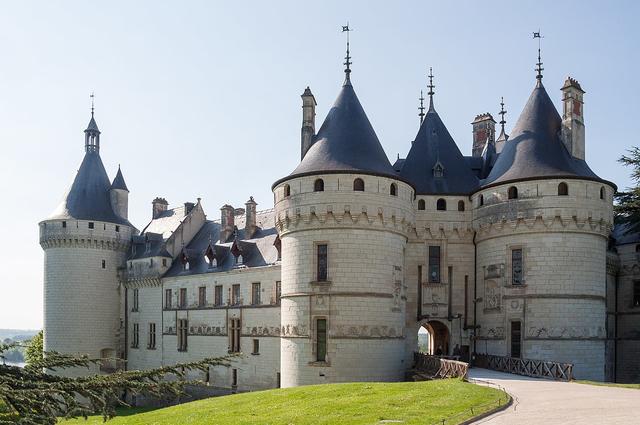 Tickets cost 19 euros for adults, and 6 euros for children over 6 years old. There are exhibitions and garden festivals held here regularly, so check to see if you can align your trip with one of these. The castle is open from 10 to 5.30 in the winter and until 7 in the summer. You don't have to go inside this castle. You can just look at the outside and move on.
The next castle is a must-visit. Amboise is the magnificent castle of King Francis I. It towers impressively above the rest of the town. The old city's roads have a ton of cafes and restaurants. After visiting the castle, it's quite nice to drink cafe au lait (coffee with milk) and eat a croissant.
The address is Place Michel Debre, 37400 Amboise. It's 40km from Cheverny or 17 from Chaumont.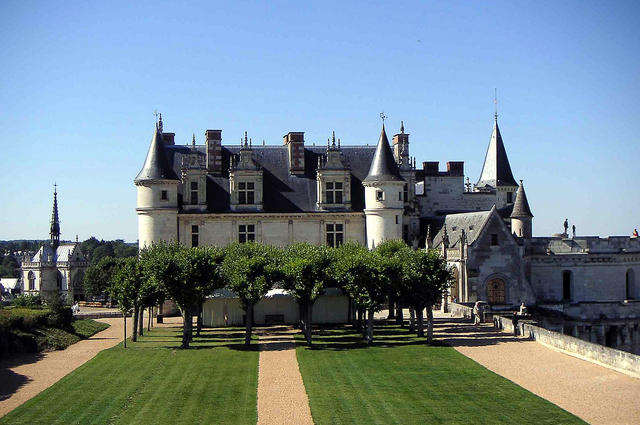 The great Leonardo da Vinci is buried in the castle's temple, so any fan of the famous artist and inventor will want to visit. Tickets cost 13.10 Euros for adults, 11.30 for students, and 9 for children over 7. A ticket plus a tour costs 17.60, 15.80 and 13.50 euros, respectively. it's open from 9 to 4:45 in the winter and to 6-7 in the summer.
Not far at all from the main castle in Amboise you'll find Leonardo da Vinci's castle. The castle Clos Luce was his final home. Go visit him!
Chenonceau is 12.70 km from Amboise and rises above the water with elegant towers and angular bay windows. The address is D 40, 37150 Chenonceaux. It's known as "The Ladies Castle" because it was a gift from the king to Diane de Poitiers. The wonderful park in front of the castle was planted by the 16th century's most beautiful woman. The castle's modern owners have prepared it magnificently for visitors. Tickets cost 15 euros for adults, and 12 euros for students and children over 12. It's open from 9 to 5 in the winter and to 6 in the summer.
After visiting Chenonceau, go back to Amboise for a nice evening in the beautiful city. Book a hotel here to spend the night.
Day 3. Tours, Villandry and Sleeping Beauty's castle
The city Tours is conveniently located and has art museums and flamboyant Gothic architecture. If you're an art fan, you might want to stay longer, but since this trip is about the castles, we'll head out to Villandry after breakfast here.
Villandry is 15km away on the D7 highway. Tourists visit this Renaissance castle mostly for the park. 30 types of medicinal and spicy plants fill the air with their aromas. You'll find three layers of gardens here. The upper has expansive ponds, the middle features musical instruments and is all about love, and the lower has garlands of multi-colored vegetables.
The address is Chateau de Villandry, 37510 Villandry. Tickets cost 12 Euros. They open at 9 and close at 5 in the winter and 7:30 in the summer.
The next stop the fairy tale castle Usse, and it's about a 40-minute (34 km) drive.
The address is Rue du Franc Rosier, 37420 Rigny-Usse.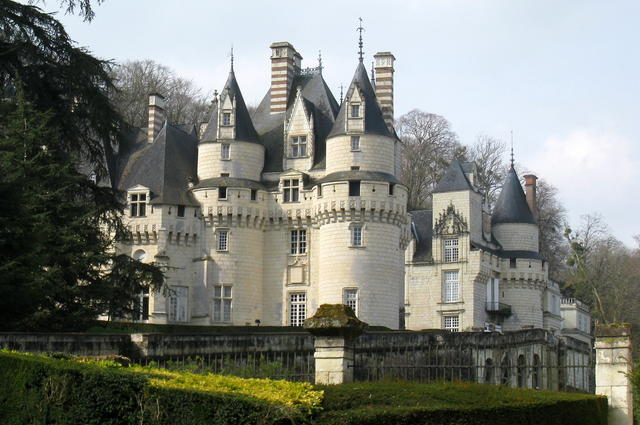 Usse is the personification of medieval romantic fantasies. Located on the edge of the Chinon forest, it's where Charles Perrault was inspired to write the story "Sleeping Beauty." The castle is built on the foundations of a medieval fortress and is surrounded by beautiful gardens. The owner is a descendent of a French count, and has allowed the interior to be open to visitors Tickets for adults cost 14 euros and 5 for children over 8 years old. It's open from February 14 to November 13: 10 to 6 in the winter and 10 to 7 in the summer. Parking is free.
After spending the day here, drive to Chinon, where you'll stay the night and start your next day. You can find the best hotels in Chinon here.
Day 4. Chinon, Breze and Saumur
Chinon is a wonderful city with half-timbered buildings. The Chinon castle is a real medieval fortress with a strong connection to Joan of Arc. The address is 37500 Chinon. Entrance costs 10.50 euros for adults and 8.50 for children over 7 years old. It's open from 9.30 to 5 in the winter and to 6-7 in the summer.
The Breze castle is 30 km away (about 30 minutes). The address is Chateau de Breze, 49260, Breze. This hidden gem is the only underground fortress in the world which is still little known to the public. Tickets cost 11.80 Euros for adults, or 6.20 for children over 7 years old. It's open every day from 10 to 5.30 in the winter and to 7 in the summer. On your way to this castle, you can visit the Fontevraud Abbey where Richard the Lionhearted is buried along with several other English monarchs.
From Breze, you'll get to the Saumur castle in about 15-18 minutes (13.5 km). The address is Esplanade du Chateau, 49408 Saumur. The castle of love, as it's known, is on a hill next to Saumur city. It's a beautiful place drowning in green vineyards and green meadows. Tickets are 7 Euros, or 5 for children over 7 years old. It's open to visitors from April through October from 10 to 5:30 and from 10 to 7 in July and August. It's closed on Mondays.
Spend the night in Saumur — find hotels here.
Day 5. Brissac and Angers
Angers is an enchanting French province with many nice hotels and cafes where you can get coffee, blue chocolate, and wonderful fried apples.
The Angers castle is famous for its gray gargoyles (the largest and most famous is "Apocalypse"). The castle is called one of France's miracles.
The address is Chateau d'Angers, 49000 Angers.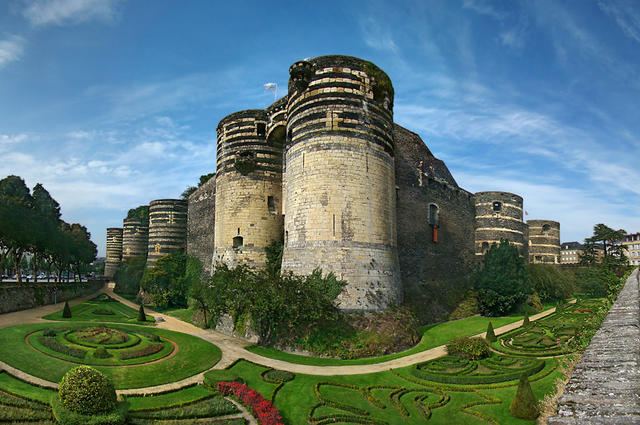 Tickets cost 9.50 euros for adults. It's open from 10 to 6:30 in the summer and to 5:30 in the winter. It's closed on Christmas, New Year's and May 1.
It's an easy 20-minute (20.6 km) drive to Brissac. The address is Rue Louis Moron, 49320, Brissac-Quince. Tickets cost 10 euros. It's open from 10 to 6 with a break for lunch, except during the busy season in July and August, when there's no break. If you schedule your trip in advance you can also visit during the winter.
You can find hotels in Angers here.
Day 6. Nantes
Finally, you'll spend the last day of this trip in Nantes, the former capital of the Duchy of Brittany and currently a large economic and university center in France. Tourists can expect comfortable rooms to stay in. The castle has a history museum.
Tickets are 8 euros for adults, 5 for students and free for children. It's closed on Mondays, Christmas, New Year's, May 1, and November 1. It's open from 10 to 6 in the winter and until 7 in the summer
The address is Chateau des Ducs de Bretagne, 44000 Nantes.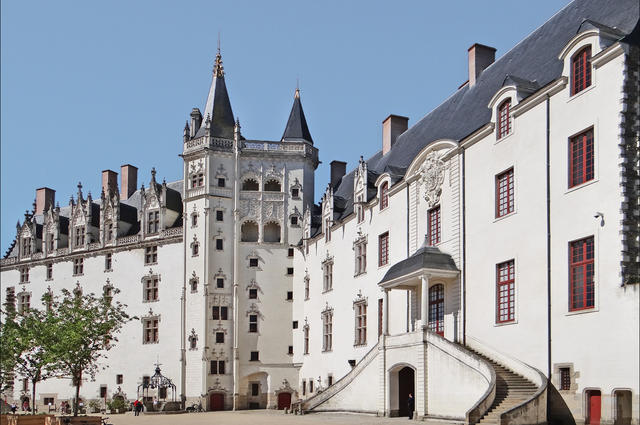 The fortress walls offer a great view of the city. Besides the castle, you can visit old Nantes, go to the cathedral Saint-Pierre et Saint-Paul, and walk around the streets and shops.
Spend the night in Nantes and then go back to Paris. It's about a 400 km drive, depending on your route.
A self-guided tour of these historical places is a chance to immerse yourself in times long since past. Traveling through the Loire Valley to see the landscapes and architecture gives you a unique view of authentic France! 
Have a great trip! 
https://voyage10.com/wp-content/webpc-passthru.php?src=https://voyage10.com/wp-content/uploads/2020/07/dorian-mongel-Yui3DZiX7yM-unsplash.jpg&nocache=1
1280
1920
Alina
https://voyage10.com/wp-content/webpc-passthru.php?src=https://voyage10.com/wp-content/uploads/2022/01/voyage10_logo-2-300x95.png&nocache=1
Alina
2020-07-12 18:06:31
2022-12-24 17:04:21
Tour the Loire Valley castles in your car